Tonight I got hit on by a kebab-wielding drunkard at Milwaukee's Public Market.  Now, I hope that doesn't come across as conceited, but the truth is, he WAS hitting on me.  And nearly poked my eye out a few times with the aforementioned kebab stick.  With greasy pork residue collecting around the sides of his mouth, he kept asking me, as I was patiently waiting for my simple panini for take-out, if I wanted to share his kebab with him.  I politely said "no thank you" and turned my eyes straight ahead.
Now, he was questioning me about what I did for a living, after telling me about his stock options and discovering that we were the same age, and I said "I'm a physician" -which usually places me in a category of either: geek (yes, I am….give me a night with anything televised by Carl Sagan and some good food and I'm your girl….), pretentious (which, I hope, if you know me personally, you wouldn't feel that way.  This is coming from the girl who goes into her co-worker's office every afternoon and has an unannounced dance break…to no music.), or just completely undesirable.  Ask any self-supported, financially secure woman with a career that she adores and you will find a similar sentiment.
After that, he insisted on calling me "Doc" for the rest of our conversation (which was about the time it took for my panini to be completely assembled and pressed..which was a smidge too long, in my honest opinion…) and referring to me as "his girlfriend" when he ran into someone that he knew.  I had to shout back to the man who was rapidly walking away from us, that, "No, I'm really not his girlfriend, sir.  I literally just met this dude."
And then…get ready for it.  The kicker.  He asks me how the dating scene is in Milwaukee.  (Oh, besides the nearest location of where to find all the swingers in Milwaukee…because he just found that out…last week…when he was out with a girlfriend..one of his many, many girlfriends….) This information was all given to me within the first two minutes of our conversation.  I told him I couldn't really answer his question because I'm not actively dating or looking to date anyone right now.  And that felt damn good.
Why am I telling you this?  Because if you are a regular reader of this blog, you KNOW why I am not actively dating men in Milwaukee right now.  It's because of guys like this.  He asked me what I was doing this weekend (as he was fumbling in his shirt pockets for his phone…I am assuming to exchange numbers….I held back the urge to tell him that his phone was in his cargo pant's pocket where he had just put it after his "bro" called him.)  And I told him I was heading out of town in the morning to fly halfway across the country (truth.) Which is why I was scrambling through the Public Market anyways; I was on a mission to get some dinner, buy some gifts for friends that I would see the next day, and get home to pack and do massive quantities of laundry.  I made a quick get-away, telling him that I needed to go.  He made sure to remind me what his name was.   I walked home, my giggles turning into out-loud laughter as I walked down the sidewalk.
I'm not telling you this story to make fun of the guy (ok, so maybe a little), but I just think it is seriously becoming the reality of being a newly single woman in her 30's.  I'll take Carl Sagan PBS specials any night.  I'm just glad he didn't poke my eye out.
On to the food….
Quinoa.  Super food.  Popular in blogosphere.  Everybody and their brother is posting about quinoa.  Healthy.  Nutty. Kind of mushy/crunchy.  Good with lots of flavors.
Got it?  You get it.  I don't have to tell you.
But I will tell you this:  This salad is pretty awesome.  It's got a lot of great flavor profiles here, and it's pretty awesome as a main course.  I packed mine as a lunch for about three days straight (the max amount of days for leftovers, as I learned as a Nutrition Science major.)  Add in what you like.  Omit what you don't.  Don't add the cheese, and you've got a great vegan dish.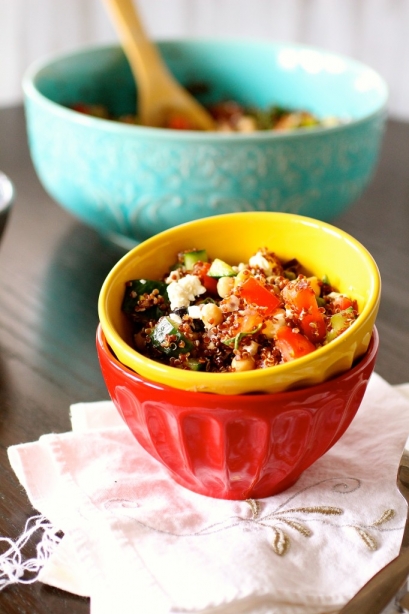 Red Quinoa Salad
Servings: 4 large servings
Ingredients
1 cup uncooked red quinoa
1/3 cup olive oil
2 tablespoons red wine vinegar
1 and 1/2 teaspoons finely minced shallots
1/4 teaspoon salt
Freshly ground black pepper, to taste
3-4 small-ish tomatoes, seeded and diced
1 cucumber, diced
Handful fresh basil leaves, torn into small pieces
1 tablespoon chopped fresh oregano
1 (15-ounce) can chickpeas, rinsed and drained
1/4 cup pitted Kalamata olives, chopped
1 tablespoon capers, drained
2 ounces crumbled feta cheese (about 1/2 cup)
Instructions
1. Cook the quinoa according to package directions, omitting salt and fat (if listed). Drain and place in a large bowl. Let cool for about 1 hour.
2. Meanwhile, in a small bowl, whisk together the oil, red wine vinegar, shallots and salt and pepper. Let the mixture stand for about 20 minutes at room temperature.
3. Once the quinoa has cooled, add the oil mixture, tomato, cucumber, basil, oregano, and chickpeas to the quinoa and toss well.
4. Add the olives, capers, and cheese, stirring to combine.
Source:  Adapted from Cooking Light.