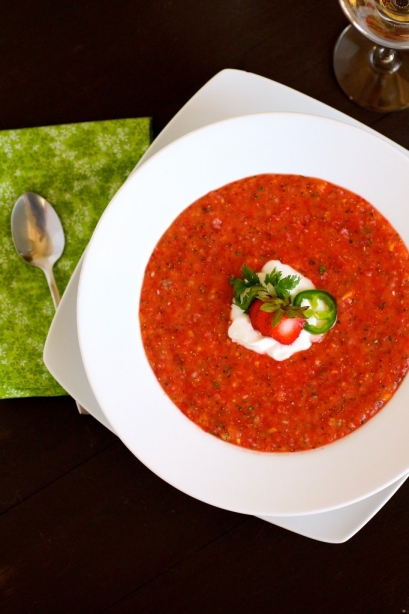 Cold soups kind of give me the heebie-jeebies.   I don't have the appreciation I probably should have for them.  I have never been a fan of drinking my calories in the way of juices and all that jazz, so a cold soup, in my opinion, is a little like a smoothie in a bowl.  But hot soups?  That's the epitome of comfort right there.  Warm fuzzies all the way down into your belly.  I decided when I was five that I was a fan of this thing called soup because of Violet Beauregard's lovely description of tomato soup before she became a human blueberry.  So then soup kind of got stuck in the part of my brain that loves anything related to nostalgia…especially the old school Gene Wilder version of Willy Wonka.
Why I just transitioned from cold soups to Willy Wonka?  I have no idea.
Regardless, summer comes around and cold soups are the thing.  I'll admit it, I want to prove my judging, callous mind wrong when it comes to these things.  I should like them.  I like all the things that go in them.  I mostly eat vegan until about 6pm everyday anyways, so a cold gazpacho just serves as another opportunity to get my 5-a-day. (Or 10).  I made this version a year or so ago (my goodness, how time flies…) with the standard tomato base, which was delicious and refreshing in the 90-degree heat wave of New Hampshire last summer.  But I recently discovered that gazpacho doesn't just have to be made with tomatoes.  How about strawberries instead?
Begrudgingly, I decided to go for it.  And by going for it, I went to the grocery store twice with the intention of preparing it when I got home.  I bought a lot of strawberries.  But then I decided that I was a little too weirded out by the concept still and ate all the ingredients over the next few days.  Twice.  Finally, on a weeknight, (and feeling, shall I say?  risky?) I went full-steam ahead and made it.  It took less than 20 minutes to make, and I was blown away by how great this was.  It was light, healthy, and it actually kept me full for several hours.
Now, here's the thing.  I think that the lime-yogurt on top makes this dish.  But if you want to veganize this, just omit it completely or use an appropriate vegan substitute for the yogurt.  A nice sprinkling of flaky sea salt is a must, too.  Add in what you like, omit what you don't.  I wanted a bit of spice, so I added in a couple of teaspoons of chopped jalapeño.  This dish is totally up to you.
No more heebie-jeebies.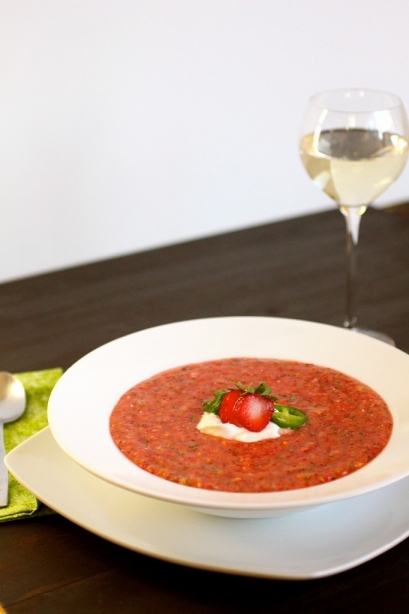 Strawberry Gazpacho
Servings: 4
Ingredients
2 pounds strawberries, hulled and halved (about 5 cups)
1 mango, peeled and chopped (about 1 cup)
1/2 cup red bell pepper, chopped (about half of one large pepper)
1 large shallot, chopped
1-2 teaspoons jalapeño, chopped (or how much you like)
2 tablespoons olive oil
2 tablespoons cilantro, plus more for garnish
¼ cup lime juice, divided (plus more to taste)
4 teaspoons agave nectar, divided
½ cup nonfat Greek yogurt
Flaky sea salt, to taste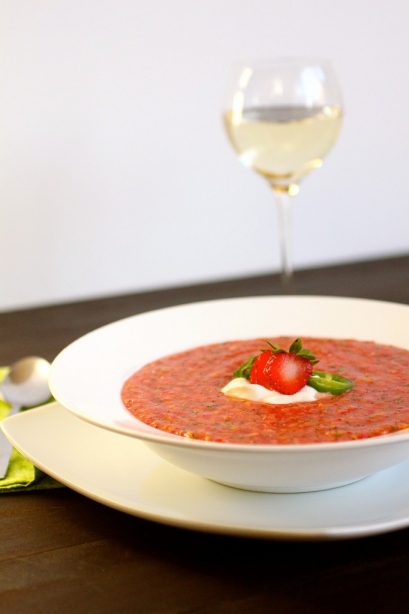 Instructions
1. In your food processor,  pulse the strawberries, mango, bell pepper, shallot, jalapeno, oil, cilantro, 2 tablespoons of lime juice, and 3 teaspoons of the agave until puréed but still with some texture.
2. In a small bowl,  combine the Greek yogurt, remaining 2 tablespoons of lime juice, and the remaining 1 teaspoon of  agave, mixing until smooth.
3. Ladle the gazpacho into your serving bowls, topping with a dollop of the lime-yogurt, and season with flaky sea salt.
Source:  Adapted from Vegetarian Times.