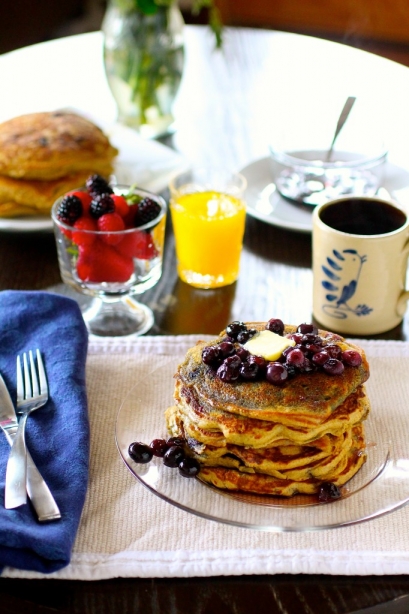 I love this time of year, solely for the mass amounts of beautiful produce that's beginning to be in season.  Blueberries, strawberries, raspberries, and even..peaches (although I don't trust them yet..I feel that one of the biggest food disappointments out there other than biting into a "chocolate chip cookie" and getting oatmeal raisin instead…is when you bite into what looks like a ripe, glowing peach…only to get that woody mushy stuff.  Ick.)
So I'm eating berries like it's my job right now. I literally bring in giant containers of them and snack all day long at work.  It's nice because I'm killing two birds with one stone: I'm not starving all the time and I'm eating super clean, healthy food.
Incorporating some fresh blueberries into pancakes is pretty simple.  Incorporating some fresh blueberries into whole wheat/buckwheat pancakes that don't taste completely bland is tricky.  Now, I'll admit: these pancakes don't have any extra sweetener here in the way of sugar (bonus), so this recipe relies heavily on the ability of your blueberries to contribute to the sweetness of the cakes.  You want to use the freshest, brightest, and juiciest berries you can find (frozen berries will also work well here if you have some on hand). I also highly recommend serving these pancakes with a maple-blueberry syrup  (see below).  You can also add in whatever kind of fruit you have on hand-I thought about adding in some mashed, ripe banana, as well (but then I completely spaced it and remembered as I was halfway through cooking the pancakes…doh).  And while I don't eat a lot of gluten-containing products anyways, somehow eating things like pancakes made with whole wheat and buckwheat seem a bit healthier than pancakes made with traditional white flour. And I feel better.  Next time I might throw in some ground flax seed and protein powder, and I'll be set.  But one thing at a time, people.  Let's not get too crazy.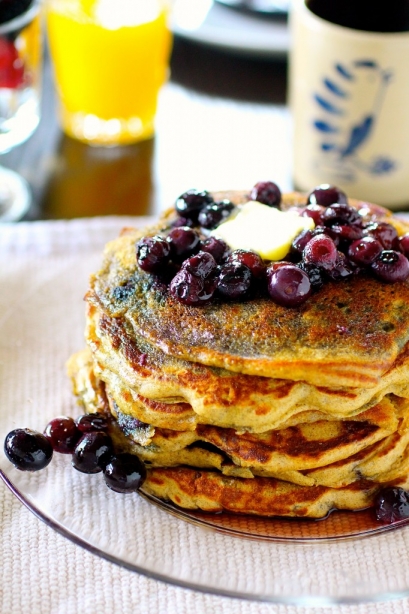 Blueberry Buckwheat Pancakes
Servings: 4-6
Ingredients
For the pancakes:
1 and 1/4 cup whole wheat pastry flour
3/4 cup buckwheat flour
1 and 1/2 teaspoon baking powder
1 and 1/2 teaspoon baking soda
1/4 teaspoon salt
2 large eggs
2 and 1/2 cups buttermilk
2 tablespoons coconut oil, melted
1 teaspoon vanilla extract
1 cup fresh blueberries
Cooking spray
For the maple-blueberry syrup:  (this makes enough for about 3-4 tablespoons per serving.  If you want more syrup, increase the amounts accordingly.)
3/4 cup fresh blueberries
1/2 cup maple syrup
Instructions
1. For the pancakes: In a large bowl, whisk together the flours, baking powder, baking soda, and salt; set aside.
2. In another bowl, whisk together the eggs, buttermilk, melted coconut oil, and vanilla.
3. Add the egg mixture to the dry ingredients and stir to thoroughly combine.
4. Gently fold in the blueberries, mixing until incorporated.
5. Meanwhile, heat a non-stick frying pan over medium heat and lightly spray with cooking spray.
6. Pour the batter in 1/3-cup portions onto the prepared frying pan, letting the pancake cook until it forms large bubbles on its surface (about 2-3 minutes or so).  Gently flip the pancake and cook for another minute or so, or until cooked through.  ***Here's a good time for you to get the maple-blueberry syrup ready.  See below.
7. Transfer the pancake to a plate (cover it to keep the pancakes warm), and repeat for each pancake (re-spraying with cooking spray as necessary), until you have used all of the batter.
8. For the maple-blueberry syrup:  In a small saucepan over low heat, combine the blueberries and the maple syrup.  Cook over low heat until the blueberries have popped, about 10 minutes or so.  Serve the syrup over the pancakes.
Source:  Adapted from Williams-Sonoma.