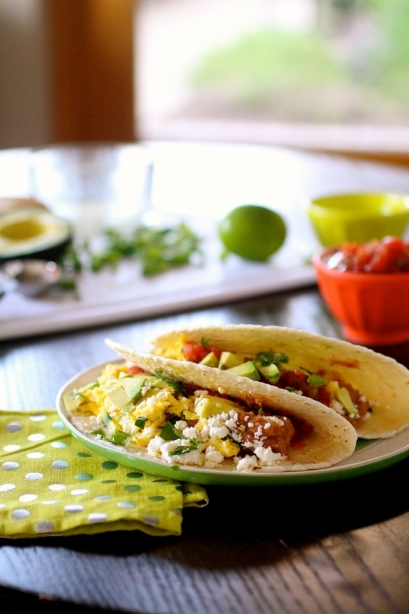 Okay. Okay. I get it.  Mexican cuisine for breakfast is pretty amazing.  I mean, the king of Mexican breakfasts, huevos rancheros, is a pretty awesome dish, in my opinion.  But, to be honest with you, in the mornings I usually fix up a nice vegan shake (I like this brand-no endorsement here.  I just really really like this shake in the mornings while I am getting ready for work.) and move along with my day.  It's kind of a rare thing if I have a sit down breakfast.  And, to be honest with you, on the weekends, it's more like a brunch anyways.
So enter the breakfast taco.  No, not an original concept.  But what you put into said taco is completely of your own design.  And these are pretty good.
And I have a confession to make.  When I normally make tacos for dinner (or even pop open a can of refried beans, for that matter), I just kind of dump the beans in a small saucepan over low heat and walk away, stirring every so often.. (P.S. if you want an awesome recipe for a homemade version of refried beans, here is one.)  But this recipe gets it right with the addition of fresh lime juice, cumin, and garlic into the beans while they are cooking.  Consider my mind blown.  I'll never make a can of refried beans the same way again, and I'm kind of kicking myself for not realizing this method sooner.
And, as far as these tacos go, you can make them completely to your own liking.  To cut down on calories and fat, use egg whites and skip the queso fresco.  For a vegan version, do a tofu scramble instead (by the way, if anyone out there has a good recipe/link for a good tofu scramble, feel free to leave it in the comments section.  I've got my eye on another recipe but I know there are probably some better versions out there.)  Add in more veggies if you like.  Make your own salsa to go with it (I used a pre-packaged one from Whole Foods because it's a little like crack and I wanted to start the next book in the Game of Thrones series as soon as humanly possible after making these tacos so I cheated.  OMG.)
A breakfast of champions, no?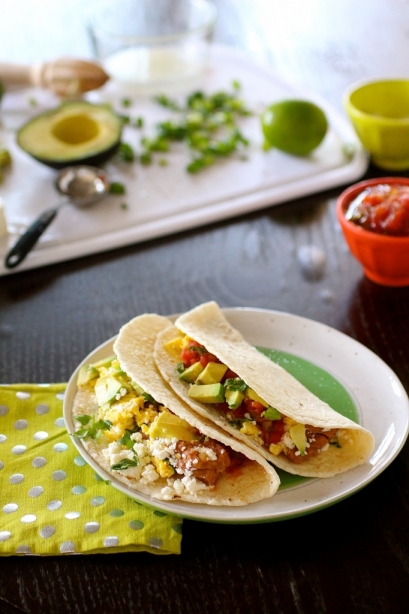 Breakfast Soft Tacos
Servings:  2  (about 4 tacos)
Ingredients
One 15-ounce can refried beans (I used a nonfat, vegetarian version) or make your own
2 teaspoons fresh lime juice
1/4 teaspoon ground cumin
1 teaspoon garlic, minced
2-3 green onions, chopped
3 eggs, lightly whisked
4 6-inch tortillas (I used a flour version here, but feel free to use whatever kind you like)
For toppings:  queso fresco, salsa, cilantro, Greek yogurt, salt and pepper, etc.
Instructions
1. In a small saucepan over medium-low heat, combine the beans, lime juice, cumin and garlic.  Cook over medium-low heat, stirring occasionally until warmed through.
2.  Generously spray a non-stick frying pan with cooking spray and heat the pan over medium to medium-high heat.
3. Add the green onions to the pan, and cook, stirring occasionally, until the onions have softened and are fragrant, about 3-4 minutes.
4. Add the eggs to the green onions, and cook, scrambling the eggs until they are cooked through, about 2-3 minutes.
5. Warm the tortillas in a microwave for about 10-15 seconds before using.
6.Lightly spread the bean mixture into the center of each tortilla, topping with eggs, cheese, and whatever other toppings you like.  Serve immediately.
Source:  Adapted from Cooking Light.