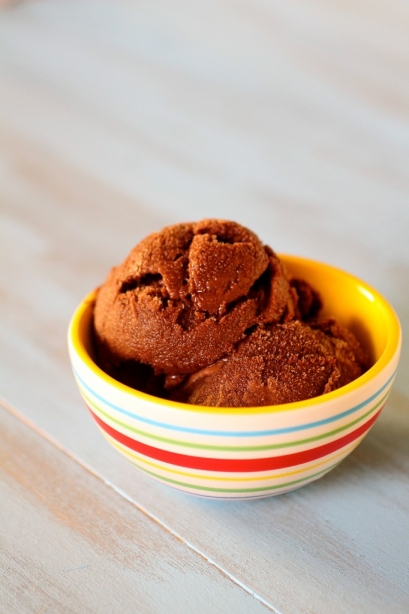 I wish you could dive head first into the computer screen and taste this sorbet.
Because it's completely and utterly fantastic.  Like an in-your-face-offensive kind of good.  Shut the front door kind of good.
And maybe I'm saying that because chocolate is now a rare treat for me (I have defiantly walked past the sea salt chocolate truffles at Whole Foods for about three weeks now and I swear I can hear them calling my name.  I realized that I had a problem.  So I quit, cold turkey.) And apparently moved on to sorbet.  Still a sweet chocolatey fix without a lot of the fat.  And did I mention how crazy easy it is to make? (Granted, it's easy if you have an ice cream maker/attachment, I will admit.)
I was really craving ice cream the other night.  I blamed it on a mildly scratchy throat and thought about how soothing and healing a nice dose of ice cream would taste.  I can justify anything when I want something, it seems (but isn't that the case in life, in general? I won't even begin to tell you how I am starting to justify getting a new car when I have one that runs perfectly well and has been around for about 10 years now.  Plus, Scout likes to ride in the passenger side front seat with her paw on the console between us with the windows down and pop music blaring sometimes.  Which gets us some funny looks sometimes, but I don't care.  She's my sidekick.)
The sorbet. This is some rich stuff.  You don't need a whole huge serving to appease your sweet tooth.  There's a nice balance here between the bittersweet chocolate and sweetness.  It's cold and light and pretty much wonderful.  Another great recipe as part of my contribution to Cooking Light's Bloggers' Connection.
And I wish I could give you more than one picture.  But, to be honest with you, I had just gotten home from a beautiful walk at the lake, was racing against the rapidly setting sun, and the sorbet was melting. And I wanted to eat it.  They say chocolate milk is one of the best things you can consume post-workout.  I believe it might be chocolate sorbet instead. 😉
So, instead of pictures of sorbet, I'll give you a picture of Cosmo.  What a handsome boy.  That's how he looks at me when he wants to eat, which is always.  And that's why he is "big-boned".  I can't resist.
Bittersweet Chocolate Sorbet
Servings: 6-8
Ingredients
2 and 1/2 cups water
1 and 1/4 cups sugar
1/2 cup unsweetened cocoa
3 ounces bittersweet chocolate, chopped
2 teaspoons vanilla extract
Instructions
1.  In a medium saucepan over high heat, bring the water to a boil.
2. Add the sugar and the cocoa, stirring to combine.
3. Reduce the heat to low, and simmer 5 minutes, stirring frequently.
4. Remove from the heat and add the chocolate and vanilla, stirring until the chocolate melts.
5. Cover and chill completely (at least an hour or so)
6. Pour the mixture into the freezer can of an ice-cream make; freeze according to manufacturer's instructions.
7. Place the sorbet into a freezer-safe container; cover and freeze until firm. (I had to wait at least a few hours for mine to freeze completely.)
Source:  Directly from Cooking Light.