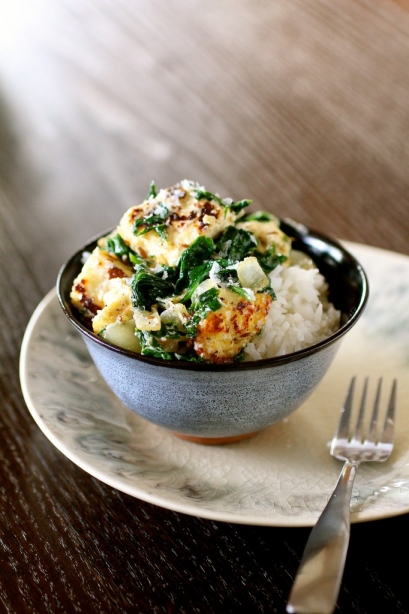 The other day I was feeling a little, well, sorry for myself, I guess.  I had to run a whole bunch of errands after work, so I came home later than usual, and it was waaaaaayyy too hot to take Scout for our normal 6-7 mile power walk to the lake and back.  I was completely self-consumed-thinking about the condo I really really want to buy, the car I really really want to buy, the best way to manage my money (probably by not buying either of those two things right now anyways…), and a whole bunch of other random, self-deprecating thoughts.
So, I kicked off my heels when I got home and put my flip-flops on, still in my work clothes.  Determined to get out of my funk, I told Scout to get ready because we were going for a short power walk through the neighborhood so we could check on the rabbits.  Now, "rabbit" is a new word for Scout-there is a small park nearby where baby bunnies are overflowing and super duper cute.  They like to hide near the bushes and then quickly scamper off when they hear a noise.  Scout likes to stand right in the middle of the park and look for the rabbits.  And then pounce after them when she sees one move (almost effectively taking my arm off).  No matter what kind of mood I am in, this inevitably cheers me up.
But, on our way to the park, with what I assume was either a pursed-lip frown or a pouty look of consternation, I passed a woman walking with a cane.  As she passed me, in one breath, she said, "Wow.  You look very beautiful today."
It happened before I knew it, and it happened so quickly that I thought she must have been talking on one of those damn hands-free phones that I always forget people have.  So I talk back to them when they are definitely NOT talking to me.  I turned around-no, she wasn't talking on the phone, and we were the only two people on the sidewalk.  She was, in fact, talking to me (or Scout, perhaps…but either way, it was really nice.).  I quickly shouted back, "Thank you!"
I don't think this woman knows the effect that she had on me that night (or even still.)  Because hearing her say that, not just what she said, but the fact that she said it to a complete stranger out of the blue is pretty awesome.  I am now bound and determined to pass along the happy compliments as she did-it brightened my night and completely switched my negative train of thought around.  I started thinking about how blessed I am and how happy I was to have had a random moment like that.  I feel like it's something we all could use a little bit more of-even if we don't even know it.
And then Scout saw a rabbit and nearly twisted my arm off.
So, saag paneer.  A beauty of a dish.  A nice mix of tangy yogurt, earthy spinach, creamy/salty cheese-all balanced with a wonderful fragrant jasmine rice. You can find pre-made paneer in some special markets-but, honestly, making your own homemade is incredibly easy and probably cheaper than buying it pre-packaged anyways.  And you can sort of control your fat content here-I used a 2% organic milk here.  The trick is to have a lot of things going at once in your kitchen to be the most efficient.  While you are making your cheese, make the rice.  Then everything will be ready when the saag paneer is done. I have Lukas to thank for another great dish that I never thought I would be able to make.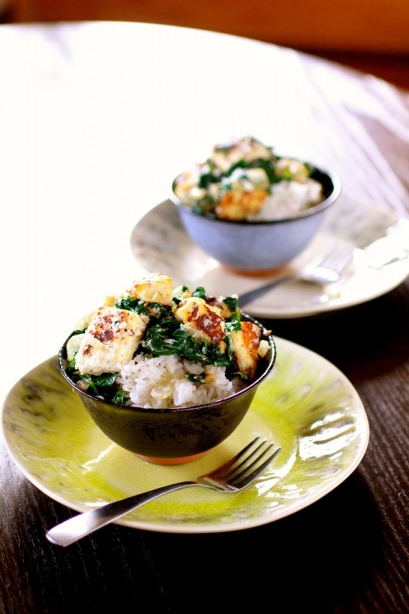 Saag Paneer
Servings: about 4
For the homemade paneer (while you are making the cheese, make the rice, too):
8 cups milk (I used 2%)
2-4 tablespoons fresh lemon juice
For the saag paneer:
8 ounces paneer (see above and below)
1-2 bunches fresh spinach, stems removed
3 tablespoons peanut oil (or other neutral oil)
1 and 1/4 teaspoons cumin seeds
1 medium yellow onion, diced
1 serrano pepper, seeded and finely chopped
4 garlic cloves, minced
2 teaspoons grated fresh ginger
3/4 teaspoon salt
1 teaspoon garam masala
1/2 teaspoon ground coriander
2 tablespoons (or more) nonfat plain Greek yogurt
3 cups jasmine rice (see below)
For the jasmine rice:
1 cup jasmine rice
1 cinnamon stick
1 star anise
3 cardamom seeds, smashed
5 black peppercorns
2 cups water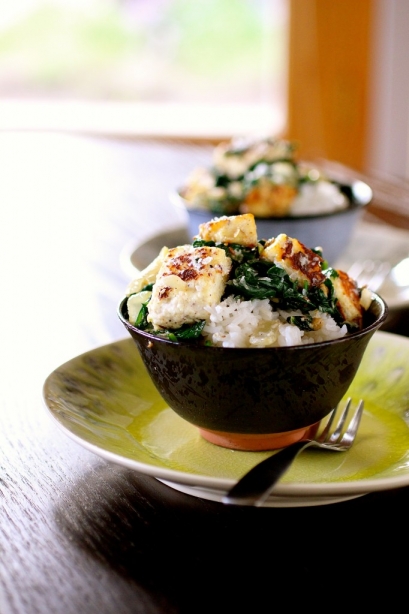 Instructions
1. For the homemade paneer:  Place a colander in the sink and line it with about three layers of cheesecloth, making sure to drape the cheesecloth over the edges of the colander.
2. In a large sauce pot over medium-high heat, bring the milk to a boil.
3. As soon as the milk begins to boil, remove it from the heat and add 2 tablespoons of the lemon juice, stirring until curds start to form (if you don't see the curds after a minute or so, add another tablespoon of lemon juice and stir until you see them separating from the grayish-whey.)
4. Pour the curd/whey mixture into your colander, letting the liquids drain down the sink, and let the curds cool for about 10 minutes.
5. Wrap the cheesecloth tightly around the curds and press them into a flat disk in order to get as much liquid out as you can.
6. Set the wrapped cheese on a cutting board and place a few heavy items on top (I used a few baking sheets and a wooden cutting board) to let even more liquid come out, and let the cheese sit for about 15 minutes this way.
7. Chill the cheese until you are ready to use it.  Then cut it into bite-sized pieces.
8. For the saag paneer: Steam or blanch the spinach (to blanch: immerse the spinach leaves in a boiling pot of water until the leaves turn bright green and start to wilt slightly-less than 20 seconds or so.  Quickly transfer the spinach leaves to a bowl of ice water.)
9. Wrap the spinach in a tea cloth or paper towel and squeeze out as much excess moisture as you can.  Chop the spinach.
10. In a deep saute pan over medium heat, heat 1 tablespoon of the oil until shimmering.
11. Working in batches, saute the paneer until it is golden brown on all sides, using tongs to flip the paneer carefully. (It took me about 8-10 minutes per batch).  Transfer the cooked paneer to a plate and cover to keep it warm.
12. Put the remaining 2 tablespoons of oil into the pan and turn the heat up to medium-high.
13. Add the cumin seeds and let cook until fragrant, about 10 seconds.
14. Add the onion and cook until softened and browned, about 10-12 minutes or so.
15. Meanwhile, on a cutting board, mince/mash the pepper, garlic and ginger together until they form a thick paste.  (WASH YOUR HANDS AND DO NOT TOUCH YOUR EYES.  Yes, I am yelling at you because it's that important.)  You can also put them in a food processor and puree until smooth.
16. Add the pepper mixture, salt, garam masala, and coriander to the onion and cook f0r about 5 minutes or so, stirring constantly.
17. Reduce the heat to medium, add the spinach and the paneer, and cook, stirring gently, until everything is completely heated through, a few minutes or so.
18. Remove the mixture from the heat and gently stir in the Greek yogurt.  Serve immediately over the jasmine rice.
19. For the jasmine rice: Combine all the ingredients in a medium saucepan over medium-high heat and bring to a boil.
20. As soon as the mixture reaches a boil, cover, and reduce the heat to as low as possible and cook for about 25 minutes or so.
21. Remove the rice from the heat and let stand for about 10 minutes without removing the lid. Make sure you remove the whole spices before serving…..you do not want to bite down on a whole peppercorn.
Source: Directly from Lukas Volger's Vegetarian Entrees That Won't Leave You Hungry.