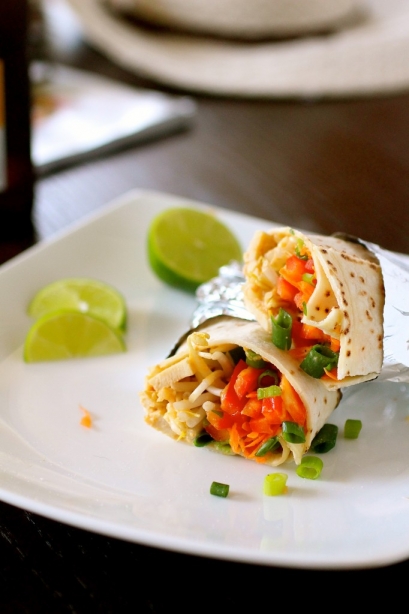 How in the world is it July already?
I mean, time is going by so quickly right now.  I realized the other day, while I was driving into work, that I have now lived and worked in Milwaukee for a year now.  A whole year.  There's been a birthday, major holidays, and a board exam.  Friends got married, got divorced, and had many, many babies (not all the same friends, just to be fair.)  Kudos to all of you out there who have children-I cannot even begin to fathom how quickly time must go by for you.
I think back to this time last year…moving from New Hampshire, excited/nervous/scared out of my mind, to a brand new city and life by myself (well, not technically, as I have a traveling zoo with me).  A new condo, a new bank account, and a whole bunch of new opportunities.  It's been good…very very good. I've met some incredibly amazing and wonderful people here who will be friends for life, I know.
Another great thing that has happened this past year was the change of my diet.  Maybe you can't tell by the make-up of the blog, but I have made a conscious effort to post more wholesome vegan-friendly recipes.  I still will make the "bad" stuff now and then, but overall, my diet has had a major makeover.  I feel better-mentally, physically, and spiritually.  There's been a big clean-up in the way of distancing myself from people/things that just don't feel all that good to me anymore, and it's been a very positive thing.  I don't bend over backwards to say the right thing/do the right thing/be the best friend in the whole world who is better than all your other friends/try to be a superstar perfect person/blogger.  I'm just not into trying to prove that anymore.  I'm just me-take it or leave it.
So, all in all, in the words of one of my absolute favorite musicians (Tori Amos), it was a "pretty good year."
And, in the spirit of posting something healthy and vegan-friendly, here's a simple, quick and filling meal that you can easily make on a weeknight.  Use whatever "chicken substitute" you like here. I went with Quorn because I had some on-hand, and I liked the texture/flavor here in the wraps.  You can spice this up depending on your own tastes.  Add in more veggies if you would like.
Enjoy.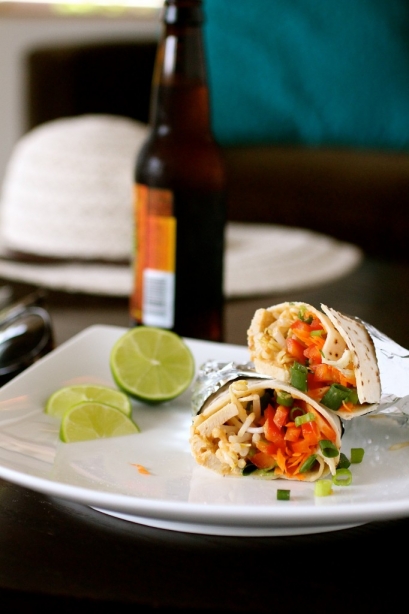 Thai Roll-Ups
Servings: 2
Ingredients
For the sauce:
1 tablespoon peanut butter
1 and 1/2 tablespoons hot water
Juice of one small lime
1 teaspoon chili garlic sauce
Pinch salt/pepper, or to taste
For the wraps:
2 (8-inch) flour tortillas, warmed
3/4 cup chicken substitute, cooked according to package directions (I used Quorn)
1/2 cup bean sprouts
1 red bell pepper, cut into strips
1/4 cup shredded carrot
1/8 cup chopped green onions
1/8 cup minced fresh cilantro
Instructions
1. For the sauce: In a medium bowl, mix together the peanut butter, water, lime juice, chili garlic sauce, and the salt and pepper, stirring until smooth.
2. For each wrap: Spread about a tablespoon of the sauce over one side of each tortilla.
3. Top with the "chicken", bean sprouts, red bell pepper, carrots, green onions, and cilantro.  Roll each wrap tightly.  Enjoy.
Source:  Adapted from Health.