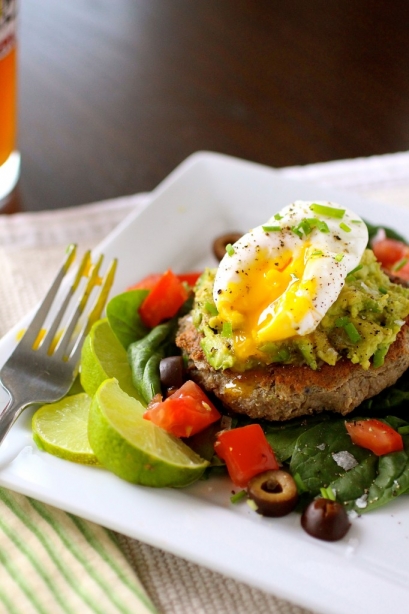 This is going to be short post.
I'm typing this almost completely one-handed.  Why?  Because I effectively nearly chopped the top of my right middle finger off today.  The lame part?  I was at work, slicing the avocado I had packed for lunch.  Nothing cool, really.  No war story. Just an apparently super sharp new paring knife, a soft avocado, and a lack of hand-eye coordination on my part.
Thankfully my co-worker had a large bandage…which then needed to be changed…and changed again.
It's not fun to type, look under a microscope, cut a tomato for part of your dinner, unload a dishwasher, or even wash your face one-handed.  This thing hurts like a beast right now. (Could be worse, I know.)
I feel bad for my right hand.  Being left-hand dominant to begin with, I feel that my right hand has always gotten the worse end of any deal.  Just a few months ago, during an apparently over-zealous swift move with a pizza cutter, I damaged my right ring finger to the point where I have some pretty substantial nerve damage.  My finger nails on my left hand always grow faster  (check it out-they usually do grow faster on your dominant hand), although I will admit that the finger nail polish on the right hand always looks better than the left.  I usually only wear bracelets on the left while the right wrist gets a lonely black hair tie.
Regardless, I need to learn how to handle my cutlery a little better.
Ok.  So this recipe is a definite winner.  The original recipe, from Cooking Light, calls it a "falafel", which I thought was kind of fun and a little bit deviant from the norm, so I am running with it, too.  I decided to forgo the pita sandwich part, and instead I poached the last lonely egg in the fridge to serve on top. (We all know I like to throw poached eggs on everything, right?  I mean, hey, it's an ugly little brown patty, and it  will look and taste a million times better with an egg on top.  And poaching just happens to be one of the healthiest ways to cook an egg.  And runny egg yolk in a picture makes me happy.)
For lunch, I took the leftover falafels and ate them warm with smashed avocado on top (hence the finger injury today).  Now, you can add in more veggies to the falafel if you like-I wanted to throw in some corn and red bell pepper, but I didn't hand any on hand.  I substantially increased the amount of tortilla chips to this recipe because as I was making the falafel, it wasn't sticking well (which may be because I didn't fully dry the green onions and kind of threw the rinsed and drained beans in the food processor while they were still soaking…oopps), so if this is a big deal to you, make sure to get rid of a lot of the excess moisture.  Start with 1/4 cup of crushed tortilla chips and work your way up.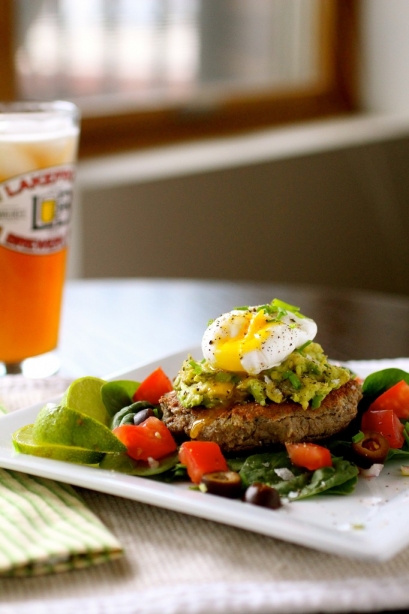 Southwestern "Falafel" with Poached Egg
Servings: 4 falafel
Ingredients
For the falafel:
One 15-ounce can pinto beans, rinsed and drained
1/2 cup queso fresco, crumbled
1/4 cup finely crushed baked tortilla chips (I used this brand, which is freaking awesome) ***please read header.  I ended up using about 3/4 cup to 1 cup of chips because my other ingredients were not dried well and had excess moisture.  Please adjust accordingly.
2 tablespoons finely chopped green onions
1 tablespoon finely chopped cilantro
1/4 teaspoon ground cumin
1 large egg white
1 and 1/2 teaspoons extra-virgin olive oil
For serving:
4 eggs, poached
2 avocados, sliced or smashed (however you like it)
Spinach, tomatoes, black olives, etc.
Salt and pepper, to taste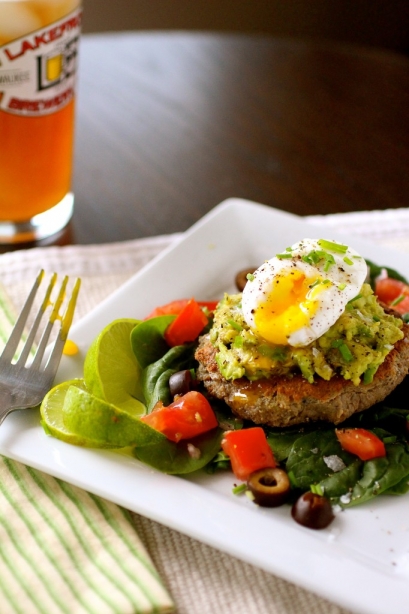 Instructions
1. For the falafel: In the bowl of your food processor, combine the pinto beans, cheese, tortilla chips, green onions, cilantro, cumin, and egg white, mixing until smooth, scraping down the sides of the bowl and adding more chips if necessary.
2. Form the mixture into 4 (1/2-inch-thick) oval patties.
3. Heat the olive oil in a large nonstick skillet over medium-high heat.
4. Add the patties; cook 3 minutes on each side or until patties are browned and thoroughly heated.
5. Meanwhile, poach your eggs (if using) and smash your avocado.
6. To serve:  place each falafel over a bed of greens and other veggies (if you like), top with a generous helping of avocado and a poached egg.  Enjoy.
Source: Cooking Light.  This is part of my contribution this month to the Cooking Light Bloggers' Connection.