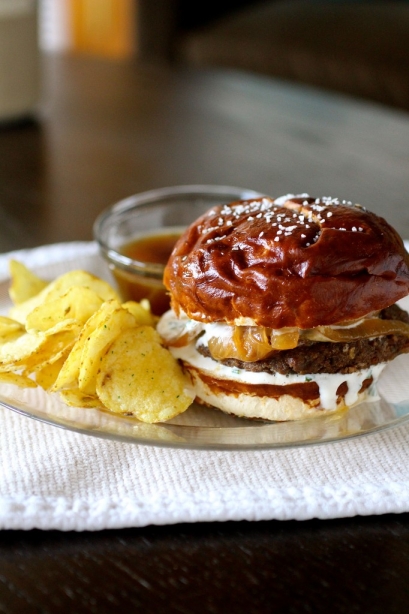 I'm slowly expanding my vegan pantry.   One thing at a time.  Because some of the ingredients are expensive and I want to purchase these things in moderation.  But I figure if I do this slowly, one dish at a time, it won't seem so bad.
And, to be honest, these burgers pretty much make everything better.
All right.  I've made lots of veggie burgers.  Usually with cheese and some sort of egg product as a binder.  But, as I am venturing over to the vegan side of things more and more (think up to my knee now instead of just testing the water with my toe), I'm learning that you don't always need cheese and eggs to make things taste great.  And it's actually a true testament to how good these burgers taste because I didn't sneak a piece of glorious cheese on top.
There's a few different pieces to these burgers, so it sounds like a lot of work.  But it really actually isn't-you just need to plan accordingly and strategically.  I spanned these burgers out over two days (which is funny because even though I plan what I make in advance, I rarely make recipes that take several days' preparation because I am impatient.)  I just cooked the lentils, rice, and onions the night before so I wouldn't have to do it the next day (do you have enough pots for this?  Because I barely did.).  If you do this, you can pretty much make everything else the next evening/afternoon…even as a semi-quick weeknight meal.
What can I say?  Other than the au jus sauce is to die for, the horseradish-chive sauce is fantastic, and the burgers have a great, earthy flavor.  Serve with some chips and some beer, and you can go into a guilt-free happy vegan food coma.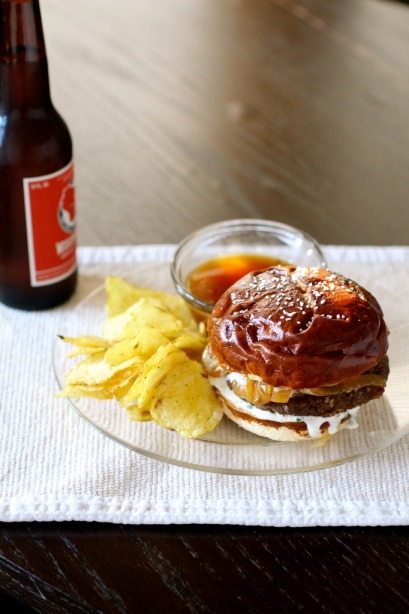 French Onion Burger with Onion Au Jus and Horseradish-Chive Sauce
Servings: 4
Ingredients
For the burgers:
2/3 cup cooked lentils (Use whatever you have on hand.  I used some mixed sprouted lentils.)
1/3 cup cooked rice (I used Wehani)
3 garlic cloves, minced
1/2 small yellow onion, chopped
1/2 teaspoon smoked paprika
3 tablespoons tamari
1 flax egg (to make a flax egg, whisk together 1 tablespoon ground flax and 3 tablespoons water, and let sit in the fridge for about 15 minutes.)
2/3 cup chopped cremini mushrooms
2/3 cup vital wheat gluten (I used Bob's Red Mill brand.)
2 tablespoons water
Olive oil, for brushing the burgers before baking
4 pretzel rolls, toasted
For the Onion Au Jus:
1 tablespoon extra-virgin olive oil
3 yellow onions, slice
1/8 teaspoon, plus 1/2 teaspoon salt, divided
1/4 cup dry vermouth
4 cups vegan beef broth
2 tablespoons tamari
1 teaspoon vegan Worcestershire sauce
For the Horseradish-Chive Spread:
One 8-ounce container vegan cream cheese
2 teaspoons fresh lemon juice
2 tablespoons plus 2 teaspoons prepared horseradish
2 teaspoons water
1/2 teaspoon agave nectar
1/4 cup chives, sliced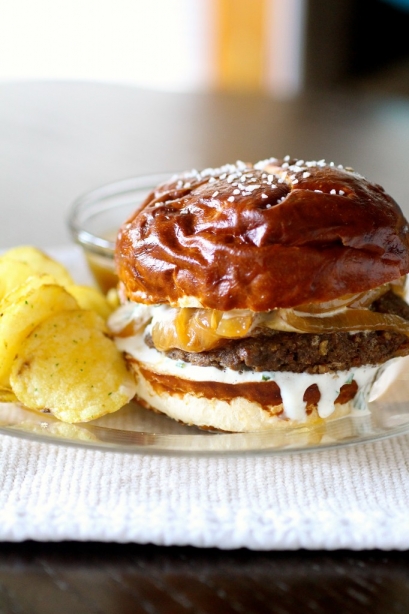 Instructions
1. For the burgers:  Preheat the oven to 350 degrees.
2. In a large bowl, combine the lentils and rice, mashing to combine (leave the mixture a little chunky if you like.)
3. Add the garlic, onion, paprika, tamari, flax egg, mushrooms, and vital wheat gluten, mixing until thoroughly combined.
4. Divide the mixture into four equal patties, and place them on a parchment paper-lined baking sheet. **At this point, you can chill the burgers overnight if you want to make them the next day.
5. Lightly brush each burger with olive oil, and bake until lightly golden, about 30 minutes.
6. For the au jus sauce:  In a large pot, heat the olive oil until shimmering.
7. Add the sliced onions and 1/8 teaspoon of salt and cook until the onions are softened and golden, stirring frequently, about 35 minutes.
8. Add the vermouth and cook for about 2 minutes.
9. Add the broth, tamari and Worcestershire sauce, stirring to combine.  Brine the mixture to a simmer and cook for about 10 minutes.
10. Add the remaining 1/2 teaspoon of salt.
11. Strain the onions, reserving the broth, and set the onions and the broth aside, keeping each warm (if you are planning on making everything in the same night.)
12. For the horseradish-chive sauce:  In a food processor, combine the cream cheese, lemon juice, horseradish, water and agave and process until smooth.
13. Transfer the mixture to a small bowl and add the chives, mixing until combined.  Chill until serving time.
14. To assemble the burgers:  Spread the horseradish-chive sauce over each toasted bun.  Place a burger on each bun and top with some of the cooked onions.  Serve with warm au jus sauce.
Source:  Barely adapted from VegNews, August 2013 issue.