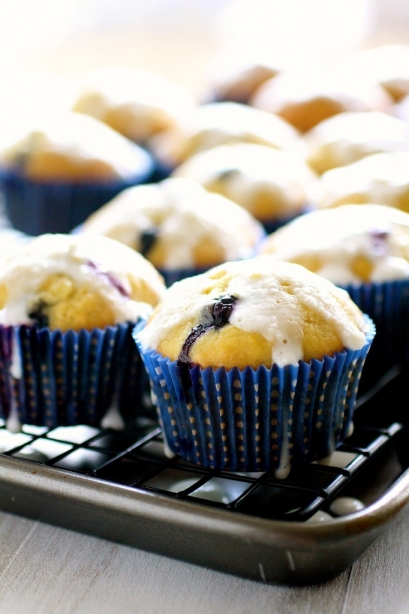 The other day, while in a brave attempt to clean out one of my closets (shudder….), I came across a hand-written letter that I had unexpectedly received in the mail about a year or so ago, from one of my dearest friends in the whole world.
In the letter, he basically outlined (sometimes in a haiku/rhyming pattern…which if you know me personally, you will know that I love this sort of quirky, random, silly stuff) all of the things he loves about me…which was actually quite funny because some of them were little things that I do that I didn't know that I actually did/do…but many of them were things that actually are points of insecurity for me.  To re-read this, about a whole year after he had sent it via snail mail, kind of shook me to the core a little bit.  It was a happy, calm and proud feeling.  Sometimes like how I feel after meditating.  And made me feel like a million bucks.  At the bottom of the letter, he said that I had once done it for him (I had actually hid it in his desk once-we worked together-and covered it in about 50 stickers of fruit and veggies made to look like they were driving cars.)  Apparently he found it at a time when he wasn't feeling so great about life in general.  I had told him how thankful I was to have him in my life and how I loved all these things about him.  I didn't do it for anything in return..in fact, as soon as I hid it in his desk, I promptly forgot about it.  It was just one of those moments where my gratitude spilled over a little bit, and I decided that instead of simply feeling my care for him…I would show it.  And let it go.  Because someday he might come across it and those warm fuzzy feelings are what life is about.
It's now apparent to me that this is a (vicious?  No, vicious isn't the right word here…happy?) cycle of love.  Apparently my letter pops into his life every now and then…and now I am understanding that his letter to me now pops in and out of mine.  The feeling of joy that this brings me is incredible.
There's a lot  of bad things that happen in life.  Things change, people change, and many things that begin end.  This letter is one of those things that will just keep coming back, thankfully, and it will probably come back in the moments when I need it the most.  (even if I don't know it.)
I was able to see Paul McCartney in concert a few days ago.  Something that I had pretty much dreamed of for over 25 years.  He ended the concert with "The End" (of course, obviously, was there any other choice there?) but the last line is one that I actually say to myself every single day when I wake up:  "And in the end, the love you take is equal to the love you make."  I suppose my friend's letter is a perfect testament to this.
Why am I getting all lotus flower on you?  Because, simply, I think you have it within you to start a little happy ripple of warm fuzzies, too.  Starting now. Go tell someone how much they mean to you.  You might start something incredible, like this letter that started a few years ago between two really great friends.
And now…..
I don't know how to segue into a recipe about these blueberry lemon muffins with cream cheese glaze.  Except that they give me a different kind of warm fuzzy feeling.  But not as good as finding a letter from a friend.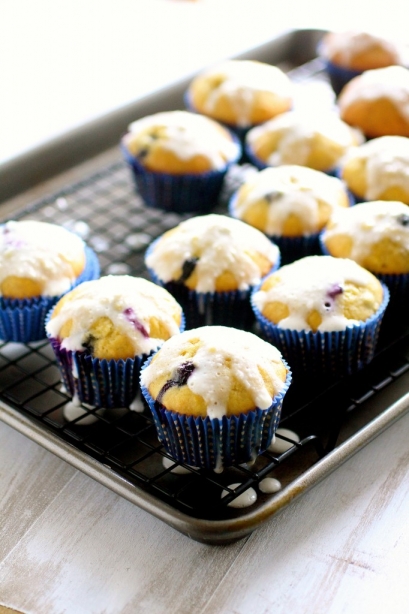 Blueberry Lemon Muffins with Cream Cheese Glaze
Servings: about 24 muffins
Ingredients
For the muffins:
2 cups all-purpose flour (you could probably substitute whole wheat pastry flour here-I was out.  Sad face.)
3/4 teaspoon baking soda
1/2 teaspoon salt
1 cup granulated sugar
1/4 cup (1/2  stick) unsalted butter, softened
1 cup mashed ripe banana (about 2 bananas)
2 eggs, whisked
1/3 cup nonfat Greek yogurt
1 teaspoon vanilla extract
1 cup fresh blueberries
1 tablespoon grated lemon rind
For the cream cheese glaze:
1/4 cup (2 ounces) block-style 1/3-less-fat cream cheese, softened
3 tablespoons powdered sugar
1 tablespoon fresh lemon juice
2 teaspoons water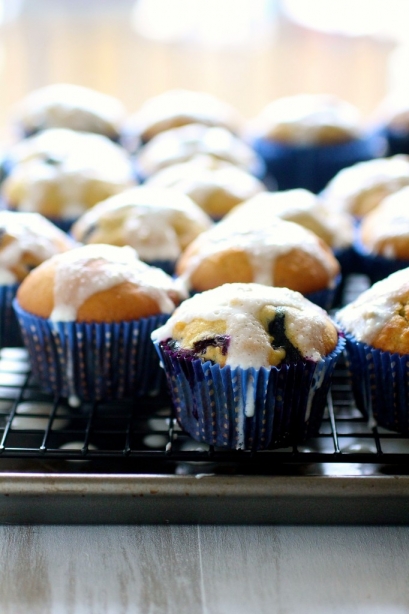 Instructions
1. For the muffins: Preheat oven to 350 degrees.  Line a cupcake pan with the liners of your choice.
2. In a medium bowl, whisk together the flour, baking soda, and salt.
3. In the bowl of your stand mixer fitted with the paddle attachment, beat the sugar and butter at medium speed until light and fluffy, about 2 minutes.
4. Add the mashed banana, eggs, Greek yogurt, and vanilla; mix until blended.
5. Reduce the mixer speed to low and add the dry ingredients; mix until just combined.
6. Using a spatula, gently fold in blueberries and lemon rind.
7. Divide the batter evenly in the prepared cupcake pan.
8. Bake at 350 degrees until a toothpick inserted into the center of a muffin comes out clean, about 18-20 minutes.
9. Cool completely on wire rack.
10. For the cream cheese glaze: In a medium bowl, combine the cream cheese, powdered sugar, lemon juice, and water, stirring with a whisk until smooth (I actually found it much easier to use a hand mixer here.)
11. Drizzle the glaze over the cooled muffins, and go tell someone you love them.
Source:  Slightly adapted from Cooking Light, as part of my monthly contribution to the Cooking Light Bloggers' Connection.