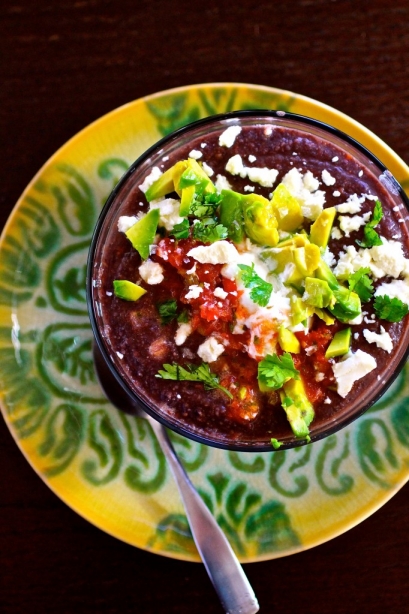 I think I can officially label myself as "exhausted".
Three weeks ago, Annie, Courtney, and I met up in Pennsylvania for a fabulous food-filled weekend at The Big Summer Potluck.  I met so many wonderful food bloggers…well, I guess I shouldn't describe them as "food bloggers".  They were wonderful women, from all over the country, who just happen to have food blogs in their free time.  I left the conference feeling inspired, refreshed, and completely satisfied (what do you get when you mix 75 food bloggers, wonderful sponsors, and guest speakers?  Things like a "Create Your Own Bean and Grain Salad Bar" and an "Avocado Toast Bar".  Mixed with a ton of Kerrygold cheeses and hand-picked international wines.  And a live band.  And other people who get this whole food blogging thing and have the same issues/rants/concerns/insecurities.)  It was one of the best weekends I have had in a long time.  So it was just pretty awesome.
And then my nephews came up to visit, which was pretty fun, too.  Introducing the kid-friendly side of Milwaukee to them was a nice challenge-they loved the lake and the boat rides and all the food.
And then my mom and little sister decided to come up for a three-day weekend, which just so happened to coincide with me having to take my car in for repairs (Surprise!  You need $975 in car repairs!) which actually worked out.  And they helped take the sting out of the dent in my wallet and reassured me, that yes, I am doing the right thing by driving my car until it just dies.
So, in between unpacking, cleaning, planning, and deciding to go back to being blonde,  I've been jumping from one thing to the next.  Which is great, but I'm ready for some major introversion time (like, I need to turn my phone off and play my music and center myself again).  And it just so happens to be one of my favorite kind of summer days: rainy and quiet.  So I don't feel guilty about not taking Scout for our walk to the lake, and I can just sit here and write/read/catch up on food magazines.  And catch up with this whole blogging thing.  And detox from all the carbs, wine, and cheese (and all the chocolate that I bought for my nephews and pretty much ended up eating myself.  So I just got done stuffing it in a plastic bag and hiding it in the freezer.  So I still have it in case of an emergency but hopefully I will forget about it. My pants are getting tight again.)
And even though it's mid-August (and how did that happen, seriously?), this soup would be the perfect meal for a slightly chilly/rainy day, such as this one.  I don't know why it's called Brazilian (maybe the orange juice?  the spices?), but I'm running with it.  It's completely good for you, and if you omit the toppings, it's vegan-friendly.  In a pinch, you can use canned/drained/rinsed black beans, but I think it's worth the extra step/time of soaking dried black beans overnight.  I just think it tastes better.
I hope you all have had a great couple of weeks, too.  I missed you.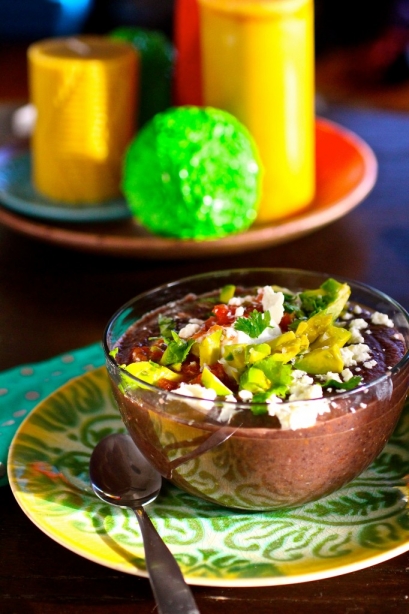 Brazilian Black Bean Soup
Servings: 6-8
Ingredients
2 cups dried black beans, soaked (to soak the beans, follow the instructions that are usually found on the package.  Most dried beans should be soaked in water for at least 4 hours, or, preferably, overnight.)
4 cups water
1 tablespoon extra-virgin olive oil
1 large onion, chopped
10 garlic cloves, crushed
2 teaspoons cumin
2 and 1/2 teaspoons salt
2 medium carrots, diced
1 medium red bell pepper, diced
1 and 1/2 cups orange juice
Cayenne pepper, to taste
2 medium tomatoes, diced
Toppings:  Avocado, Greek yogurt, cheese, etc.
Instructions
1. Place the soaked beans in a large sauce pot or Dutch oven with the 4 cups of water.
2. Bring the beans to a boil, cover, and simmer until tender (about 1 hour or so.)
3. Heat the olive oil in a saute pan over medium heat until shimmering.
4. Add the onion, half of the garlic, cumin, salt, and carrot, stirring frequently until the carrot is tender, about 5-7 minutes or so.
5. Add the remaining garlic and the bell pepper, stirring occasionally for another 10-15 minutes or so.
6. Add the sauteed vegetables to the bean mixture, stirring to combine.
7. Add the orange juice, cayenne pepper, and tomatoes.
8. Using an immersion blender or a real blender (in batches-very carefully), puree all or some of the soup to your desired consistency. ***This step is purely optional.  If you like a chunkier soup, just skip this step.
9. Simmer the soup over low heat for another 10-15 minutes.
10. Top with avocado, cheese, yogurt, etc. and enjoy.
Source:  Slightly adapted from The New Moosewood Cookbook.