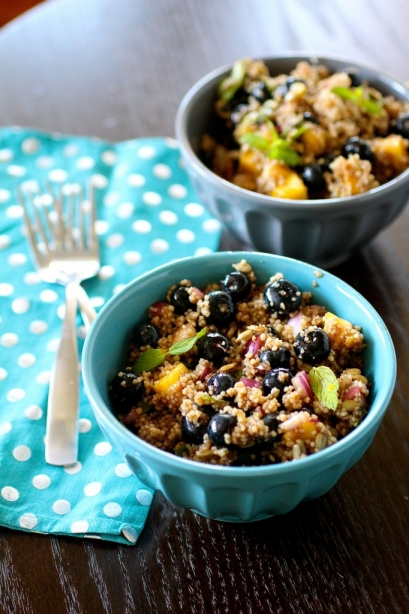 There's about a million things I am loving about Milwaukee right now.   This is one of them.  And here's an article to fill you in on this thing.
Even if you aren't from Milwaukee/living in Milwaukee, I hope you can appreciate the sense of humor and complete randomness of this phenomenon.  I had actually noticed him (the Milverine) last summer, usually as I was going to pick up Scout after work, walking north near my apartment.  There wasn't anything really particular about me noticing him; I just started seeing him quite a bit and felt like he had a definite purpose in his step.  Wherever this man was going, I wanted him to get there.  I noticed him without his shirt on, with a nice tight white tank, and sometimes there was a T-shirt.  But he always had a sense of determination and…poetry?….in his step.
So, it completely made my week when I noticed a small article about him in one of the online Milwaukee magazines that I subscribe to.  I literally squealed and did a little happy dance in my chair when I realized that this is an "actual thing".  I'm only one of thousands who have noticed him, (dare I say?) prowling the streets of Milwaukee.  I see him from time to time crossing the bridge near my apartment when I am on my balcony, and I cheer, gathering awkward stares from the diners below me, but who cares?  It's the Milverine. If you know me, you know that this truly does make my week.  I'm easily amused.
And it's completely fulfilling to know that I have landed in a city that I didn't think I would ever love-only to find that I am fitting right in.  Fitting in with the sense of humor, at least.  It's a small thing, I know, but to know that there are still people out there who find joy in the randomness of life is hopeful to me.  Maybe we all notice the same things, but we just don't devote Facebook pages to them.  Makes you think.  Indianapolis actually had a similar phenomenon-the dancing man at the corner of College and 38th.  Which also left me a with a sense of nostalgia and happiness each time I saw him while driving home.
One other thing I am loving about MKE right now is this, too.   They have a shop in Milwaukee's Public Market, so I visit quite often.  The first time I saw people literally tasting olive oil out of little cups, I felt a little sick.  I didn't want to drink olive oil straight.  But then I went in and tried all the variations/flavors and…got it.  Creating olive oil and balsamic vinegar combinations (with high-quality oils/vinegars) is a work of art. Regardless, you might find me in there on a random Sunday mixing some blood orange olive oil and some chocolate balsamic vinegar with a big smile on my face, in my own little world.  Another little happy place for me here.
When I saw that they had a few recipe cards up by the cash register, I grabbed a few.  This recipe was one of them.  Light, summery, and full of fresh mint, this salad is a nice change-up from traditional salad greens. The addition of mint here makes the salad, so don't skimp.  While the original recipe called for a chipotle olive oil and a mango balsamic (which would rock), I used a simple extra-virgin olive oil and an aged balsamic (just because I figured a lot of you out there don't have those in your kitchen…but maybe you should….).  Either way, this is simple and healthy.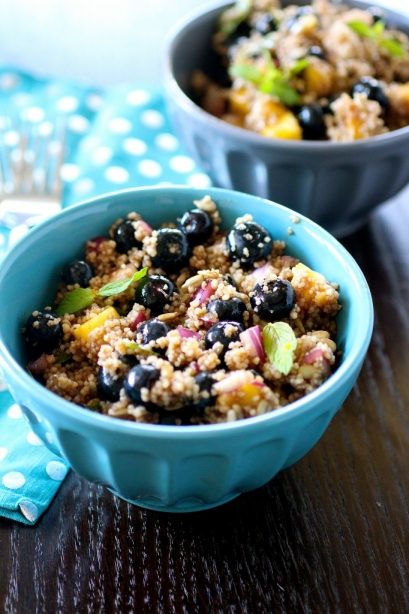 Mango Blueberry Couscous
Servings: about 4-6
Ingredients
3/4 cup water
1/2 teaspoon salt, divided
3/4 cup couscous
1-2 cups fresh blueberries
1 mango, cubed
1/2 cup red onion, chopped
2 tablespoons fresh mint,  or to taste
1/2 cup roasted and salted sunflower seeds
1 tablespoon fresh lemon juice
2 tablespoons extra-virgin olive oil
3 tablespoons high-quality balsamic vinegar
Instructions
1. In a small saucepan, combine the water with 1/4-teaspoon  salt.  Bring the mixture to a boil over medium-high heat.
2. Add the couscous, stir to combine, cover, and remove from the heat.  Let the mixture stand for about 5 minutes.
3. Uncover and fluff the couscous with a fork; transfer to a separate large bowl.
4.  Add the blueberries, mango, onion, mint, and sunflower seeds to the couscous, mixing well.
5. In a separate small bowl, whisk together the lemon juice, olive oil, balsamic vinegar, and the remaining 1/4-teaspoon salt.
6. Lightly drizzle the oil mixture over the couscous, tossing gently to thoroughly coat the couscous with the oil.  Season to taste.
Source:  Slightly adapted from Oro di Oliva.