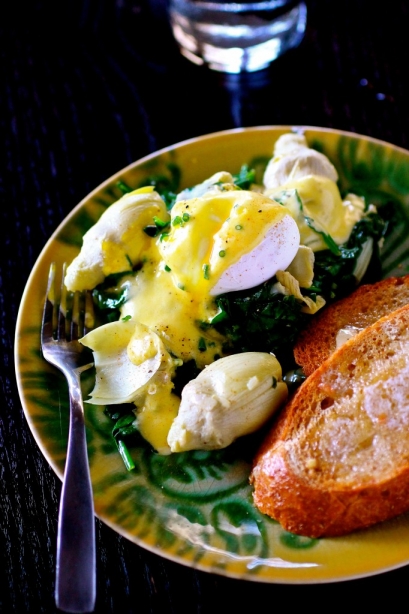 Take some nice artichokes, spinach, poached eggs, and creamy hollandaise sauce…and what do you get?
Only a dreamboat of a breakfast (or brunch, lunch, or dinner.)
Traditionally served over a creamed spinach mixture, this New Orleans staple combines a lot of really, really good things.  My dream would be to eat this for breakfast…in New Orleans..someday… followed by some beignets.  It will happen, and hopefully it will happen soon.
I decided to lighten up the recipe a little bit, though.  While it sounds incredibly tempting, the creamed spinach would totally kill my efforts to decrease unnecessary junk in my diet (although the hollandaise did a bit of a doozy, I will admit.)  And who doesn't love artichokes (even if they were jarred and not fresh?  I'm still a fan).  Served with the traditional poached egg and some whole grain toast, this is a fantastic way to start the day.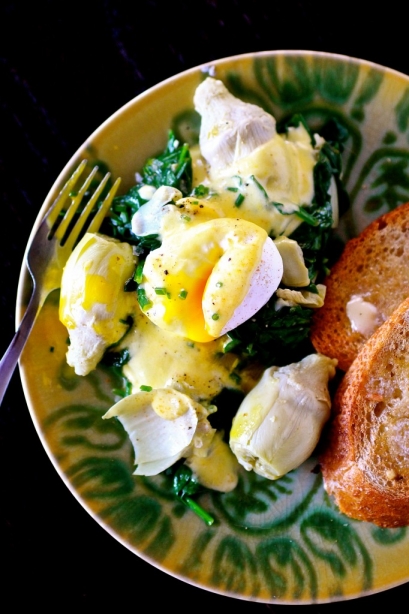 Eggs Sardou
Servings: 4
Ingredients
For the hollandaise sauce:
1 egg yolk
1/2 tablespoon fresh lemon juice
1 teaspoon water
8 tablespoons (1 stick) unsalted butter, melted
1 tablespoon fresh chives, chopped
For the rest of the dish:
1 tablespoon extra-virgin olive oil
1 medium shallot, chopped
1 clove garlic, minced
1 pound fresh spinach leaves
14-ounces artichoke hearts, drained and rinsed (use jarred or canned)
4 eggs, poached
Toast, for serving
Special equipment:  thermometer for cooking the hollandaise
Instructions
1. For the hollandaise sauce:  In a heatproof bowl set over a pot of simmering water, whisk together the egg yolk, lemon juice, and water.
2. Whisk the mixture constantly until it begins to thicken, then whisk for another minute or so.
3. While whisking constantly, slow add the melted butter in a thin stream until fully incorporated.  **I'm a stickler for appropriate cooking temperatures, so if you are too (which I hope you are), use a cooking thermometer to make sure the mixture reaches 160 degrees here.
4. Add the chives, whisking to combine.  Keep the mixture warm until serving time.
5. For the rest of the dish:  Heat the olive oil in a saute pan until shimmering over medium heat.
6. Add the shallots, stirring frequently, until they are softened, about 5 minutes or so.
7. Add the garlic and cook until fragrant (don't you love that aroma?), about 30 seconds or so.
8. Add the fresh spinach leaves (it's ok if you do it in batches), and cook until the spinach is wilted, about 1-2 minutes.
9.  Add the artichoke hearts, mixing to combine, breaking up the artichoke hearts as desired, until they are heated through, about 3-4 minutes or so.
10. To assemble:  Place a poached egg over the spinach/artichoke mixture and drizzle with your desired amount of warm hollandaise sauce. Season to taste with salt and pepper.  Serve with toast. Enjoy.
Source:  Hollandaise sauce from Williams-Sonoma.