So, when I started this little blog three and a half years ago, I had no idea of what doors could/would open up for me.  (Queue sappy, uplifting music.)  I mean, there I was, in the middle of Indiana, just kind of cooking a little bit, taking some pictures, and attempting to write a little bit.  It was all good.
But, now it's something that's a little bit more to me than just a hobby.  It's something to look forward to, something to improve upon, and I swear it makes for great dinner conversation if things get a bit awkward.  Everyone is curious about food blogging (or at least they try to be.)  But the best part is the constant learning that I experience-whether its practicing a technique, using a new type of ingredient, or making real life connections with other food bloggers all over the United States (which is incredible.)
So, needless to say, I'm just a smidge pumped about something that's going on this week.  And you get to come with me.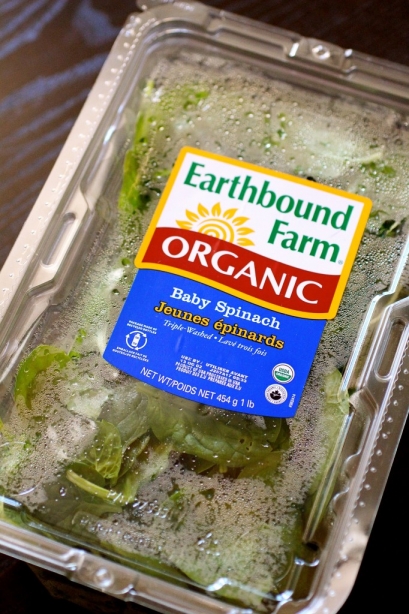 A few months ago, Renee from Earthbound Farms called me up and we talked for a bit about green leafy vegetables (and frozen fruits, too) as well as blogging in general.  I was so honestly humbled and excited when she invited me to become a member of their Earthbound Blogger Program. Sooooooo….I'll be spending the end of this week in Carmel Valley, California…visiting the actual farms, the processing plant, and meeting/greeting with a few other food bloggers.  I can't even begin to express my excitement for this trip-I mean, honestly, as someone who buys this product regularly in bulk, I cannot wait to see where the food actually comes from.  This company is amazing..just read a little bit about the incredible environmental work that they have done and be prepared to be inspired.  I'm so excited.  So. Excited.  Got it?
So, again, if you want to come along with me, follow me via Instagram, Pinterest, Twitter, or Facebook to be in the loop.  This is going to be a once in a lifetime type of trip for me, and I am so ready to experience this with open arms.  Knowledge is power, and I get to be up close and personal with one of my biggest passions: food…and ultimately where it comes from.
And, to get myself in a green leafy vegetable sort of mindset, I decided to try a recipe I immediately bookmarked in my latest issue of Cooking Light magazine.  You can probably use any type of squash here (the original recipe calls for spaghetti squash),  but I had an acorn (my personal fave) on hand.  Make sure to really get as much liquid out of the spinach/squash before you make the patties-this will help substantially with the cooking process. And feel free to throw in whatever kind of spices/herbs you like here..I went for a simple garlic feel here which I actually thought could use a little bit more of a punch to it, but you could honestly throw in whatever you like.  And, of course, I personally feel like there may be nothing sexier than a runny egg yolk in food photos, so of course, I had to throw a poached egg on top.  Enjoy.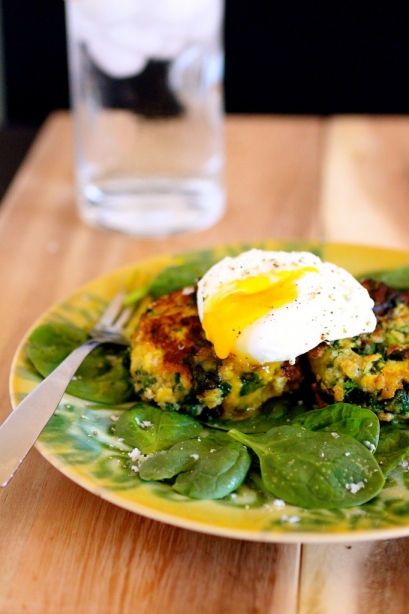 Spinach Squash Fritters with Poached Eggs
Servings: about 8-10 fritters
Ingredients
2 tablespoon extra-virgin olive oil, divided
One 8-ounce package baby spinach
One 2 pound squash, cooked (I used acorn) and skin discarded **I cook my squash in the oven at 350 degrees.  I place the squash, cut side down, in about 1/4-inch water and roast for about 45 minutes.  Just scoop the flesh out when it's cool enough to handle.
1/2 cup whole wheat panko
2 tablespoons Parmesan cheese, grated
1 tablespoon garlic, minced****Here's a good place to add in additional seasonings, if you like.
1/2 teaspoon black pepper
1/4 teaspoon baking powder
2 large egg whites
4 eggs, poached ***If you want to know how to poach an egg, click here.

Instructions
1.  Heat 1 tablespoons of the olive oil in a large saute pan over medium heat until shimmering.
2. Add the spinach and cook, stirring occasionally, until the spinach is bright green and wilted, about 3-4 minutes.  Carefully transfer the spinach to a clean dish towel.
3. Add the cooked squash to the spinach and gently squeeze the mixture in the dish towel, getting out as much excess liquid as possible.  Transfer the mixture to a large bowl.
4. Add the whole wheat panko, Parmesan cheese, minced garlic, black pepper, and baking powder, mixing to combine.
5. In a separate small bowl, using an electric hand mixer, beat the egg whites on high speed until soft peaks form (a few minutes).
6. Gently fold the egg whites into the squash mixture.
7. Using a 1/4-cup as your guide, gently form 3/4-inch thick patties with the squash mixture.
8. In a large nonstick skillet over medium heat, heat the remaining olive oil until shimmering.
9. Add one or two patties to the pan, cooking for about 3 minutes on each side (until lightly browned).  Repeat with the remaining patties.
10. Top the patties with poached eggs, and enjoy.

Source:  Slightly adapted from Cooking Light as part of my monthly contribution to the Cooking Light Bloggers Community.