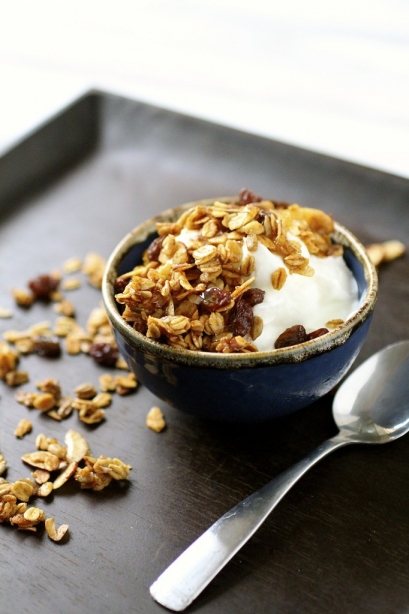 I'm in the middle of a serious 6-week span of traveling.  You know I went to California for the Experience Earthbound trip, headed to Washington D.C. for a work conference, going to Hawaii (OMG OMG OMG) in a few days for another work conference (seriously, the people who plan these conferences are brilliant…..and since I have never been to Hawaii…AND it's going to be my birthday, I'm pretty excited), and then…the icing on the cake….I'm heading to Buenos Aires in three weeks for a vacation with a friend. I've been pinching pennies, proudly walking past the Anthropologie in my neighborhood every day without going in, in order to save for these trips.  And it's amazing.  Suddenly, I am getting to explore the world.  Next year, I'm headed to Jerusalem.  Life is good.
What's not so great about all this traveling is the fact that I am not getting to spend as much time in the kitchen as I would like to, so posting might become a little sporadic in the next few weeks.  I'm going to keep posting pictures to the Instagram account, if you are interested. (I've got some archives stored up, though, so no worries for now).  What I do need right now are some quick, simple and solid recipes to get me through the next few weeks.
And, since I'm still a little high about Earthbound Farm, I thought I would share a couple of recipes from the cookbooks of Earthbound Farm co-founder, Myra Goodman.
Granola is great, but it's not something that I really eat all that often, to be honest with you.  I find the store-bought versions a little greasy and overpowering.  But since I made this version (which is perfect for fall, by the way), I've got a giant Ziplock baggie of it in my freezer and have been packing it for lunch each day. (This stuff freezes incredibly well.)  I stuck to the original recipe here, but feel free to throw in some flaxseed, dried fruit, or other nuts, if you like.  The maple cinnamon flavor here is to die for.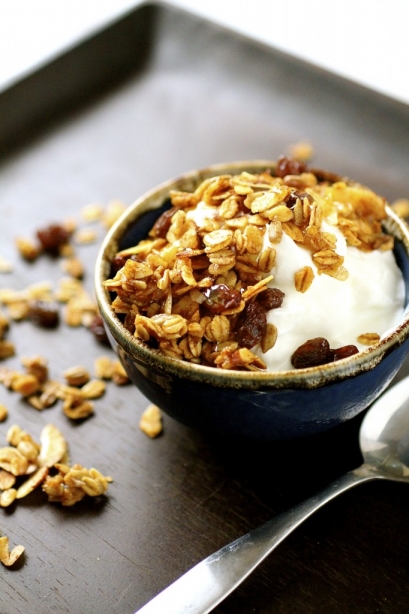 Maple Almond Granola
Servings: makes about 8 cups
Ingredients
4 and 1/2 cups old-fashioned rolled oats
3/4 cup shelled, raw, unsalted sunflower seeds
1 and 1/2 cups slivered almonds
2 tablespoons ground cinnamon
1 and 1/4 cups pure maple syrup (Grade A, if possible, for the best flavor)
1/3 cup canola oil
Cooking spray
1 cup raisins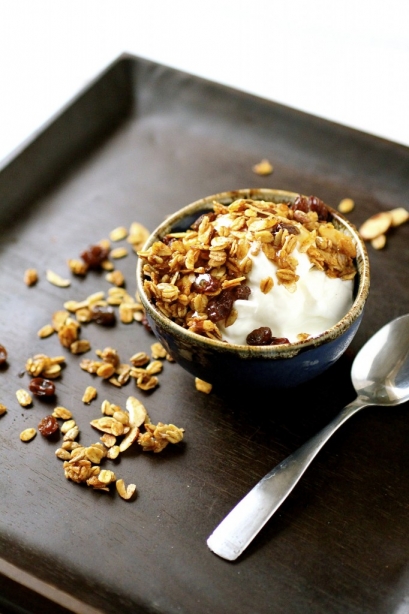 Instructions
1. Place an oven rack in the center of the oven and preheat the oven to 325 degrees.
2. In a large bowl, combine the oats, sunflower seeds, almonds and cinnamon, stirring to combine.
3.  Add the maple syrup and oil to the bowl, mixing to thoroughly combine.
4. Lightly spray a large, rimmed baking sheet with cooking spray, and spread the granola out in an even layer on the baking sheet.
5. Bake the granola until it lightly browns, about 25 minutes.
6. Stir the granola with a flat spatula, then bake for another 15-20 minutes, watching it carefully so that it doesn't burn.
7. Remove the granola from the oven and immediately stir in the raisins until combined.  Let the granola cool completely.  Transfer to an airtight container at room temperature (you can store for up to one month) or freeze.
Source:  Food to Live By by Myra Goodman.