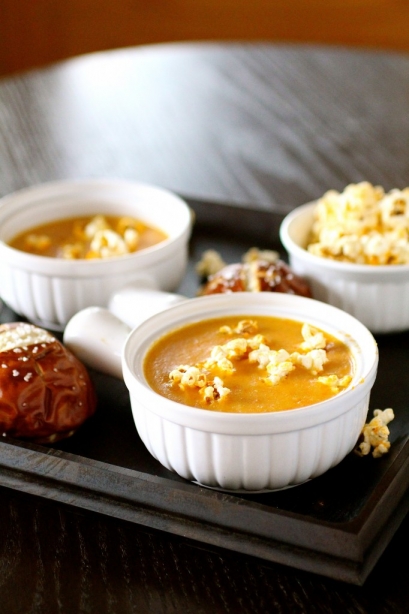 So this isn't a "light" recipe.  This isn't one to have before you are going on a beach vacation (which I was, which then allowed me to have a momentary lapse of guilt when I donned the swimsuit I hadn't worn in over a year—ooops).  And it's not one that I felt like *trying* to make healthier (you'll find that this vegetarian version of this soup IS a bit healthier than the original).
It is what it is.
A rustic, Wisconsin-proud, autumn/football/wear a fuzzy sweater kind of soup.
Yeah.  Sometimes you need one of those.  And this one is pretty satisfying when you need a dietary-bring-it-on-kind-of-indulgement.
I couldn't stop eating the leftovers with this one (for the leftovers, I slowly reheated mine over low heat, stirring constantly).  I had some small pretzel rolls stashed in my freezer that went perfectly with this.   And, of course, since popcorn is a much-loved staple in my diet, throwing some on top pretty much made it the icing on the cake.
You can't go wrong here, really, if you like beer and cheese. (Sidenote: when I interviewed for my job here in Wisconsin, I was told that in order to live here, especially in Milwaukee, I needed to have a true love for beer and cheese.   Not a tough requirement for me.  "Well," I thought, "I'll fit just like a glove.")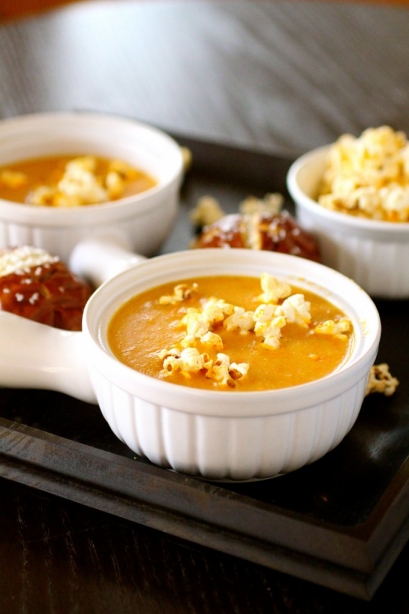 Cheddar Ale Soup
Servings: 6-8
Ingredients
2 tablespoons extra-virgin olive oil
1 medium yellow onion, chopped
3 carrots, grated and chopped
3 celery stalks, chopped
3 cloves garlic, minced
1/3 cup all-purpose flour
1 bottle (355 ml) beer, of your choice.  I recommend an IPA (you know, for the whole "Ale" part of the title).
1 tablespoon vegetarian Worcestershire sauce
2 cups milk (I used skim)
2 cups vegetable broth
1 and 1/4 pound cheddar cheese, grated (I used a combination of sharp and medium cheddars)
Instructions
1. In a Dutch oven over medium heat, heat the olive oil until shimmering.
2. Add the onion, carrots and celery, cover and cook, stirring occasionally, about 15 minutes or so, until they are softened.
3. Add the minced garlic and cook for 1 minute.
4. Add the flour and cook, stirring occasionally, for 3 to 4 minutes.
5. Add the beer and cook, stirring constantly, for 2 to 3 minutes.
6. Add the Worcestershire sauce, milk and broth, stirring constantly.
7. Increase the heat to medium-high and bring the soup to a gentle simmer, stirring occasionally, for about 10 minutes.
8. Remove the pot from the heat (or turn off the heat) and (very carefully) puree the soup with an immersion blender until smooth.  Alternatively, puree in a blender in batches (please be careful).
9. Return the pot to the stove over medium-low heat and add the cheese, about 1/4 cup at a time, stirring constantly, until the cheese is completely melted. (Don't let the soup boil-it will mess with your cheese smoothness.) Season to taste with salt and pepper, and serve immediately.
Source:  Adapted from Williams-Sonoma.