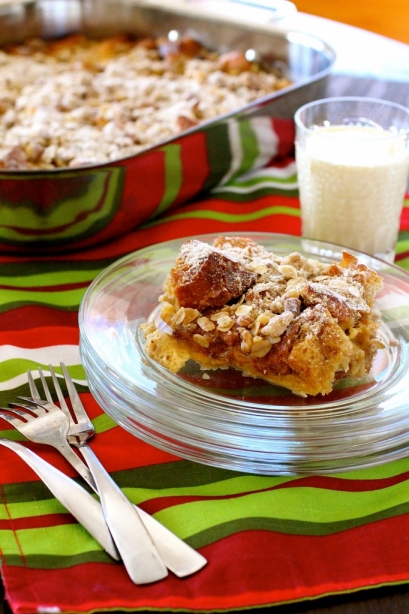 Come and get your Christmas carbs, ladies and gentlemen.
The December 2013 issue of Cooking Light, was, far and away, one of their best issues yet.  When I get the issue in the mail each month, I promptly draw up a bubble bath (inevitably putting in way too much soap and then laughing way too much when I turn the jacuzzi jets on and the bubbles go up over my head.  The saddest part?  I know that it's going to happen every single time.  But, it's one of those little childish indulges-I revert back to age 5 when I used to beg my parents to buy me Mr. Bubble.  Sometimes a She-Ra action figure or a glamorous Barbie would catch my eye instead, but I pretty much exclusively wanted Mr. Bubble.  Odd?  Yes. But at least I was a clean child.)
So, usually I flip through the magazine and just dog-ear the pages of recipes that I want to try.  This issue is all wrinkly and warped from getting wet and most of the pages have dog-ears.  That's a brilliant success for me.  Bravo, Cooking Light, bravo.
Anyways, this was one of the recipes I wanted to try.  You know, to get in the Christmas spirit.
Or just in the spirit of having something with rum in it for a lazy Saturday breakfast.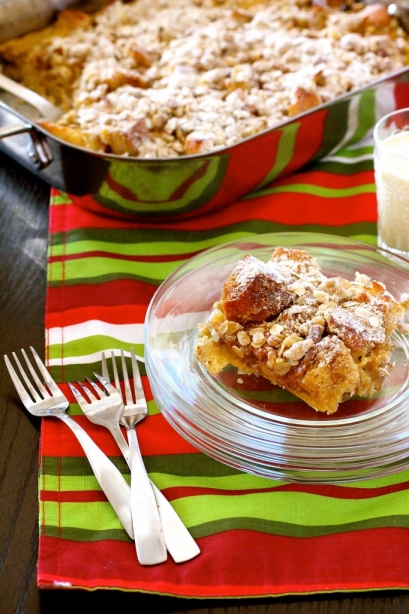 Bananas Foster Breakfast Strata
Servings: 8-10
Ingredients
For the strata:
1 tablespoon canola oil
1 tablespoon unsalted butter
3 medium ripe bananas, sliced
1/2 cup rum
1 cup  brown sugar
1/2 teaspoon salt
1 cup half-and-half
1/2 cup granulated sugar
4 large eggs, lightly beaten
Two 12-ounce cans of fat-free evaporated milk
1 (1-pound) French bread baguette, cut into 1/2-inch cubes
For the streusel topping:
1/3 cup all-purpose flour
1/4 cup chopped walnuts
1/4 cup packed brown sugar
1/4 cup old-fashioned rolled oats
Pinch of salt
1 tablespoon canola oil
2 tablespoons powdered sugar
Instructions
1. For the strata: Preheat oven to 350 degrees and spray a 9 x 13-inch baking dish with cooking spray.
2. Over medium-high heat, place 1 tablespoon canola oil and 1 tablespoon of butter in a large skillet.
3. Add the bananas; sauté 1 minute.
4. Carefully add half of the rum; cook the rum until flames subside. (I didn't get much of a flame on mine-if you don't that's ok. Just be safe.)
5. Add remaining the rum, 1 cup brown sugar, and 1/2 teaspoon salt; cook for about 3 minutes or until the bananas are soft.
6. Transfer the banana mixture to a large bowl, and smash the  bananas with a pastry blender or fork until chunky.
7. In a separate bowl, whisk together the half-and-half, granulated sugar, eggs, and evaporated milk.
8. Add the egg mixture and bread cubes to the smashed bananas, tossing well to coat.
9. Spread the mixture into your prepared baking dish and bake for 20 minutes.
10. For the streusel topping: In a medium bowl, whisk together the flour, walnuts, brown sugar, rolled oats, and salt.
11. Stir in 1 tablespoon canola oil.
12. After the strata has baked for the 20 minutes, carefully remove it from the oven; sprinkle evenly with the streusel.
13. Bake for an additional 30 minutes or until golden and set. Sprinkle with powdered sugar.
Source:  Cooking Light December 2013 issue as part of my monthly contribution to the Cooking Light Bloggers' Connection.