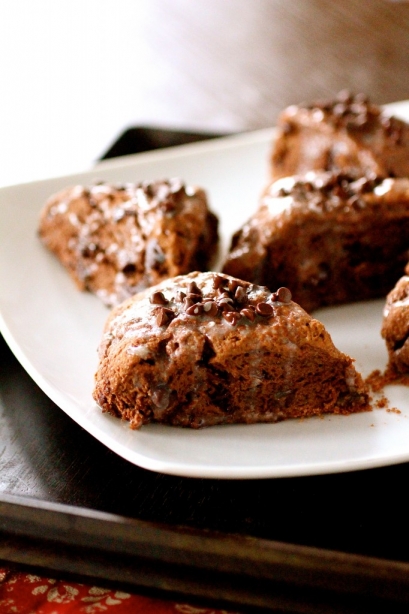 This is an impromptu post.  In honor of the season premier of the fourth season of Downton Abbey tonight.  Hooray!
After the (shall I say, abrupt and completely horrific?) finale of last season, I was left on my couch, swearing/screaming/crying and attempting to throw a pillow at the TV because I couldn't stand the way that the season ended.  Talk about a roller coaster ride (ah, but that's what makes it so worth watching, right?).  I've waited to see where this season would pick up with the cast of such multi-dimensional characters like my own family (minus a few major favorites, but I'll forgive them).  It's a great show.
I wanted to make something English-ish(?) in honor of the show tonight.  I thought about crumpets (well, to be honest, I had to google what a crumpet actually was, and while they look delicious, I decided to pass on them this time in order to make something a little more indulgent.) I thought about some sort of little tea cakes.  But then I just decided to try out these triple chocolate scones instead.  Made with dark chocolate chunks on the inside, dark cocoa batter, white chocolate drizzle, and mini semisweet chocolate chips sprinkled on top, they probably technically should be called "Quadruple Chocolate Scones", but you catch my drift.  They are actually more like mini desserts than a traditional scone.
If you aren't a Downton fan, you can still enjoy these scones. 😉
Triple Chocolate Scones
Servings: about 12 scones
Ingredients
For the scones:
2 cups all-purpose flour
2/3 cup whole wheat pastry flour
1/3 cup Dutch-process cocoa
1/2 teaspoon espresso powder
1/2 cup granulated sugar
1 tablespoon baking powder
1/2 teaspoon baking soda
3/4 teaspoon salt
8 tablespoons unsalted cold butter, cut into 1-tablespooon pieces
1 and 1/2 cups dark chocolate chunks (or whatever kind of chocolate you like)
1 teaspoon vanilla
1 large egg
3/4 cup milk
For your baking sheet: 
3 tablespoons granulated sugar
1 teaspoon cocoa powder
For the white chocolate glaze:
2/3 cup white chocolate chips
1/4 cup half & half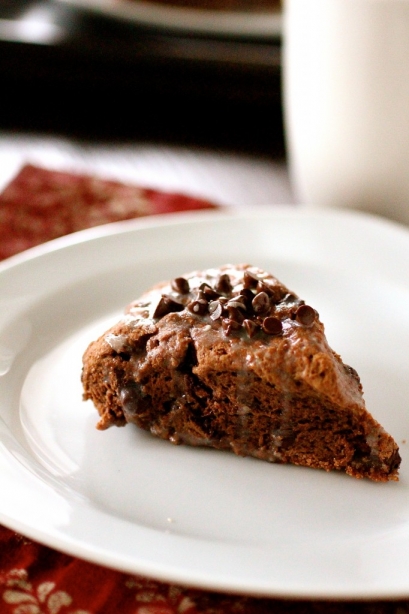 Instructions
1. For the scones: Preheat the oven to 375 degrees and line a rimmed baking sheet with parchment paper; set aside.
2) In a large mixing bowl or in the bowl of your standing mixer fitted with the paddle attachment, combine the flours, cocoa, espresso powder, sugar, baking powder, baking soda, and salt, mixing until thoroughly combined.
3) With a pastry blender or with the mixer speed set to low, add the butter, one piece at a time, mixing until the dough is unevenly crumbly.
4) Add in the chocolate chunks.
5) In a small separate bowl, whisk together the vanilla, egg, and milk.
6) Add the liquid ingredients to the dry ingredients, stirring until the dough comes together, adding a little bit more milk if the dough is too dry.
7) To prepare your baking sheets: In a small bowl, mix together the 3 tablespoons of sugar with the 1 teaspoon of cocoa powder, and sprinkle it evenly on your parchment-lined baking sheet. (This helps the scones to not stick to the paper and adds a touch of extra sweetness.  You can omit this step if you want.)
8) Divide the dough in half, and shape each piece into a 6″ circle, about 3/4″ thick.
9) Cut each circle into 6 wedge-shaped pieces with a sharp knife.
10) Bake the scones for 18 to 23 minutes, until a tester inserted into the center of one comes out clean; or with just a smear of chocolate from a melting chip.
11) Remove the scones from the oven, and let cool completely before glazing.
12) For the glaze: Place the white chocolate chips and half & half in a small saucepan. Heat over low heat until the cream is very hot, about 3-4 minutes or so.
13. Remove from the heat, and stir until the chips melt.
14.) Drizzle the glaze over the cooled scones.
Source:  Slightly adapted from King Arthur Flour Company.