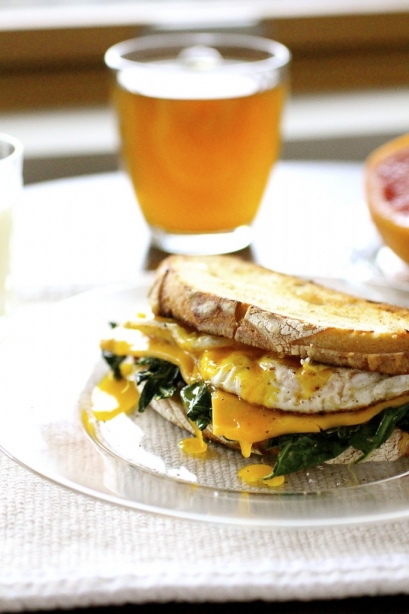 Sometimes you just have to dive, face-first, into some real comfort food.
Some people find solace in a giant bowl of ice cream or a huge dish of creamy, cheesy macaroni and cheese.  Others like anything with chocolate in it while some prefer some home-cooked mashed potatoes.  Yes, I love all of these things and pretty much find an excuse to eat them any time I can.
But, sometimes a nice cheesy, drippy, runny egg sandwich is just something that makes me feel better.  Maybe it's because I have fond memories of my dad making egg sandwiches all the time as a kid or maybe because when I was doing my emergency medicine rotation in medical school, I would sometimes zip through a Starbuck's drive-thru for an after-overnight shift comfort food run after a particularly grueling shift (not such warm fuzzy memories of the rotation itself…..)..which somehow made me feel a bit better (also it helped me sleep during the day).
Regardless, a few years back in the early days of this blog, I made this version of a Broken Yolk Sandwich.  Since times have changed a bit and my need for comfort food has seemingly increased exponentially, I decided to come up with another version which would incorporate a bit more nutrition in the way of healthy greens.   Be creative here.  I love sourdough bread when it comes to breakfast sandwiches, but use whatever kind of bread you like here.  Also, feel free to throw in some mushrooms or onions to the greens to make this more veggie-friendly.
Bring on the comfort food.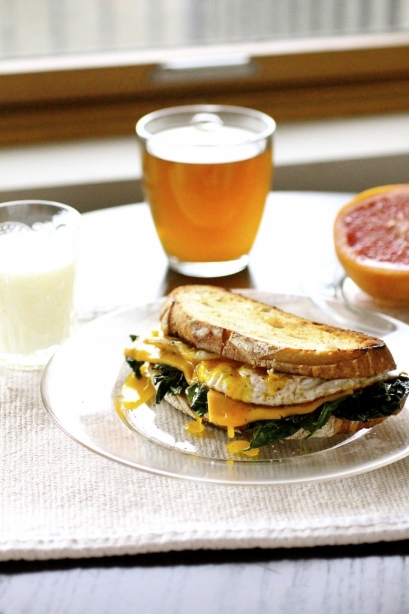 Broken Yolk Sandwiches with Garlicky Kale
Servings: 2 sandwiches
Ingredients
For the greens:
1 tablespoon extra-virgin olive oil
1 head lacinato kale, leaves torn and stems discarded
1 garlic clove, minced
Red pepper flakes, to taste
Salt and pepper, to taste
For the sandwiches:
Sourdough bread, sliced and toasted
2 eggs, prepared the way of your choosing.  I prefer mine fried, over easy. (Gotta have that drippy yolk!)
Cheese, type of your choice
Instructions
1. In a large sauté pan over medium heat, add the olive oil until shimmering.
2. Add the kale and cook, stirring frequently, until the kale has softened, about 4-5 minutes.
3. Add the garlic and red pepper flakes, and cook for an additional 30 seconds or so.
4. Season to taste with salt and pepper.
5. Assemble the sandwiches as desired.
Source:  A Curvy Carrot original.