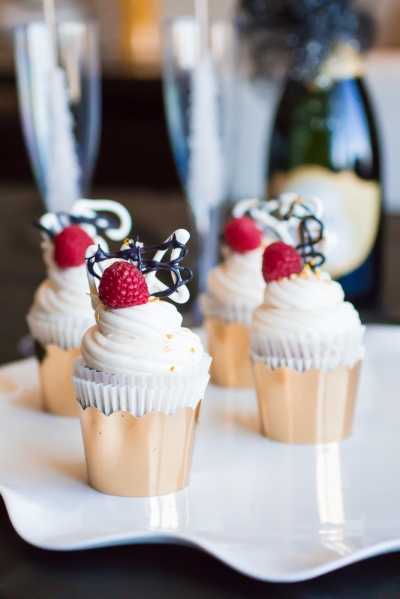 My sister got married last weekend.
I'm sure she will say the same, but it was one of the best days of my life, I have to say.  She looked beautiful, radiant, and had a permanent smile from ear to ear all day.  In the morning, it was rainy, but as soon as we got into the limo to take pictures outside, the sun came out (I'd like to think it was intentional on behalf of Mother Nature….).  The day went off without a hitch, and we danced and laughed until the wee morning hours (some of us more than others.)  Months of random emotional outbursts, errand running, and planning all came together in just a few short, wonderful hours.  What a day.  My baby sister isn't a baby anymore.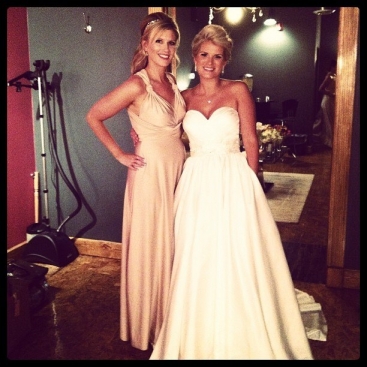 Getting back into the swing of things, I decided to post this recipe from her bachelorette party.  Our theme was  "Andy POPPED the Question!" so we did a mix of champagne-related finger foods with lots of Sam's favorites (including a homemade Chicago-style popcorn- recipe coming your way soon).  Going back into my archives, I adapted this old version of a traditional champagne cupcake with champagne buttercream frosting to include some fresh raspberries and some Chambord.  I loved the results.  Perfect for a bridal shower, engagement party, or even just for a rainy day, these cupcakes are worth a bit of the work it takes to make them.   Topped with some gold sprinkles and a candy melt garnish, they were a big hit with the other bridesmaids.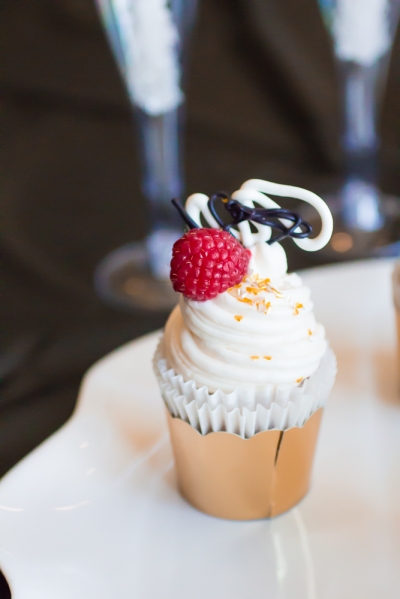 Raspberry Champagne Cupcakes with Champagne Buttercream Frosting
Servings: about 22-22 cupcakes
Ingredients
For the cupcakes:
2 and 3/4 cups all-purpose flour
3 teaspoons baking powder
1 teaspoon salt
2/3 cup unsalted butter, at room temperature (this is about 10 and 2/3 tablespoons of butter-I know, it's an odd measurement, but do your best)
1 and 1/2 cups granulated sugar
3/4 cup champagne
1 tablespoon Chambord liqueur
6 egg whites
6 ounces fresh raspberries
For the buttercream frosting:  **What I have listed here is a doubled version of the original recipe, because I knew that I would want A LOT of frosting.  If you do not want a lot of frosting (or just a normal amount), please visit the original recipe for the halved ingredient list.
6 and 1/2 cups powdered sugar
2 cups unsalted butter, at room temperature
1 teaspoon vanilla extract
5 tablespoons champagne, at room temperature
1 tablespoon Chambord liqueur
For garnish:
Gold sprinkles, fresh raspberries, candy melt toppers.  **For instructions on how to make a candy melt topper, see here.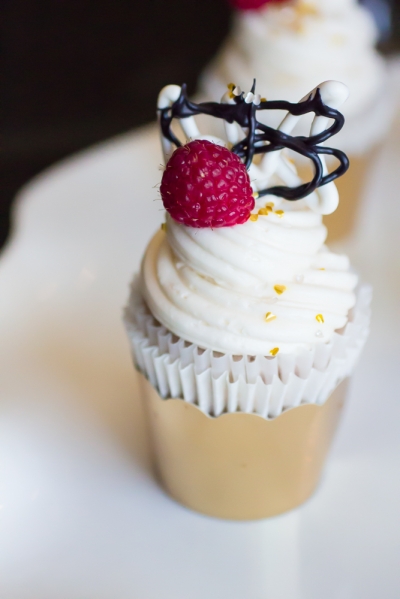 Instructions
 1. For the cupcakes: Preheat oven to 350 degrees.
2. Line cupcake pans with paper liners.
3. In the bowl of your standing mixer fitted with the paddle attachment (or using an electric hand mixer), beat together the butter and sugar until very light and fluffy, about 2-3 minutes.
4. In a separate bowl, sift together the  flour, baking powder, and salt, and then blend into creamed mixture alternately with champagne.  Add in the Chambord.
5. In another large clean bowl, beat the egg whites until stiff peaks form.
6. Fold 1/3 of the egg whites into the batter to lighten it, and then fold in the remaining egg whites.
7. Gently fold in the fresh raspberries. (It's ok if you crush a few in the process.)
8. Fill the cupcake liners about 2/3 full.
9. Bake at 350 degrees for 20 minutes, or until a toothpick inserted into the cake comes out clean.  **Mine needed just a few minutes more.
10. For the frosting: With an electric mixer, beat together the powdered sugar and butter.
11. Mix on low until well blended, and then on medium for another two minutes.
12. Add vanilla, champagne, and Chambord, beating on medium for another minute.
13.  Pipe onto cooled cupcakes.  Decorate as desired.
Source:  Adapted from this recipe (see for original source).