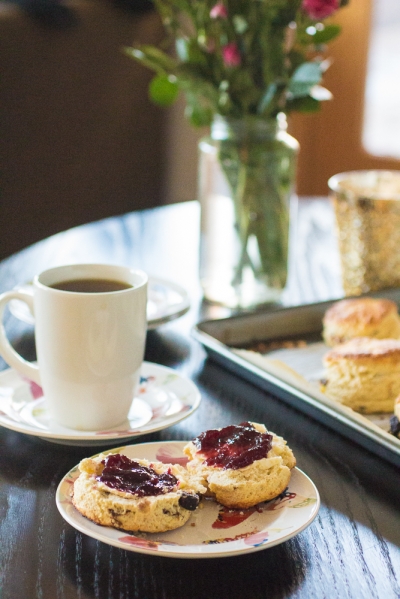 I made some "proper" British-style scones after I saw this recipe in Cook's Illustrated.  As a devoted fan of Downton Abbey, I felt that this recipe might be a little more appropriate than some of the other "American-style" scones I've posted in the past.  I also didn't realize that the season was wrapping up a couple of weeks ago.  I found it a little odd that I had taped two hours worth of Downton but just figured that it was a special or something like that.
I nestled in, cup of tea in one hand and one of these scones in the other.  Sweatpants, warm fuzzy socks, and a freshly clean blanket wrapped around me.  Somehow, as embarrassing as this seems (and yes, I am telling you this), I feel like a part of the cast in a way.  (Sidenote:  have you ever taken one of those "Who Are You?" quizzes that everyone was posting on Facebook a few weeks back?  I totally took the Downton Abbey one and got Anna.  Which made me happy because I love her.)  All I needed was a dress with some serious intricate beadwork and a beautiful long necklace (those costumes have got to be so beautiful in person.)
Anyways, these scones are incredible.  Not too dense, not too light.  Full of flavor…and perfect with any type of tea.  I had some dried raspberries and apricots on hand so I decided to use these here (the original recipe calls for currants.)  Use whatever kind of dried fruit you like here-and play around with different combinations.
When the last episode ended (with warm fuzzes, thankfully, as compared to last season's traumatizing and tear-inducing finale), I suddenly realized that the season was over.  As bummed as I was about that, these scones made it a bit better.  And now the wait begins for the next season……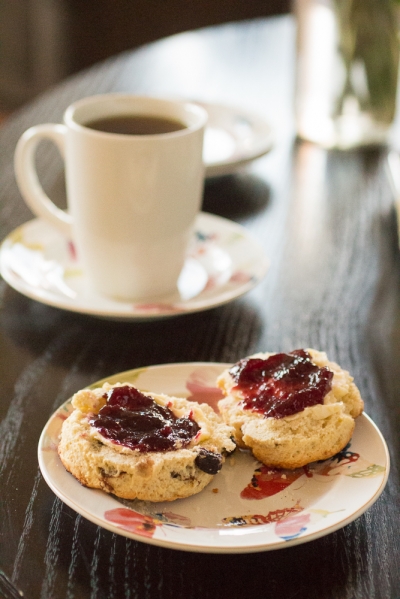 Raspberry Apricot Scones
Servings: 12 scones
Ingredients
3 cups all-purpose flour
1/3 cup granulated sugar
2 tablespoons baking powder
1/2 teaspoon salt
8 tablespoons unsalted butter, cut into 1/2-inch pieces and softened
1/2 cup dried apricots, coarsely chopped
1/2 cup dried raspberries
1 cup milk (I used skim.)
2 large eggs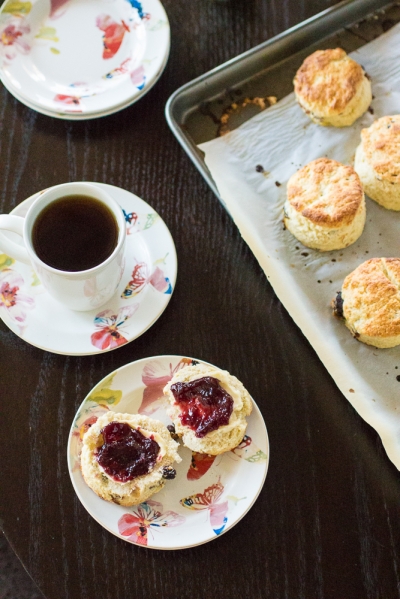 Instructions
1. Preheat the oven to 425 degrees and line a rimmed baking sheet with parchment paper.
2.  In the bowl of your food processor, pulse together the flour, sugar, baking powder, and salt in food processor until combined.
3. Add the butter and pulse until fully incorporated and the dough looks like coarse sand, about 20 pulses.
4. Transfer the dough to a large bowl and add in the apricots and raspberries, stirring until combined.
5.  In a separate small bowl, whisk together the milk and eggs, setting aside 2 tablespoons of the milk mixture.
6. Add the remaining milk mixture to the flour mixture and, using rubber spatula, fold together until thoroughly combined.
7.  Transfer the dough to a clean, flat, and floured surface and gather the dough into a ball.
8. Knead the dough until the surface is smooth and free of cracks, 25 to 30 times, and press gently into a disk.
9. Using a floured rolling pin, roll the dough disk into a 9-inch round, about 1 inch thick.
10. Using a 2  and 1/2-inch round cutter, stamp out rounds, pressing down directly without twisting the cutter.  Gather up the remaining dough and roll it out again, then cut out rounds.  Repeat until all the dough is used.
11. Arrange the scones on the prepared baking sheet.
12. Brush the tops of the scones with the reserved milk mixture.
13. Bake the scones until risen and golden brown, 10 to 12 minutes, rotating sheet halfway through baking.
14. Transfer the scones to a wire rack and let cool for at least 10 minutes. Serve scones warm or at room temperature.
Source:  Slightly adapted from Cook's Illustrated.