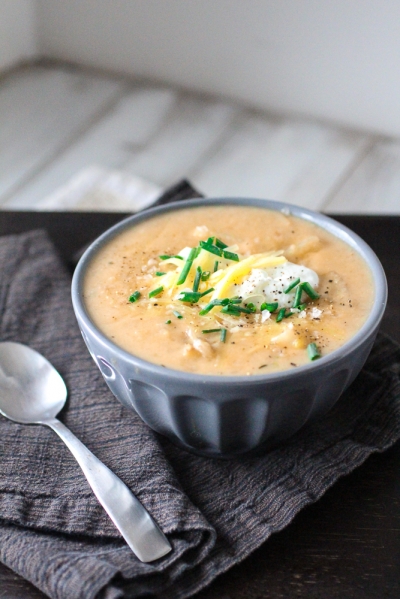 Happy mid-March!
I cannot even begin to express how ready I am for summer (or at least a bit of warm weather.)  Milwaukee has been hit pretty hard this year, but, surprisingly, my friends and family back home in Indiana have had it even worse.  I'm tired of astronomical heating bills and my patio furniture constantly toppling over on my balcony.  I'm ready for my daily walk with Scout down to the lake, boats going by on the river, and generous glasses of wine out on my balcony with a book in hand. It's slowly getting warmer, and the sun is a bit more visible these days, so I know it's coming.  The other night I even wore a trench coat out instead of my big winter sleeping bag of a coat (which, I have to admit I like putting on when I'm wearing my pajamas still at 4pm on a Sunday and realize no one will notice with the coat on). And, there were some birds actually singing the other morning when I took Scout for a walk.  It's on its way.  So bring it.
Although…….there are still grey and chilly nights when I need something quick and easy to make my belly full.  Especially weeknights when the days seem to blend together.  Something hearty and filling and salty and creamy. Like this potato soup.
I added in some cheese here to this soup (and added some on top-I have no regrets.) to make it a bit more flavorful, but you can omit if you are watching calories.   (The soup is still incredible without it-but with the heavy cream, it's not exactly "light" either.  Go big or go home.)  It's very easy to reheat (it doesn't separate out like some soups do) and tastes even better the next day.  Feel free to add in other ingredients here-it has a chowder type of consistency that would work well with things like corn or even some greens.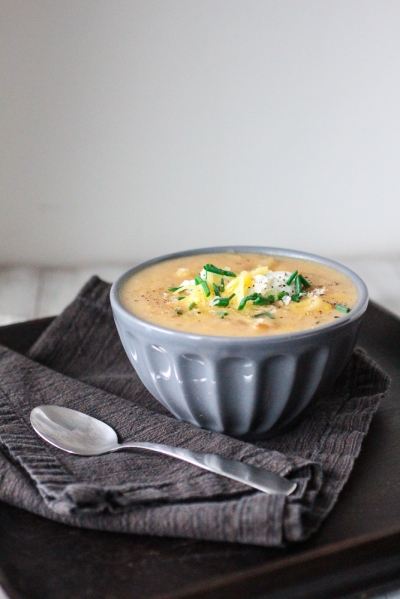 White Cheddar Potato Garlic Soup
Servings: 6-8
Ingredients
3 tablespoons unsalted butter
1leek, white and light green parts halved lengthwise, washed, and chopped (about 1 cup)
3 medium cloves garlic, minced
2 heads garlic, rinsed, papery skins removed and top third of heads cut off and discarded
6 cups vegetable broth
2 bay leaves
3/4 teaspoon salt
1  and 1/2 pounds russet potatoes, peeled and cut into 1/2-inch cubes (about 4 1/2 cups)
1 pound red potatoes (unpeeled), cut into 1/2-inch cubes (about 3 cups)
1/2 cup heavy cream
1 and 1/2 teaspoons minced fresh thyme leaves
Salt and pepper, to taste
1 cup white cheddar cheese, shredded
For garnish:  chives, additional cheese, Greek yogurt/sour cream, etc
Instructions
1. Melt the butter in a Dutch oven or large pot over medium heat.
2. Add the leeks and cook until soft, 5 minutes.
3. Add the minced garlic and cook until fragrant, about 1 minute.
4. Add the garlic heads, vegetable broth, bay leaves, and 3/4 teaspoon salt; partially cover the pot and bring the soup to a simmer over medium-high heat.
5. Reduce the heat and simmer until the garlic is very tender when pierced with tip of knife, 30 to 40 minutes.
6. Add both types of potatoes and continue to simmer, partially covered, until the potatoes are tender, 15 to 20 minutes.
7. Carefully discard the bay leaves.
8. Remove the garlic heads, and using tongs, squeeze the garlic heads at root ends until cloves slip out of their skins.
9. In a small bowl, mash the garlic to a smooth paste.
10. Stir the cream, thyme, and half of the mashed garlic into the soup; heat soup until hot, about 2 minutes.  (Add more of the mashed garlic if you think it needs more-I was ok with just using half.)
11. Using an immersion blender, process the soup until creamy, with some potato chunks remaining (or, puree the soup in a blender in batches).
12. Slowly stir in the cheese, mixing until the cheese is completely melted.
13.  Season to taste with salt and pepper, and garnish as desired.
Source:  Adapted slightly from Cook's Illustrated.