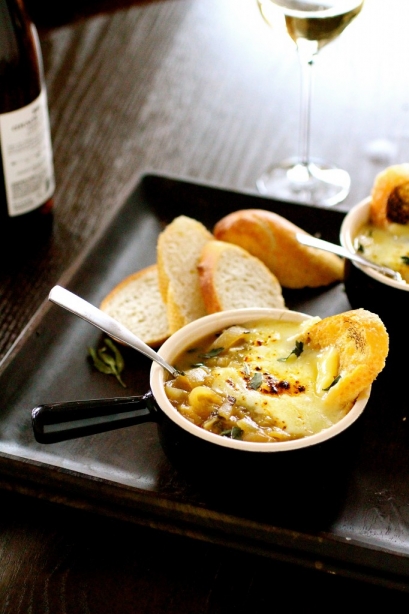 It's brutally cold out there.
Tonight I'm thankful for a car that started today, a heater that is working (although it is having a hard time keeping up since the outside thermostat reads -11 degrees right now) and a fridge full of healthy-ish food (subtract the frozen pizza and burrito-those are for emergencies only.  Ha.)  I'm thankful for comfortable sweat pants, thick socks, and a soft, worn-out sweatshirt.  And a DVR full of missed episodes of mindless television.
I worry about people out there who may not have these things.  And, of course, I worry about animals who don't have "their people" to take care of them.  Scout's paws bother her if I take her out for less than two minutes-she cries and holds her paw up, shaking, not wanting to move any further.  I rub my hands over her paws to warm her up a bit and then hurry back inside.  I worry about the ducks that have been swimming in between the "icebergs" in the river as I watch the wind blow a lot of steam (at least I hope it's steam) off of the river.  Yesterday when I woke up, it was eery.  The cars are followed by billowing semi-frozen exhaust particles.  I've seen Facebook videos of my friends throwing boiling water into the air to demonstrate the Mpemba effect which pretty much blew my mind.
I hope you are able to stay warm during this wintry blast.
And, now, as I (once again) awkwardly segue into a recipe, let me just say that this soup does do a great job of doing all of the things a soup is supposed to do: taste good, warm you up, make you feel all cozy, etc.  It was something to look forward to after a cold commute home, and the flavors taste even better the day after making it.  Of course, the cheese is optional here, but you can use any kind that you like if you decide you want some (I used Fontina).  The original recipe calls for some homemade herbed croutons to go with the soup, but I just sliced a day-old baguette that I needed to use up instead.
Stay warm, my friends.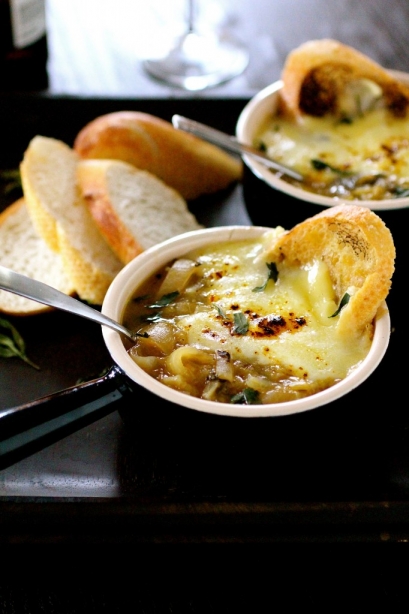 Riesling Onion Soup
Servings: about 6-8
Ingredients
3 tablespoons unsalted butter
4 large yellow onions, sliced thinly
2 leeks, sliced (including the pale green parts)
2 garlic cloves, minced
2 tablespoons tarragon leaves, chopped
3 tablespoons all-purpose flour
2 cups Riesling (use a drier rather than a sweeter Riesling here)
6 cups vegetable broth
Salt and pepper, to taste
For garnish: Cheese, sliced bread (optional)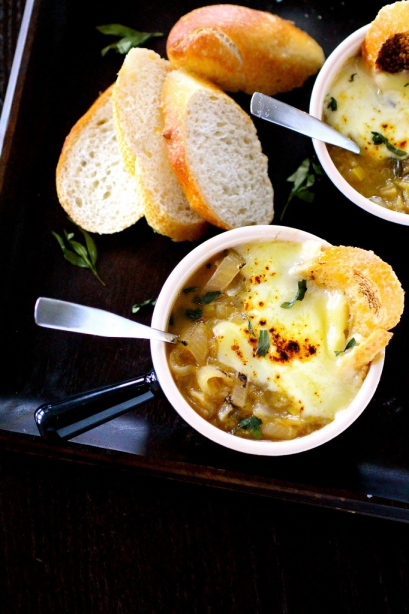 Instructions
1. In a large Dutch oven or sauce pot over medium heat, melt the butter.
2. Add the onions, leeks, garlic and tarragon and cook, stirring frequently, until the onions are soft and golden, about 15-20 minutes.
3. Add the flour and cook, stirring to completely coat the onions with the flour, for 3 minutes.
4. Add the wine, scraping up any browned bits from the bottom of the pan.
5. Bring the mixture to a simmer and cook until reduced by half, about 10 minutes.
6. Add the vegetable stock and  return the mixture to a simmer.
7. Reduce the heat to low and cook, uncovered, about 45 minutes.
8. Season with salt and pepper.  Serve with cheese and bread.   **If you'd like, you can (if you use oven-proof bowls) broil the soups with the cheese on top until the cheese is bubbly and golden.  Alternatively,  you can use a brûlée torch (which I did, because honestly? Why would I ever pass up the opportunity to use a brûlée torch if I could have an excuse to use one?)
Source:  Slightly adapted from Williams-Sonoma.