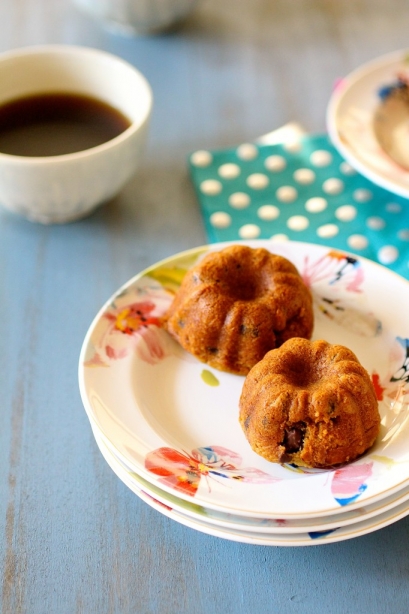 These are vegan.  Yes, vegan.
Doesn't look like it, does it?
I know a lot of people out there have an aversion to anything with the label of "vegan"on it.  Meaning, it can't taste good.  It must taste like cardboard.  Nothing can taste good if it doesn't have butter or cream or eggs in it (fair argument for some dishes, I personally have to admit).
But these, my friends, these seriously taste really good.
And there's a secret ingredient in there, too.  Yes, chickpeas.
Before you run away screaming, please know that I actually tried this recipe with a little pessimistic devil on my shoulder.  I really didn't think that anything with ground chickpeas in it would even taste remotely good, especially if it was included in a recipe entitled "chocolate chip cookie dough."  But, please please bear with me here. You can't even tell that there are chickpeas in here, I promise.  And it's another affirmation to me about what a fantastic magazine VegNews is as a resource for those interested in/attempting to become/maintaining a vegan lifestyle.
So, my little pessimistic kitchen experiment ended with a totally optimistic hope that my future vegan adventures would taste just as good as these guys.
These little muffins (or cakes, really) are soft, moist, and sweet.  There's no butter here.  There are vegan chocolate chips, which make pretty much anything better.
I'm not a total convert yet, but I could be if I could always eat little things like these.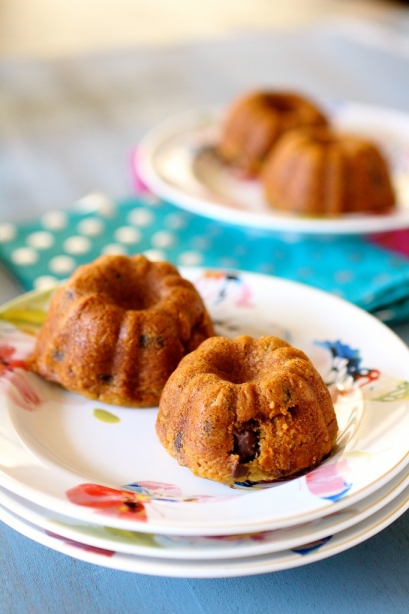 Chocolate Chip Cookie Dough Mini Muffins
Servings: about 12 muffins (depending on the size of muffin tin you used-I used a mini bundt cake pan, so my yield was about 12, but if you use a standard mini muffin pan, you should get about 24 muffins)
Ingredients
1/2 cup quick-cooking oats
1 15-ounce can chickpeas, drained and rinsed
2 tablespoons unsweetened applesauce
1-1/2 tablespoons safflower oil (or vegetable oil)
1/2 tablespoon vanilla
1/4 teaspoon baking soda
1/4 teaspoon salt
1 teaspoon baking powder
3/4 cup brown sugar
1/2 cup vegan chocolate chips
Instructions
1. Preheat the oven to 350 degrees.
2. Spray a mini bundt cake pan or mini muffin pan with cooking spray.
3. In a food processor, combine the oats, chickpeas, applesauce, safflower oil, vanilla, baking soda, salt, baking powder, and brown sugar and process the mixture until it is completely smooth.
4. Transfer the mixture to a medium bowl, and gently fold in the chocolate chips.
5.Divide the mixture evenly in your prepared mini bundt cake pan.
6. Bake the muffins for 13 to 15 minutes or until a tester inserted into the center comes out clean.
Source:  Barely adapted from VegNews.