Does anyone else out there freeze bananas?  The reason I ask is because I sometimes have a hard time "timing" bananas right, and I'm finding that freezing bananas is a pretty awesome thing.
I like to hit the grocery store right after work on Fridays-it's not too busy, the aisles aren't packed, and I can get in and out in a decent amount of time.  (Compare that to the time I decided to just go on a Saturday morning-twice the amount of time, a severe lack of parking in the garage, and a loss of great baking/cooking time.)  This is because I tend to do all my baking and cooking for this blog on the weekends since I work full time during the weekdays.  Which means a lengthy list, a meal plan in place, and a full 48 hours of pacing myself in the kitchen.
So I try to buy a bunch of the greenest bananas in the section to last for the next work week. (They are my favorite go-to work snack since they are portable, don't require a pre-eating wash, and make me full for the busy mornings.)  But, inevitably, I'll occasionally end up with some pretty ripe bananas which I would definitely crush somehow in my work bag (wiping banana off my Ipad cover is not very fun).  So I've been freezing them when they get like this for future use in a bread or cookies..or bars, like these.  I'll just let them thaw and bake away.  It gives me a sense of accomplishment, knowing that I'm not throwing them away.   And then I always have an excuse to make something like these bars..oh, and an excuse to make some browned butter frosting.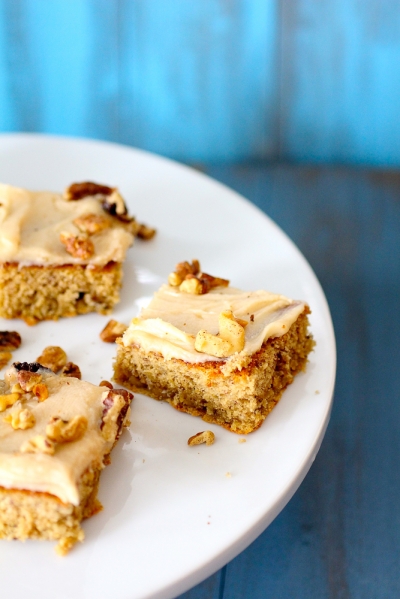 Roasted Banana Bars with Browned Butter Frosting
Servings: about 24 bars (depends on how you cut them)
Ingredients
 For the bars:
2 cups sliced ripe banana (about 3 medium)
1/3 cup packed dark brown sugar
1 tablespoon unsalted butter, chilled and cut into small pieces
2 and 1/4 cups flour (the original recipe calls for cake flour; I used all-purpose flour because that's what I had on hand)
3/4 teaspoon baking soda
1/2 teaspoon baking powder
1/4 cup buttermilk
1 teaspoon vanilla extract
1 stick (8 tablespoons) unsalted butter, softened
1 and 1/4 cups granulated sugar
2 large eggs
For the frosting:
1/4 cup  (4 tablespoons) unsalted butter
2 cups powdered sugar
1/3 cup  reduced-fat cream cheese, softened
1 teaspoon vanilla extract
1/4 cup chopped pecans, toasted

Instructions
1. For the bars:  preheat the oven to 400 degrees.
2.   In an 8-inch square baking dish, combine the bananas, brown sugar, and 1 tablespoon butter. Bake for 35 minutes, stirring about halfway through. Cool slightly.
3. Reduce the oven temperature to 375 degrees.
4. In a medium bowl, whisk together the flour,  baking soda, and baking powder.
5. In a separate medium bowl, combine the banana mixture, buttermilk, and 1 teaspoon vanilla, stirring until combined.
6. In the bowl of your standing mixer fitted with the paddle attachment, beat together  1/2 cup of the butter and granulated sugar  on medium-high speed until light and fluffy, about 2 minutes.
7. Add the eggs to butter/sugar mixture; mixing well.
8. Reduce the mixer speed to low and slowly add the flour mixture alternating with the banana mixture, beginning and ending with flour mixture.
9. Spray a 13 x 9–inch baking pan  with cooking spray and evenly pour the batter into the pan.
10. Bake at 375 degrees for 20 minutes or until a tester inserted in the center comes out clean. Cool.
11. For the frosting: melt 1/4 cup butter in a small saucepan over medium heat; cook 4 minutes or until lightly browned. Cool slightly.
12. In a medium bowl (using an electric hand mixer) or in the bowl of your standing mixer fitted with the paddle attachment, combine the browned butter, powdered sugar, cream cheese, and 1 teaspoon vanilla; beat in medium speed until smooth. Spread frosting over cooled bars. Sprinkle with pecans.
Source: Directly from Cooking Light, as part of my monthly contribution to the Cooking Light Bloggers' Connection.