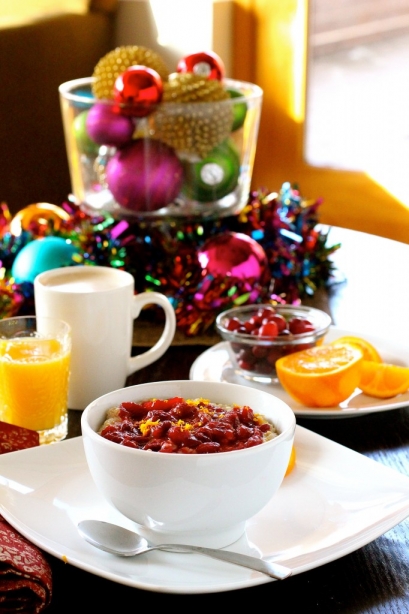 I'm becoming a huge fan of oatmeal (actually steel cut oats-love the flavor.) I love them sweet, I love them savory, and I love putting a million different toppings on them.  I bought a giant bag of them a few weeks back when my bloodwork (yet again…sigh) came back with having high cholesterol.  Bummer.  I would like to blame it on the recent trip to Argentina where I had enough saturated fats to last a lifetime (hey, it's vacation!  Eat a whole wheel of provoleta-yes, a whole wheel of melty, grilled provolone cheese.  I did.), but that would be an excuse.  I eat a lot of chocolate and cheese.  And there's some genetic factor in there, too.  I've got to get it a bit more in control.
So, I'm trying to add in various things to my diet.  Like having oatmeal a few times a week.  Getting back into exercising (since October, I've taken a "hiatus", and by "hiatus", I mean sitting on my couch and watching TV while eating…cheese and chocolate.)  Increasing amounts of fruits and vegetables.  We shall see how this goes.  I will say that my cholesterol was lower than last year, so apparently I am doing something right.
I overbought cranberries around Thanksgiving, so I decided to make a nice cranberry orange sauce to swirl into my steel cut oats on a cold Sunday morning.  You can play around with what kind of flavors you like here-I had enough of this to last me for about 4 large servings of steel cut oats.  Also (and this is not an endorsement), I prefer the Bob's Red Mill quick cooking steel cut oats-they are ready in less than ten minutes and still have that chewy, nutty flavor.
And, on a more personal note, I hope that you all have a safe, happy, and very blessed rest of 2013.  I have a feeling that 2014 is going to be our best year yet.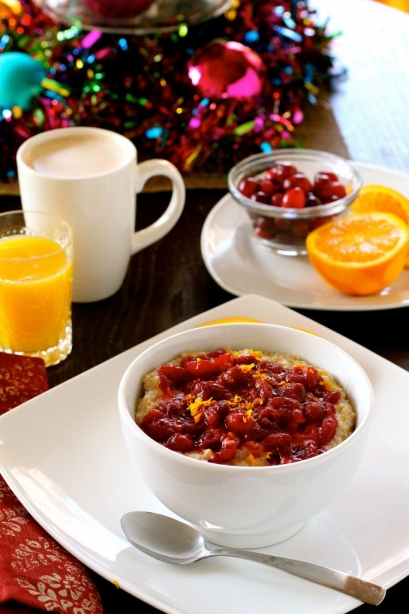 Cranberry Orange Steel Cut Oats
Servings: makes enough for 4 large servings
Ingredients
2 cups fresh cranberries
1/2 cup orange juice
1/4 cup honey
1 teaspoon cinnamon
Orange zest, optional
Steel cut oats, prepared according to package directions
Instructions
1. In a medium saucepan over medium heat, combine the cranberries, orange juice, and honey, stirring to combine.
2. Bring the mixture to a gentle boil.  Once the cranberries have popped, reduce the heat to medium low and cook, stirring occasionally, for an additional 4-5 minutes.
3. Add the cinnamon and cook for an additional minute or so.
4. Drizzle the sauce evenly over your oats and serve immediately.
Source:  A Curvy Carrot original.