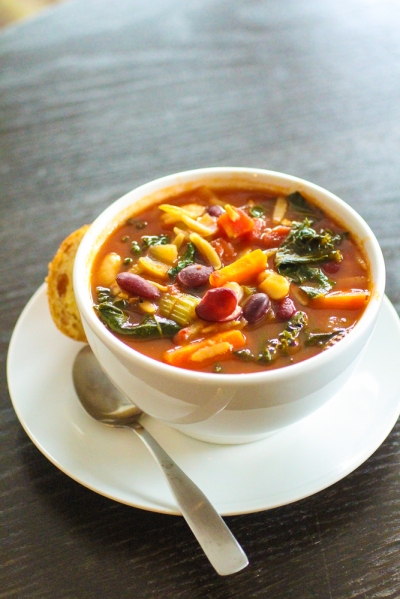 There's something incredibly satisfying about using up a whole bunch of random ingredients at one time….and actually having a bit of a culinary success with it.  Don't get me wrong, I've had a LOT of kitchen fails (especially lately, it seems), but one weekend, I was bound and determined to just get rid of a bunch of random pantry things and a whole bunch of produce that I had over-bought…once again.
I woke up relatively early (thanks to Scout who now does this thing where she stands right next to my bed and stares at me…without blinking…until I wake up and realize she has to go out.  It's actually kind of cute, and I would much rather her wake me up to make me take her out than deciding to take matters into her own "paws".)  After that, I felt a little jolt of inspiration to get into the kitchen and just "go."  Turn my music on, drink some tea, and play around.   And chop some vegetables.  (There's something extremely cathartic about chopping vegetables…if I'm in the mood for it.)
So…a minestrone soup was born.  With a few cans of random beans, a half-opened bag of whole wheat orzo, and some celery/carrots that were still good in the crisper…from God knows when I bought them.  I played around here with the ingredients, and since this is kind of a hodge podge recipe, you can take creative liberty here as well.  Use (or omit) your favorite kind of pasta.  For a vegan soup, don't put in the Parmesan rinds (which I am absolutely loving having on hand-I've been freezing them since I seem to go through Parmesan like water-it adds so much additional flavor.)  And of course, you can add in whatever kinds of vegetables you like.  Serve with some warm, crusty bread…and you are good to go.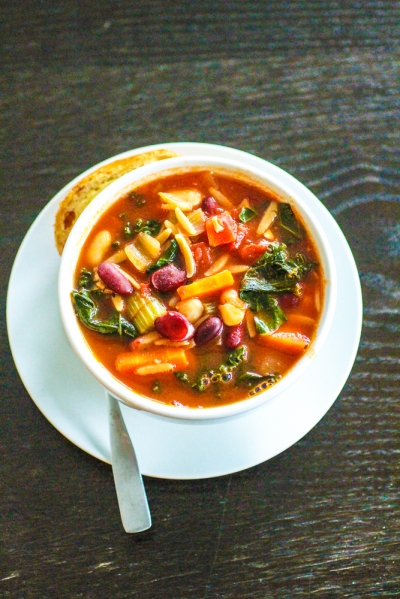 Minestrone Soup
Servings: about 6-8
Ingredients
1 tablespoon extra-virgin olive oil
1 medium yellow onion, chopped
3 carrots, peeled and chopped
3 celery stalks, chopped
2 teaspoons garlic, minced
One 28-ounce can fire-roasted diced tomatoes (keep the juices!)
1 bay leaf
One 2-inch Parmesan rind (optional, but highly recommended)
4 cups vegetable broth
One 15-ounce can kidney beans, drained and rinsed
One 15-ounce can cannellini beans, drained and rinsed
1 head kale, torn into pieces, stems discarded (I used lacinato kale here.)
1 cup cooked whole wheat orzo (or whatever kind of pasta you like)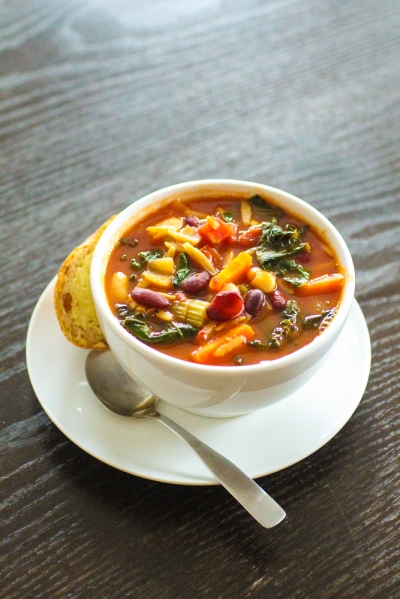 Instructions
1. In a large saucepot or Dutch oven, heat the olive oil over medium heat until shimmering.
2. Add the onion, carrots, and celery, stirring occasionally, until the onion is softened and translucent, about 5-6 minutes.
3. Add the garlic and cook until fragrant, about 30 seconds.
4. Add the diced tomatoes (and their juices), bay leaf, Parmesan rind, vegetable broth, and both types of beans.  Reduce the heat to medium-low and cook, stirring occasionally, for about 30 minutes.  You can go ahead and cook your orzo in a separate pot at this point if you would like.
5.  Add the kale leaves and cooked pasta, stirring to thoroughly combine, and let cook for an additional 10-15 minutes (until the kale leaves have softened).  Enjoy.
Source:  A Curvy Carrot original.