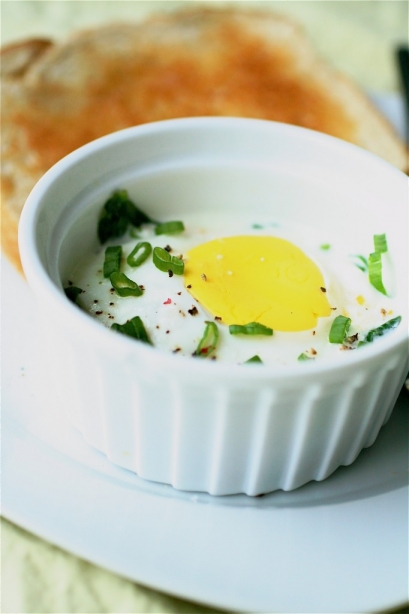 Happy Weekend!
This is a dish that I have re-created over and over…..and over…again in an attempt to share it with you.  I've tried about a billion variations on the flavors, add-ins, and types of serving dishes.  I've dabbled with the cooking time, the depth of the water in the pan, the flavors and herbs on top.  I've done it all.  The good news is that I pretty much love eggs, so eating them each time has not been a travesty by any means.
This is such an easy and hearty breakfast (or lunch or dinner) that is ready in about 10 minutes.  You can cook the eggs to your desired level of "doneness".  I personally like mine a little overdone (a little runny on the inside) with the whites cooked all the way through, so 9 minutes ended up being the appropriate cooking time duration for me.  Feel free to play around with the herbs and seasonings.  I love spinach and cheddar cheese, so I use these almost exclusively, but I have also used Parmesan, swiss, and fontina cheeses as well.  I also love the chives on top, but you could add Italian seasonings, rosemary, thyme….whatever!  The choice is yours!
Coddled Eggs
Servings: 2
Ingredients
2 tablespoons heavy cream
2 tablespoons fresh spinach leaves, torn
2 tablespoons cheddar cheese, shredded
2 large eggs
Salt and pepper, to taste
1 scallion, chopped
Special equipment: 2 ramekins
Instructions
1. In a shallow saucepan (one with a lid), place enough water to a depth of 1/2-inch.
2. Over high heat, bring the water to a boil.
3. In the meantime, place 1 tablespoon of cream into each ramekin.
4. Spread 1 tablespoon of torn spinach leaves in an even layer over the cream in each ramekin.
5. Add 1 tablespoon of cheese in an even layer over the top of the spinach.
6. Gently crack an egg over the direct center of the cheese. **I find it may be a little easier to form a little well in the center to help hold the egg in place.
7. Cover each ramekin with aluminum foil tightly.
8. Once the water is boiling, place the ramekins into the water, and cover the saucepan with the lid.
9.  Cook the eggs, covered, over high heat, for 9 minutes.
10.  Once cooked, remove the aluminum foil (it is helpful to drain any excess water from the spinach), season with salt and pepper to taste, and garnish with the fresh scallions.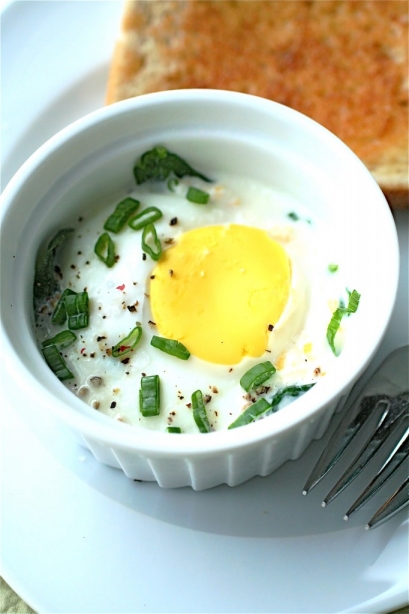 Inspired by: The Williams Sonoma Cookbook: The Essential Recipe Collection for Today's Home Cook