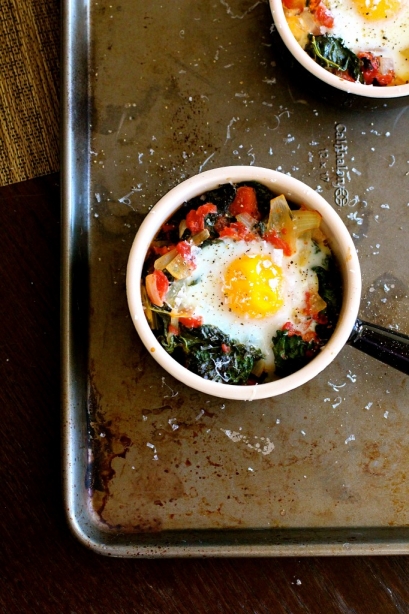 Happy December!
I don't think you can ever go wrong with a little breakfast for dinner.  I think, though, that dinner for breakfast doesn't seem to work as well. Regardless, this is one little dish that you can eat anytime of the day.  And this one is light on your budget, too.
The beauty in baked eggs is that you can bake the eggs with really any kind of flavor combination that you like.  Here I went with a kale and tomato base background (a little festive for the upcoming holidays, in my opinion).  You could substitute in some spinach or even a few olives for a Mediterranean feel or go a completely different route with beans and cheese.  Regardless, if you eat eggs, this is a simple way to prepare them.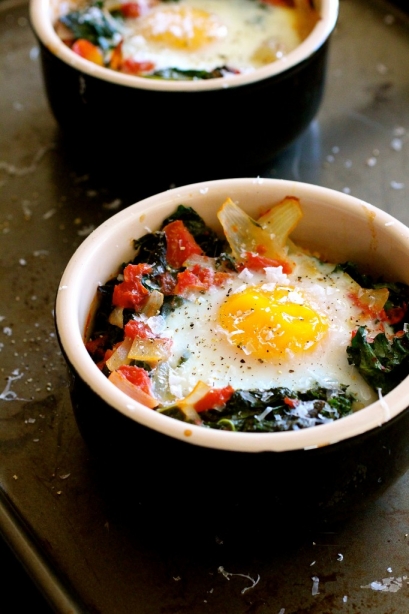 Baked Eggs with Tomato and Kale
Servings: 4
Ingredients
1 tablespoon extra-virgin olive oil
1/2 cup onion, chopped
2 cloves garlic, minced
1 bunch kale (I used lacinato), leaves torn and stems removed
One 14-ounce can fire-roasted diced tomatoes, drained
4 large eggs
Parmesan cheese, grated (optional but highly recommended)
Salt and pepper, to taste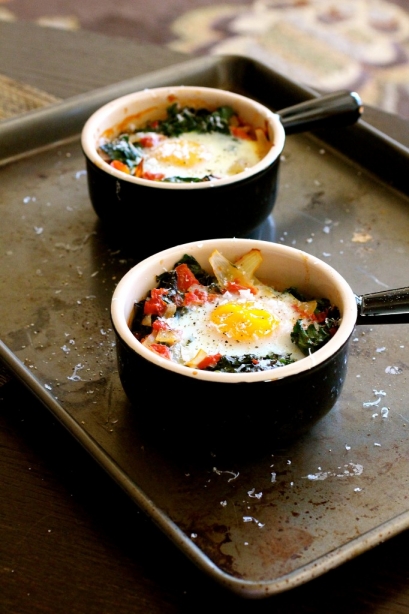 Instructions
1. In a saute pan over medium heat, heat the olive oil until shimmering.  Meanwhile, preheat the oven to 350 degrees.
2. Add the onions and cook, stirring frequently, until translucent, about 5 minutes.
3. Add the garlic and cook for an additional 30 seconds or so.
4. Add the kale and tomatoes, stirring occasionally, until the kale is wilted and bright green, about 7-8 minutes.
5. Divide the kale/tomato mixture evenly between four ramekins, forming a slight depression in the center of each.
6.  Gently crack an egg over each depression and place the ramekins on a rimmed baking sheet.
7. Bake the eggs until the whites are set, about 15-20 minutes.
8. Season with grated Parmesan, salt, and pepper, to taste. (or any other of your favorite seasonings).  Serve immediately.

Source:  A Curvy Carrot original.