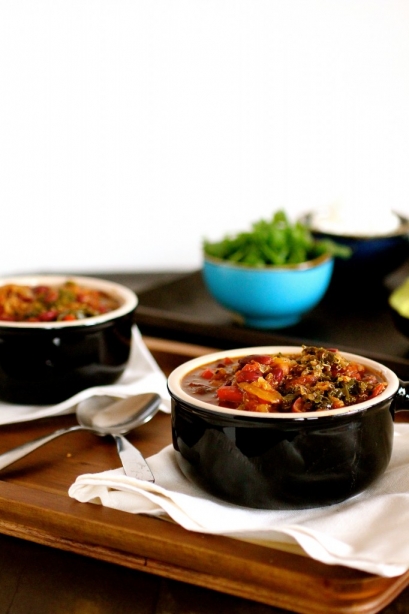 I got back from California (Earthbound Farm is amazing, posts soon to follow), and it was suddenly autumn in Milwaukee.  Dark in the mornings, dark in the evenings, a little bit chilly/rainy/gray overcast skies.  Some of the leaves are turning colors already, and I can't believe it's October.  Which is a good thing, I think, but the transition was a little too quick for my taste.
Regardless, this kind of weather is the impetus for food like this.  I needed something relatively easy to make, something that would make my kitchen smell divine, and something that would make me feel all warm and fuzzy inside (and make for decent leftovers as I am now in the middle of the busiest six weeks I have had in a long time.  Which is also incredibly awesome, but time is moving very quickly these days.)
This is an adaptation from one of my early posts from the blog.  I modified the recipe to add in some quinoa (which, by the way, the United Nations declared 2013 as the "International Year of Quinoa"….and I have to agree with them) and add in some kale.  I mean, you can never really go wrong with adding either of these two superfoods into anything that can possibly taste good with them.  This chili is spicy, so don't say I didn't warn you (like, make your lips a little warm kind of spicy).  If you aren't a spice fan, decrease the amount of cayenne/chili powder you use.
Here's to sweaters, boots, scarves, pumpkins, hot chocolate, and lots and lots of chili.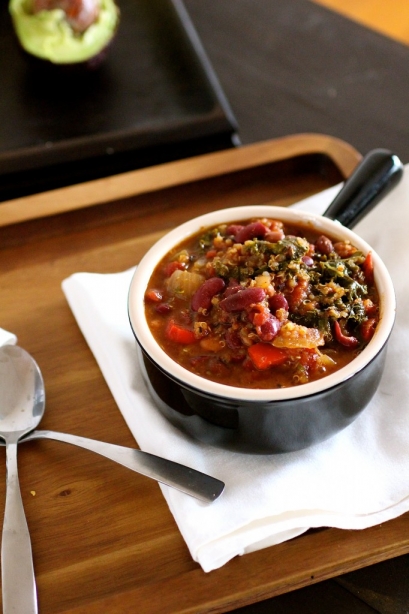 Spicy Bean Chili with Quinoa and Kale
Servings: 6-8
Ingredients
3 tablespoons canola oil
1 medium onion, chopped
1 red bell pepper, seeded and chopped
8 cloves garlic, minced
1 tablespoon ground cumin
3 tablespoons chili powder
1/4 teaspoon cayenne pepper
2 cups water
One 28-ounce can fire-roasted diced tomatoes (do not drain the tomatoes)
1 teaspoon dried oregano
1 tablespoon brown sugar
3 cups beans (whatever variety you like-I used a combination of kidney beans-you can mix and match), drained and rinsed
1 small bunch kale (leaves only-jut rip them off and discard the stems)
1 cup cooked quinoa
1 and 1/2 teaspoons salt
1/4 cup cilantro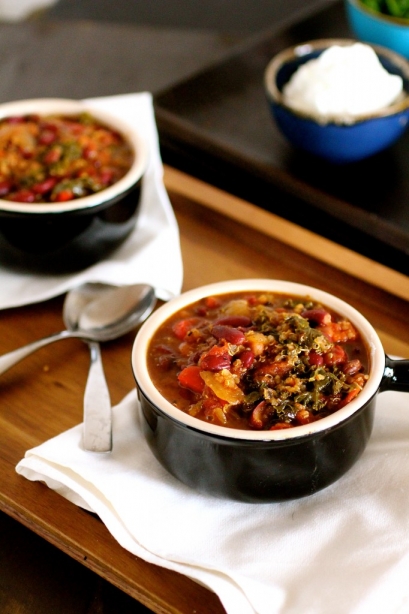 Instructions
1. Heat the oil in a large Dutch oven over medium-high heat until about shimmering.
2. Add the onion and cook until translucent and slightly softened, about 3 minutes.
3. Add the red pepper and cook until it and the onion are soft and slightly browned around the edges, about 3 minutes.
4. Add the garlic and cook until fragrant, about 1 minute.
5. Push the vegetables to the perimeter of the pot so that the center of the pot is clear.
6.  Sprinkle the ground cumin into the center of pot and cook for 30 seconds, stirring constantly.
7. Stir the cumin and vegetables together and let cook until the cumin is fragrant, about 1 minute.
8. Add the chili powder and cayenne pepper and stir to coat the vegetables.  Cook until fragrant, about 1 minute.
9.  Add 2 cups water and stir well to combine, scraping up any browned bits from the bottom of the pot.
10.  Bring to a boil, reduce the heat, and simmer until slightly thickened, about 5 minutes.
11.  Stir in the diced tomatoes, oregano, and brown sugar, and bring back to a simmer.  Simmer until slightly thickened, about 25 minutes.
12. Add the beans, kale, and quinoa, stirring gently to incorporate.
13. Remove the pot from the heat and stir in the salt and cilantro.
Source:  Adapted from a previous recipe on the Curvy Carrot, originally found in Soups and Stews.