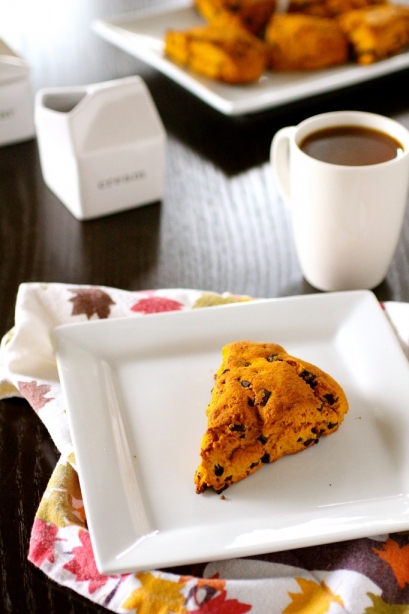 Every single food blogger out there is blogging about fall and posting pumpkin recipes right now. Myself included, obviously.  And this is a good thing, though, even if you aren't a pumpkin lover.  Or a pumpkin/chocolate combination lover.  Because this is the transition to where probably 95% of food bloggers start getting really really excited about food.  We've got all sorts of new flavors to play with, holidays/sporting events centered around..well, mostly food…and the chilly weather allows us to spend more time indoors…and, if you are like me (which I assume you probably are if you are reading this right now), your kitchen becomes the central focus of your home.
This also means I start downloading obscene amounts of new music on my iPad so that I can listen to music (dance in my pajamas) while I cook. (anyone out there also an Arcade Fire fan?  So ready for this new album…you know you've made it when David Bowie (THE David Bowie) is singing back-up vocals for you.)
Regardless, it's fall (Libran sun…everyone-the best time of the year) and now I am posting something fall-ish for you.  Because, what's better than curling up with a good book, a hot cup of something with caffeine in it, and a nice pumpkin chocolate chip scone?  I used whole wheat pastry flour here, so these scones were a little dense (but, honestly, if you are kinda-sorta dipping them in your coffee anyways, does it matter if they are lightweight?), so you can play around here with the amounts/combinations of flour that you use (if you don't have whole wheat pastry flour on hand, just substitute all-purpose flour).  Switch up the recipe by adding in crystallized ginger or nuts instead. I've got a large batch of these in my freezer right now for lazy weekend mornings.
One more thing: in the coming weeks, I've got a lot of really amazing things coming my way..which, by default, will come your way as well.    I'm going to be
and tweeting away.  (although I don't really know how to tweet at all.)
Now, if you read this blog, I'm not really big on self-promotion and begging/bribing people to follow me on any sort of social media (and I have a lot of mixed feelings about it anyways, but you know how it goes). It's just there are some pretty fantastic things going on for the next month, and I figured you might want to be in the loop.  (And I'm not going to lie, if you follow me on Instagram, you might see some great photos of my obese cat or shameless selfies as I go back to being completely blond again.  It's my life outside of my kitchen.)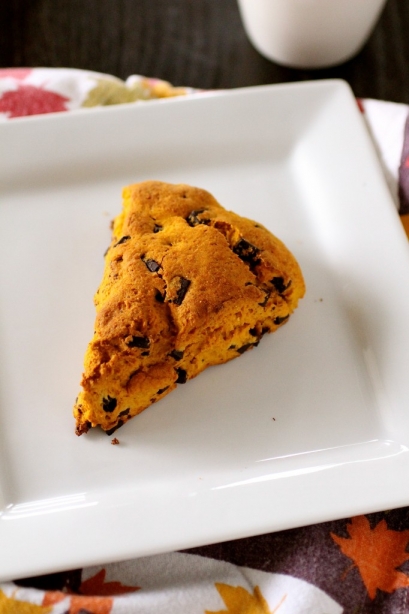 Chocolate Chip Pumpkin Scones
Servings:  approximately 12 scones
Ingredients
2 and 3/4 cups whole wheat pastry flour
1/3 cup sugar
1 tablespoon baking powder
3/4 teaspoon salt
3/4 teaspoon cinnamon
1/4 teaspoon ground ginger
1/4 teaspoon nutmeg
1/4 teaspoon allspice
1/2 cup (1 stick) unsalted butter, chilled, and cut into 1-tablespoon portions
2/3 cup canned pumpkin
2 eggs
1 cup chocolate chips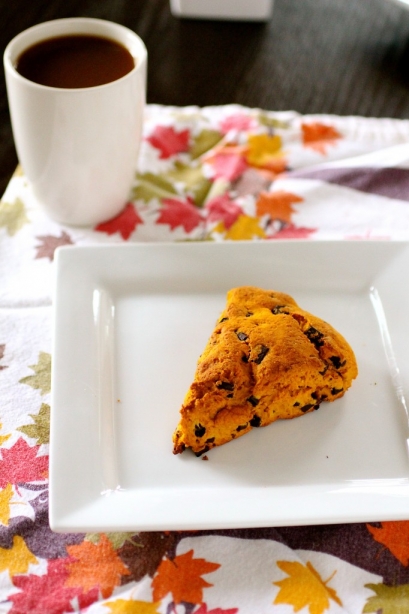 Instructions
1.  In a large bowl (or, to make it easier, in the bowl of a food processor), combine the whole wheat pastry flour, sugar, baking powder, salt, cinnamon, ginger, nutmeg, and allspice, mixing until combined.
2. Add the butter, one piece at a time, mixing until the dough resembles coarse sand (if doing this by hand, use a pastry cutter.)
3. In the bowl of your standing mixer fitted with the paddle attachment (or in another large bowl using a hand mixer), beat the canned pumpkin and the eggs on medium speed until smooth.
4. Reduce the mixer speed to low, and slowly add the dry ingredients to the pumpkin/egg mixture.
5. Gently fold in the chocolate chips.
6. Transfer the dough to a clean, flat, and lightly floured surface and divide the dough into two equal portions.
7. Gently shape each dough half into a 5-inch wide, 3/4-inch thick circle.
8. Cut each circle into six separate wedges and gently pull each wedge apart, leaving a 1/2-inch space between each wedge.
9. Freeze the dough wedges for about 30 minutes or so.
10. Meanwhile, preheat the oven to 425 degrees.  Line a rimmed baking sheet with parchment paper.
11. Once the dough has chilled, transfer the scones to the prepared baking sheets and bake until lightly golden around the edges, about 22-25 minutes.
Source:  Adapted from King Arthur Flour.