Dear Daylight Savings Time,
I have to admit, I kind of a love-hate relationship with you.  I mean, it's comforting to wake up in the morning with the sun shining (???-let's be honest, though, most of the time the sun is definitely not shining-we have entered the official Midwest "cloudy season"), so that's a great thing.  What's not so great is that Scout's internal alarm clock is still set at "rising partial sun" apparently, so she's *innocently* flapping her ears adjacent to my head at approximately 4:30 am everyday so that I might *accidentally* wake up and let her out/feed her.  (I have to admit, as much as I complain about this phenomenon, I am lucky to have such a lovely, wonderful dog in my life, so I'm exaggerating here.) I usually have to coax her back to sleep by telling her what a great dog she is (this actually works), and I can get at least another hour or so of sleep in.
But, I have to admit, it's a little sad when it's 5:30 pm and already dark out.  I come home from work (when, in the summer/spring, it's daylight and I feel energized and up to the task of exercising), and literally all I want to do is watch reruns of Real Housewives and eat pints of ice cream.  Or put butter on things and then eat them.  I tried to eat a Caprese salad the other night, with out of season tomatoes, in a semi-dark apartment, and I felt a little sad.  There are no longer boats going up and down the river, the restaurant downstairs closed its patio (well, they closed in general), and I am wearing boots when I take Scout out for a walk in the morning.  The season has officially turned. Sigh.
But there are some shining gems.  Like Sundays where it's so cold out that all I want to do is cook/eat.  And utilizing my oven to roast various vegetables.  And time to read, drink spice-flavored teas, and curl up with an electric blanket.  There are some perks.
This is a recipe that really isn't difficult to make.  I'm a huge fan of polenta, but I've tried making various versions, and I have never gotten a polenta to have a firm consistency that's amenable to frying. So I used pre-made, store-bought polenta here (by the way, if you have  a good recipe of fry-able consistency polenta, let me know.  I'd love to have it.) to make frying easy (and to cut down on time.)  I whipped up some horseradish creme fraiche (with store-bought horseradish, so adjust your amounts of horseradish to your own personal tastes), and topped it with some roasted beets.  A simple appetizer which can be eaten hot or cold.  I decided to coat the polenta first in some whole wheat panko mixed with grated Parmesan for a little extra crispiness, but if you are short on time, you can skip this step completely.
Oh, by the way, this is my first of my Thanksgiving 2013 series.  Here's your appetizer.  :)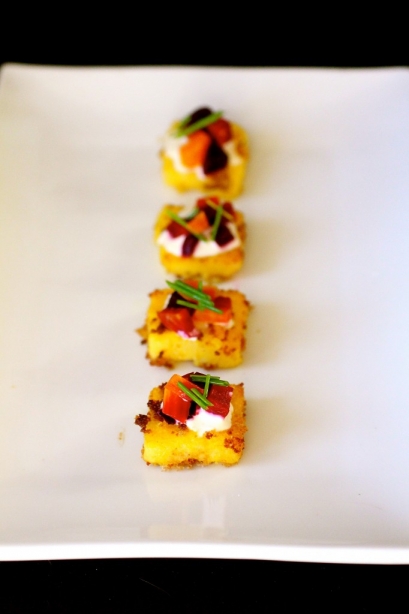 Crispy Polenta Bites with Roasted Beets and Horseradish Creme Fraiche
Servings: about 10-12
Ingredients
One 17.6 ounce tube store-bought yellow polenta (or your own version), cut into 1/4-inch to 1/2-inch thick slices (thickness at your own discretion)-I cut mine into squares.  You can keep yours circular, if you like.
1/3 cup Parmesan cheese, grated
1/2 cup whole wheat panko
1 tablespoon extra-virgin olive oil
1/3 cup creme fraiche
1 teaspoon horseradish (or more, to taste)
Sea salt, to taste
2-3 medium beets, roasted and diced (see this recipe if you want to learn how to roast beets.  I used a combination of yellow and purple.  I had leftovers, which I thoroughly enjoyed.  Did you know that beets are one of the best liver detoxifiers out there?  I eat my beets while drinking a beer…..they counterbalance each other.  Hahaha.)
Chives, chopped, for garnish (if desired)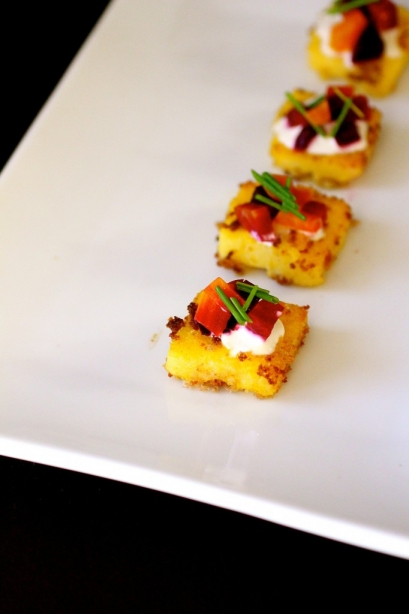 Instructions
1.  Lightly brush each polenta slice with water to moisten each side.
2. In a small bowl, combine the whole wheat panko and Parmesan, mixing to combine.
3. Lightly dip each piece of polenta in the panko/Parmesan mixture, gently pressing in the panko mixture on both sides (it's ok if you don't coat each piece completely.   Also, you may have some of the whole wheat mixture leftover depending on how thick you slice your polenta.)
4. In a nonstick frying pan over medium to medium-high heat, heat the olive oil until shimmering.
5. Fry each polenta slice in the oil until lightly browned and crispy, about 2-3 minutes on each side.
6. In a small bowl, stir together the creme fraiche and the horseradish, adjusting to taste with more horseradish (if desired) and salt.
7. Place a small dollop of the creme fraiche over each polenta slice.
8. Top each polenta slice with about 1 teaspoon of chopped beets.  Garnish with fresh chives, if desired.  Enjoy warm or cold.
Source:  A Curvy Carrot original.