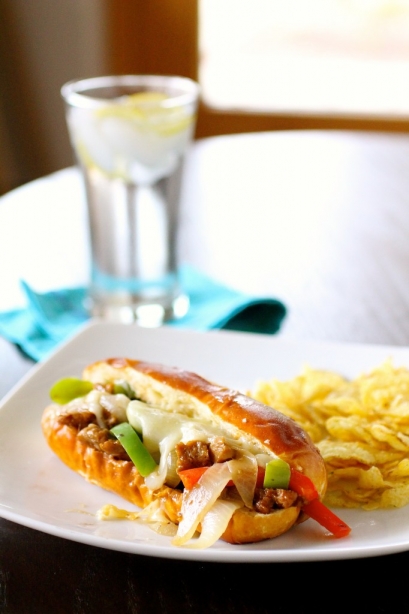 I'm pretty sure that you can take any classic meat sandwich and veganize/vegetarianize it.  (TLT, anyone?  Reubens?  Meatball sandwich? Gyros? I've got you covered)  To all the disbelievers out there, I promise you these all taste good.  For real.
Take a Philly cheesesteak.  I don't know why I got this intense craving the other day for one…it's weird. I don't usually crave meaty-ish sandwiches.  Onion rings?  Yes.  Chocolate anything? Yes.  But this?  This was a weird one.  Maybe it was because I had been eating mostly healthy the whole week and my brain/body needed a little junk food boost.  Regardless, I decided to pick up some ingredients on the way home from work and experiment.
I wasn't sure if I wanted a seitan base or a mushroom base, to be honest with you.  And you could go either way.  In the end, I cooked up the seitan in some vegan Worcestershire sauce, and it was quite delicious.  I went ahead and cooked the mushrooms along with the bell peppers and onions, well, because the more vegetables, the better, in my opinion.  So just omit them if you prefer. Now, if you want a vegan version, you could substitute in your favorite vegan cheeze….but I went with old-fashioned provolone in my version.  Topped on some nice bakery bread, popped in the oven so that the cheese got all melty and smooth, this sandwich was messy, filling, and pretty much one of the best sandwiches I have ever had.  I ate the leftovers for three days straight.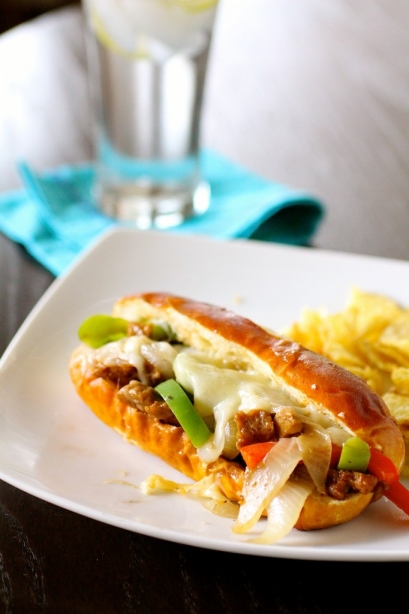 Philly Cheesesteaks
Servings: 4
Ingredients
2 tablespoons extra-virgin olive oil
1 medium yellow onion, sliced
1 garlic clove, minced
1 small red bell pepper, sliced **or just use one large bell pepper
1 small green bell pepper, sliced
8 ounces mushrooms, sliced (I used baby bella)
One 8-ounce package seitan, chopped
1 teaspoon oregano
1 tablespoon vegan Worcestershire sauce
Provolone cheese (or your favorite vegan substitute)
Hoagie rolls (or your favorite bread)
Instructions
1.  In a heavy sauté pan, heat the olive oil over medium heat until shimmering.  Meanwhile, preheat the oven to 250 degrees.
2. Add the onion and cook, stirring frequently, until the onion is softened, about 10 minutes or so.
3. Add the garlic and cook until fragrant, about 30 seconds.
4. Add the bell peppers and mushrooms, stirring occasionally, until the vegetables are softened, about 5-10 minutes; set aside.
5. Add the seitan to the sauté pan (add a little bit more olive oil if you need to).
6. Add the oregano and the Worcestershire sauce, stirring to thoroughly coat the seitan pieces.  Cook until the seitan is heated through, about 5 minutes or so.
7. To assemble the sandwiches:  Place your desired amounts of vegetables, seitan, and cheese on your hoagie rolls.  Wrap the sandwiches in foil and bake until the cheese is melted, about 10-15 minutes.  Enjoy.
Source:  A Curvy Carrot original.