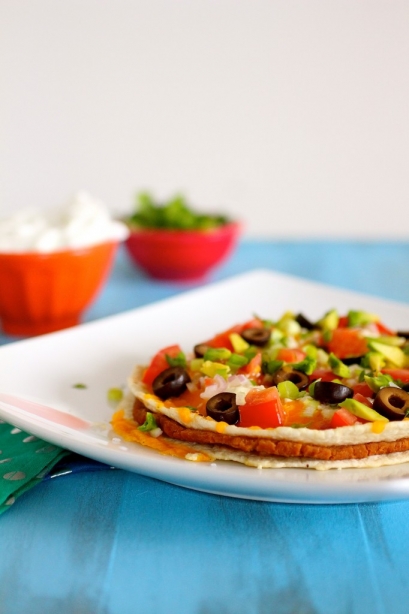 Oh, hey, it's Mexican Pizza time, people.
So this is one of those hectic weeknight "what am I going to make because I'm tired and I really don't want to slave in a kitchen" types of meals.  You can never go wrong with a Mexican Pizza.  (or probably any pizza, for that matter, but that's another post.)
Emily from Pacific Foods contacted me a while back to see if I would be interested in using some of their products for an upcoming post.  It wasn't a very hard decision to make on my end.  Now, if you follow this blog regularly, you might know that I don't do a lot of giveaways or product reviews for several reasons (I'll spare you my soapbox here), but if it's a product that I might actually use or from a company that I respect for their values, then I will wholeheartedly dive into the opportunities/products that they supply.
So, judging by the large amounts of bean recipes in general on this site, and also by the fact that I buy and prepare at least one recipe showcasing some type of bean each week for myself, I didn't want to let this one pass by. And, to be honest with you, Pacific Foods is one whole-heartedly rocking company.  From animal welfare in America's general food industry (one of my biggest secret food passions, actually, and just one of the reasons why I am *mostly* vegetarian) to food sustainability to environmental impact via their packaging, this company lays it all out there.  As a consumer, this is, in my opinion, pretty amazing to learn about how my food is produced.  One day, you and I might sit down over a couple glasses of wine and I will pontificate about my views on America's food supply, but for now, let it suffice to say that THIS approach to consumer consumption and education is exactly what I think we need, as ultimately, we are the ones who are putting these things in our miraculous bodies…and these things will ultimately become part of us.  So, it's a pretty big deal.  And I whole-heartedly support this company and their mission.
So, Emily sent me three samples.  One 13.6-ounce package of refried beans, one 13.6-ounce package of refried black beans, and one 13.6-ounce package of baked beans. While I wanted to eat all three right away, I went with the traditional refried beans…well, because of this pizza.
I kind of made up the recipe as I went along, baking mine only until the edges started to turn up, about 10 minutes or so, so please adjust your baking time accordingly.  And feel free to omit/add ingredients as necessary for your own dietary needs/desires.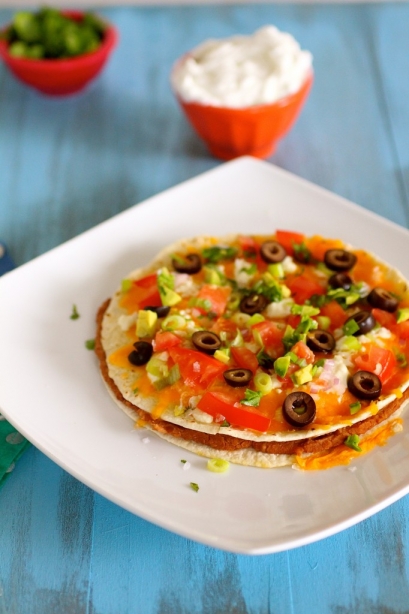 Mexican Pizza
Servings: 2
Ingredients
Four 6-inch tortillas (use whatever kind you like)
One 13.6-ounce container of refried beans (Pacific Beans?  Absolutely!)
Juice of one lime, or to taste
1/4 teaspoon ground cumin
1 teaspoon garlic, minced
1 small shallot, chopped
Cheese, for topping (your choice of amount and brand…vegan or not-I used a mixture of cheddar I had on hand)
One 2.25-ounce can black olives, drained (you may have leftovers)
2-3 green onions, sliced
1 tomato, chopped
For garnish: avocado, cilantro, etc.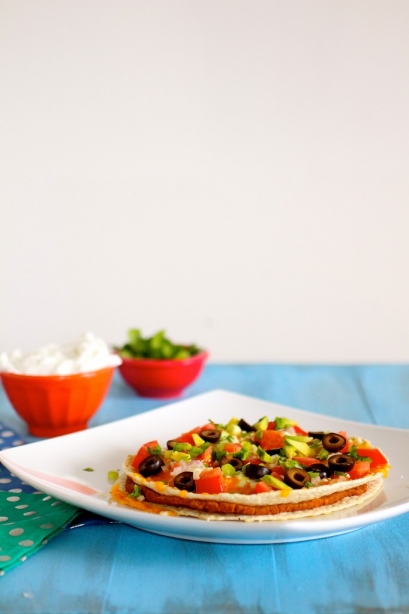 Instructions
1. Preheat the oven to 350 degrees.
2. Meanwhile, in a small saucepan, combine the refried beans, lime juice, cumin, and garlic, stirring to combine.  Heat the mixture over medium heat until completely heated through.
3. To assemble the pizzas: Layer half of the hot bean mixture onto two tortillas. Place the other two tortillas over the beans and top with your cheeses, shallot, black olives, and green onions.
4. Place the pizzas on a rimmed baking sheet, and bake until the pizzas are lightly cooked, about 10 minutes (you want the edges to slightly roll up and you want the cheese to be completely melted.)
5. Remove the pizzas from the oven and top with fresh tomatoes, avocado, and cilantro, if using.  Enjoy.
Source:  A Curvy Carrot original.