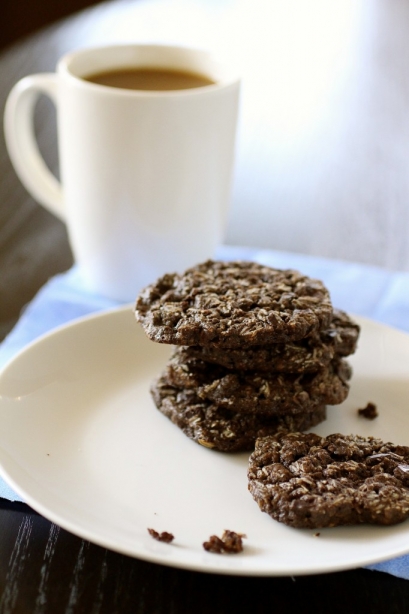 I'm going to skip a long into this time and just tell you straight up that these cookies are pretty phenomenal. Like, eat the raw dough out of the bowl kind of good. The kind of good where the satisfaction that occurs from tasting these far outweighs any kind of guilt that could potentially be associated with them. Which is saying a lot because I managed to get through the whole summer without putting on a bathing suit…but will need one in about a month, so naturally I'm devouring things like beer, pizza, and cookies.  And throw in the fact that I spent my Sunday brunch in a pub, drinking mimosas and eating Cronuts while simultaneously trying to watch the Packers and the Colts play.  (I couldn't stop eating Cronuts.  Like. Crack.)  Makes total sense. These cookies are worth the purchase of a flowy, bohemian cover-up.
I found this recipe at Vegetarian Times, and I didn't change a single thing (well, except these are vegetarian-not vegan). And I really didn't need to. I had all of the ingredients on hand. Now, the only downside to these cookies is that they do need to chill for several hours (or overnight, preferably) in order to hold their shape. But, I promise you they are worth it. They are kind of like no-bake cookies on steroids (if you love no bakes, you will love these.) If you want a vegan version, just substitute in margarine for the butter and use vegan chocolate chips. Served with some strong coffee and a marathon viewing session of House of Cards, these were worth every bite.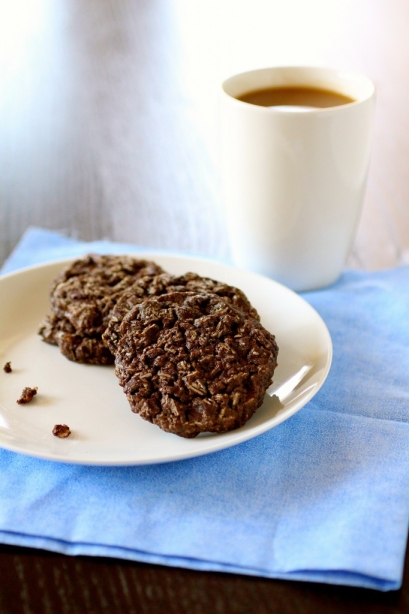 Chocolate Espresso Oatmeal Cookies
Servings: about 36-48 cookies
Ingredients
¾ cup all-purpose flour
¼ cup unsweetened cocoa powder
¼ teaspoon salt
½ teaspoon baking soda
8 tablespoons (1 stick) unsalted butter, softened
¾ cup sugar
¼ cup cooled espresso or strong coffee
½ teaspoon vanilla
1 and  ½ cups oats (I used old-fashioned, and this worked well.)
½ cup chocolate chunks
Instructions
1. In a medium bowl,  whisk together the flour, cocoa powder, salt, and baking soda.
2. In the bowl of your standing mixer fitted with the paddle attachment, beat the butter and sugar together on medium-high speed until light and fluffy, about 2-3 minutes.
3. Add the espresso and vanilla, mixing until combined.
4. Reduce the mixer speed to low and add the flour mixture slowly.
5. Add the oats and chocolate chips, mixing until thoroughly combined.
6. Divide the dough in half.
7. Transfer each dough half to individual large sheets of plastic wrap.
8. Using the plastic wrap, shape each dough piece into a 2-inch-diameter log.
9. Wrap each dough log tightly in the plastic wrap, and chill at least 2 hours, or overnight.
10. Preheat the oven to 350 degrees and line a rimmed baking sheet (or two, if you need an extra one) with parchment paper.
11. Slice each dough log into 1/2-inch-thick slices.
12. Transfer the slices to the prepared baking sheet.
13. Bake the cookies for 8 to 11 minutes.  Let cool.
Source:  Vegetarian Times.