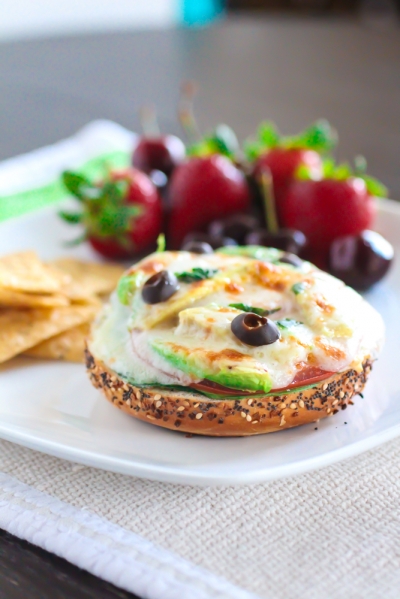 I think some of you have commiserated with me before about small living spaces and over-reactive smoke detectors.  In my humble apartment, one of my smoke detectors is located directly above my oven, which therefore leads to the predictable and very inevitable alarm going off anytime I cook something over 425 degrees.  Which excludes most pizzas, melty sandwiches, or anything really tasty.
So it was serendipitous when Panasonic contacted me to see if I would be interested in their Panasonic #InaFlash FlashXpress Toaster Oven giveaway.  I had actually been researching various types of toaster ovens (I research kitchen appliances like it's a second job-took me almost a month to decide on a coffee maker.) because I figured that I'd be able to make some of those delicious meals in a smaller, confined space.
Now, I'm picky, but I really love this little appliance (P.S. It's available in silver and white!).  I've made a few things in it now, and I have been incredibly pleased.  There's a few major bonus points:  it's tiny, so it doesn't take up much counter space (which is high-end real estate in my kitchen).  It has a dual infrared heating system (which means it cooks/heats food much, much faster) which I like-this bagel melt only took about 3 minutes!  And I love that there are different settings for toast, pizza, and even a quick reheat option for leftovers (anything to make life a bit simpler, right?)  I love that when you use the broiler, there is an automatic light that switches on so you can actually see what you are cooking (decreasing the chances of over-cooking or burning!)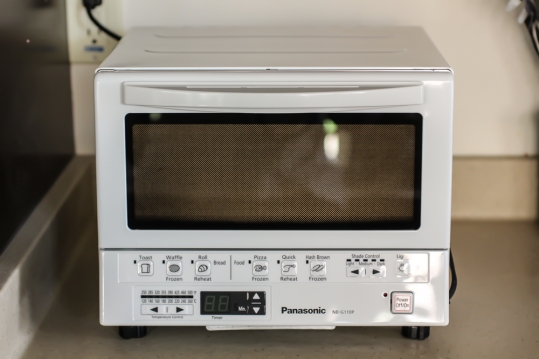 I know most of you love cheese out there.  And, to me, nothing is better than an ooey-gooey melty cheesy open-faced sandwich.  Back in my college days, we used to have a "bagel melt" night-which was a much simpler (and probably less healthy) version of this one.  Here I used a cream cheese base, some fresh veggies (play around with your own on-hand veggies!) and some creamy Provolone cheese.
Want to win one of your Panasonic FlashXPress Toaster Ovens?  You can win via a few ways (and multiple modes of entry are encouraged!):
-Leave a comment on this post telling me what you would make in your FlashXPress Toaster Oven.
-Tweet a picture of your own #InaFlash meal with both handles: @HomePanasonic and @thecurvycarrot  (make sure you are following @HomePanasonic and @thecurvycarrot, though!)
-Share this #InaFlash giveaway via Facebook.
I'll keep the giveaway open until 12 am (Central Daylight Time) on Sunday June 1, 2014.  The winner will receive one FlashXPress Toaster Oven.  Good luck!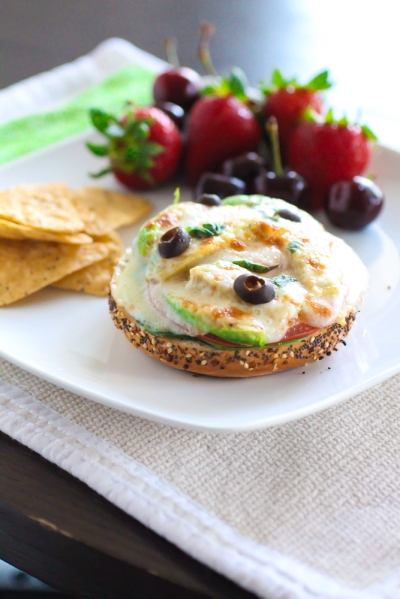 Garden Vegetable Bagel Melts
Servings:4
Ingredients
Two bagels, sliced (I use Everything bagels….because they are my favorite!)
One 1.50-ounce package ranch dip mix (I used this one from Simply Organic.)
One 8-ounce package of cream cheese, at room temperature
1 cup fresh baby spinach leaves
1 large tomato, sliced thinly
1 avocado, pit removed and sliced
4 slices Provolone cheese
For garnish:  sliced black olives, basil, etc.

Instructions
1.  In a small bowl, using an electric hand mixer (or a large spoon), beat together the ranch dip and cream cheese until thoroughly combined.
2. Spread about 1-2 tablespoons (or more, if you like) of the ranch/cream cheese mixture onto each sliced bagel.
3. Top the cream cheese with about 1/4 cup spinach, followed by a couple of slices of tomato, avocado, and a slice of Provolone cheese. Repeat with each bagel slice.
4. Broil the bagel until the cheese is melty and lightly golden brown, about 3 minutes or so.  Garnish with fresh basil and black olives, if desired.
Source:  A Curvy Carrot Original.
Disclosure of Material Connection: This is a "sponsored post."  Panasonic compensated me with my own Panasonic FlashXPress Toaster Oven to test recipes as well as cash to cover ingredient costs. Regardless, I only recommend products or services I use personally and believe will be good for my readers. I am disclosing this in accordance with the Federal Trade Commission.