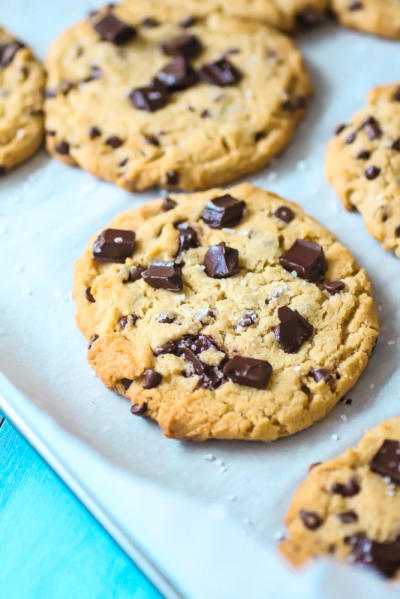 I had a post pretty much ready to go to show what to do with leftover risotto, but then a little bird told me that today is actually National Chocolate Chip Day (who knew!?) so, as with most of my current priorities, anything chocolatey and indulgent will come first.  No offense, risotto, but, these cookies are to die for.   And, so maybe for the first time in my life, I might appear to have my act somewhat together as a food blogger to actually celebrate a national food holiday for once.  Pi Day came and went.  National Soft Pretzel Month came and went (apparently it's the month of April-again, a whole month that I could easily over-indulge myself in.)  Oh, and let's not forget the upcoming National Cheese Day (June 4th, FYI) which I will probably treat like any other day…with mass quantities of cheese consumption (hey, it's a holiday, right?)
A word to people out there who might be looking for a food blogging concept:  national food holidays.  Everything from National Egg Salad week to whole days dedicated to fudge.  Each day dedicated to a recipe of the day's particular celebratory food.  Run with it.
Since I'm an addict of sea salt, these cookies were right up my alley.   I originally wanted to use a bunch of chocolate chunks, but then I realized that I didn't have enough in my pantry to fulfill the necessary amounts.  So I did what any other chocolate-lover would do-I used mini chips in the actual dough and then sprinkled the chocolate chunks on top when the cookies were warm so that they would get all melty and gooey.  Nothing beats a warm chocolate chip cookie right out of the oven.  Well, maybe a chocolate chip cookie sprinkled with some sea salt will.
Happy National Chocolate Chip Day! (Quite possibly one of the best days of the year!)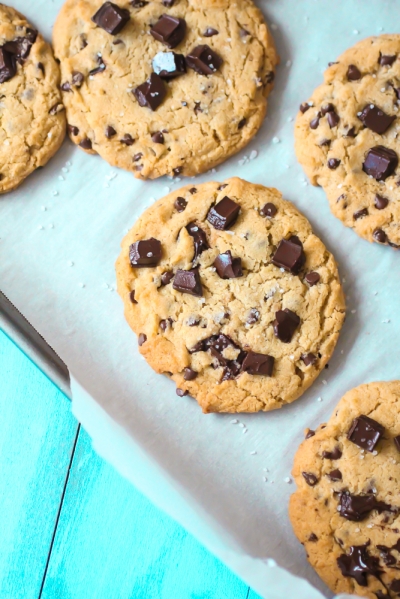 Chocolate Chunk Cookies with Sea Salt
Servings: about 20 cookies (depending on how big you make them)
Ingredients
2 and ¼ cups all-purpose flour
1 teaspoon baking soda
2 sticks (16 tablespoons) unsalted butter, softened
1 teaspoon coarse sea salt, plus extra for sprinkling
¾ cup granulated sugar
¾ cup packed light brown sugar
1 teaspoon vanilla extract
2 eggs
2 cups semisweet chocolate chips (I used mini chips since that's what I had on hand, and then extra chocolate chunks to put on top of each cookie)
Instructions
1. Preheat the oven to 375 degrees and line two rimmed baking sheets with parchment paper.
2. In a small bowl, whisk together the flour and baking soda.
3. In the bowl of your standing mixer fitted with the paddle attachment (or using an electric hand mixer), beat the butter, sea salt, granulated sugar and brown sugar on medium-high speed until light and fluffy, about 2 minutes or so.
4. Add the vanilla and eggs, mixing until thoroughly combined.
5. Reduce the mixer speed to low and gradually add in the flour mixture until incorporated.
6. Using a rubber spatula, add in the chocolate chips.
7.  Using a cookie dough scoop (or in generous spoonfuls), roll the dough into balls, place onto the prepared baking sheets (spacing each dough ball about 2 inches from the next one) and flatten into smooth discs about ¼"-inch thick.
8. Sprinkle each cookies with a little sea salt (to your own liking), gently pressing the salt into the dough to adhere.
9.  Bake each pan for about 10 minutes or so, or until each cookie is golden brown.  If baking both baking sheets at the same time, rotate and switch the pans halfway during the baking time.  Let the cookies cool slightly, then transfer to a wire cooling rack.
Source:  Barely adapted from Sur La Table.