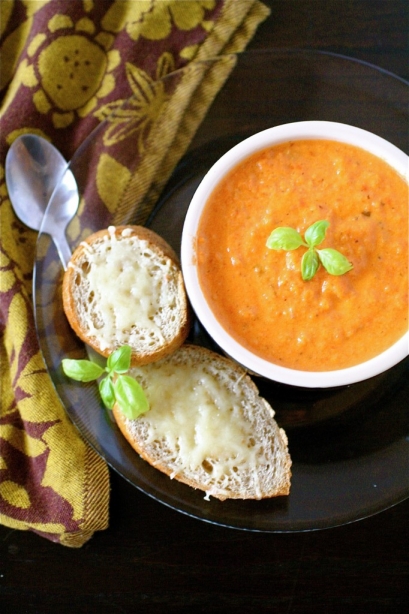 Hellloooo!
I hope you all had/are having a fantastic holiday season.  I was able to spend some time back in Indianapolis where I was extremely productive:
1. Visiting with friends, including one of my favorite pizza places in the entire world (and I am including a personal visit with a margherita pizza as one of my best friends.)
2. Numerous trips to the Imax theater after realizing that I hadn't seen a movie in a theater for roughly 6 months.  Also included in these trips were big tubs of horrific (but yet so tasty) butter-ish laden popcorn, 3D glasses, getting a case of the giggles during a movie when it probably was not appropriate (which actually just makes everything waaaaayyy more funny), and sitting next to my kid brother and feeling like I was 12 years old again.
3. My mother transferred all of our home videos from warped VHS tapes over to DVD's.  Which then ensued hours of bad bangs, stretch pants, and innumerable musical theater performances by yours truly.  It also included the time I videotaped (because I was super awesome and had figured out how to hold the giant camera on my shoulder) my little brother (just a toddler at the time) singing in his diaper to the Lion King soundtrack.  Those random moments are invaluable now.  It also included me giving a tour of my totally rad/tubular splatter-painted bedroom with my new Marky Mark and the Funky Bunch tape playing in the background from my enormous bedazzled (yes, I bedazzled it) boombox.  I'd like to think that I have become way more sophisticated and professional now, but deep down I know that some things will never change.  If you know me personally, well, then, you will whole-heartedly agree.
4.  Sorry, Tony Horton.  My God, I love you and your Forrest Gump impressions.  I love your jokes about Pam the Blam.  I love your justification of om's.  But, after completing Phase 2 of P90x (ummm, holy cow.  I seriously have muscles.  My pants don't fit anymore.), I have to take a few days off (like, 3 days of a break.)  Don't get me wrong.  It's not a complete break-up.  I'll come crawling back, begging you to tell me to "Bring it!" some more, and I will.  It's just the last few days of 2012, and I have got to relax a little, eat some cheese, and maybe drink a glass of champagne (or two.  Or three.)
Tangent over.
Here's a soup that I had been dying to try for a long time.  It was the cream cheese in the soup that had me intrigued.  Umm, hello? Cream cheese?  In a soup that is a "light" version of a regular cream-based soup?  Well, ok.  Taking the guilt out of eating cream cheese is a small miracle, in my humble opinion.  So I tried it.  It's just *a smidge* heavenly.  It has a bright tomato flavor, but that creamy goodness makes it impossible to not keep eating.  As far as a vegan version, I have not tried it.  I am not sure if a vegan version would work here, but if you are up to the challenge, let me know how it turns out.  I broiled some garlic-rubbed French bread and then topped it with some freshly grated Parmesan cheese and popped that under the broiler for a few minutes-pretty awesome and simple.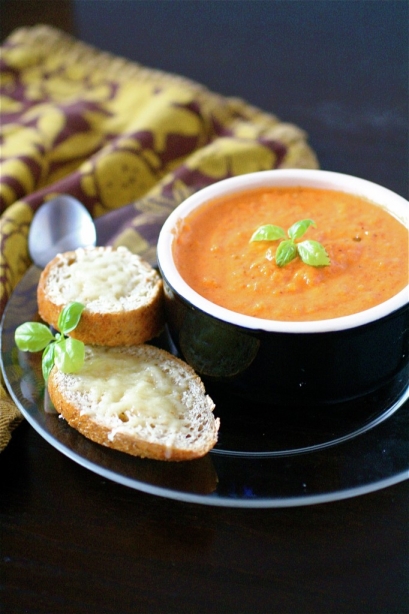 Tomato Basil Soup
Servings: about 4
Ingredients
1 tablespooon extra-virgin olive oil
1 medium onion, chopped
3 garlic cloves, minced
3/4 cup fresh basil, chopped
One 28-ounce can fire-roasted diced tomatoes, with juices
4 ounces low-fat cream cheese (1/2 a brick), cut into pieces
2 cups skim milk
Salt/pepper, to taste
Instructions
1. In a Dutch oven or large sauce pot over medium-high heat, heat the olive oil until shimmering.
2. Add the onions and cook, stirring frequently, until translucent and softened, about 3-5 minutes.
3. Add the minced garlic and cook, stirring, until fragrant, about 1 minute or so.
4. Add the entire can of tomatoes (including juices) and the chopped basil, mixing well. Bring the mixture to a boil.
5. Add the cream cheese, stirring until melted and thoroughly incorporated.
6. Using an immersion blender (or a blender, in batches…be very careful-this is obviously extremely hot stuff), blend the soup until smooth.
7. Once smooth (or at least until it is of your desired consistency), add the milk and season to taste with salt and pepper. Let simmer for a few more minutes until the milk is heated through and serve.
Source: Cooking Light.