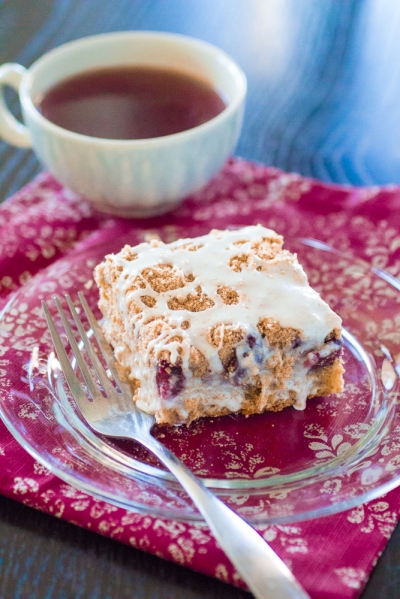 I have my younger sister to thank for a recent onslaught of nightmares.
Does anyone else out there watch The Following on Fox?  I know this might be completely random, but not only is this show addicting, but it's completely nightmare-provoking as well.  My sister recommended it (and I usually like what she likes, so I gave it a shot.) I'm usually one who avoids horror movies or anything of that type of genre (why increase my already-high baseline stress levels by voluntarily watching something that will send my blood pressure through the roof?), but I got sucked into this show one weekend while doing some major spring cleaning of my apartment.  You would think that I might have the discipline to just stop watching it, since I've been a little spooked while walking the dog before bed or in the middle of the night when I hear a funny sound, but I just can't.   Maybe I secretly love this kind of thrilling sense of fear, I don't know.  But it's an interesting show, to say the least.  Which makes me wonder why there are so many shows out there featuring serial killers.  And then I get spooked because I live in Milwaukee, where one of the most notorious serial killers was active.  I don't get it.  Maybe it's rooted in my history of forensics, and I'm bringing up bits and pieces of the crazy things I've seen firsthand (not food blog appropriate).  I've got some pretty interesting stories, though (why those things didn't give me nightmares and how a fabricated, acted story does is a good question.)
Which makes another random segue into this recipe, I know.
I wanted something sweet and warm for breakfast one morning, and since I had some Greek yogurt in the fridge, this recipe fit the bill.  You can use fresh or frozen fruit here (I used Earth Bound Farm's frozen pitted sweet cherries).  And, honestly, you can use whatever kind of fruit or combination thereof that you like.  Since I was using cherries, and I love a cherry-almond combination of any sort (see here  or here), I added in some almond extract for both the batter and the glaze.  If you aren't after this kind of flavor profile, just substitute in some vanilla.
Serve with some coffee or warm tea, and it will make any bad nightmare disappear.  🙂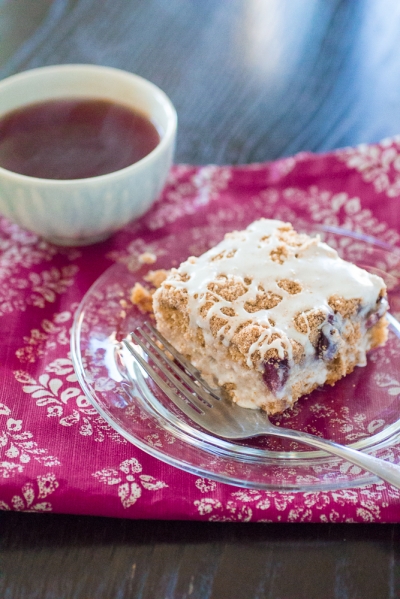 Cherry Yogurt Coffee Cake
Servings: Makes one 13×9-inch pan
Ingredients
For the streusel:
5 tablespoons unsalted butter
1/2 cup brown sugar
Pinch of salt
2 teaspoons ground cinnamon
2 teaspoons vanilla extract
1 cup plus 2 tablespoons white whole wheat flour
For the filling:
One 10-ounce bag frozen sweet pitted cherries, thawed
For the batter:
1/2 cup (8 tablespoons) unsalted butter
1 cup + 2 tablespoons brown sugar
2 eggs
1 cup nonfat Greek yogurt
1 teaspoon almond extract
1/4  teaspoon vanilla extract
1 teaspoon baking powder
1 teaspoon baking soda
1/2 teaspoon salt
2 cups white whole wheat flour
For the glaze:
2 cups powdered sugar
1/4 cup milk (I used skim)
1 teaspoon almond extract
Instructions
1. Preheat the oven to 350 degrees.
2. Generously spray a 9 x 13-inch pan with cooking spray.
3. For the streusel:  In the bowl of your standing mixer fitted with the paddle attachment (or in a medium bowl using an electric handheld mixer), beat the butter, sugar, salt, cinnamon and vanilla, until light and fluffy, about 2 minutes.
4. Reduce the mixer speed and add in the flour, beating until small, coarse crumbs form.  Transfer the mixture to a separate bowl and clean out your mixer bowl.
5. For the coffee cake: In the bowl of your standing mixer still fitted with the paddle attachment, beat together the butter and brown sugar, until light and fluffy, about 1-2 minutes.
6.  Add in the eggs, yogurt, almond extract, vanilla extract, baking powder, baking soda, salt, and flour, scraping down the sides of the bowl as necessary.
7. Transfer the batter to your prepared baking pan and evenly spread the cherries (or other fruit) over the batter, slightly pressing in the cherries.
8. Sprinkle the prepared streusel over the cherries evenly.
9.  Bake for about 40 minutes or so, or until a tester inserted into the center of the cake comes out clean.
10. For the glaze:  In a small bowl (or again, using your mixer-I know-lots of mixing here), beat together the powdered sugar, milk, and almond extract until smooth.
11. Once the coffee cake has cooled for about 30-40 minutes, drizzle glaze evenly over the top.
Source:  Adapted from King Arthur Flour Company.