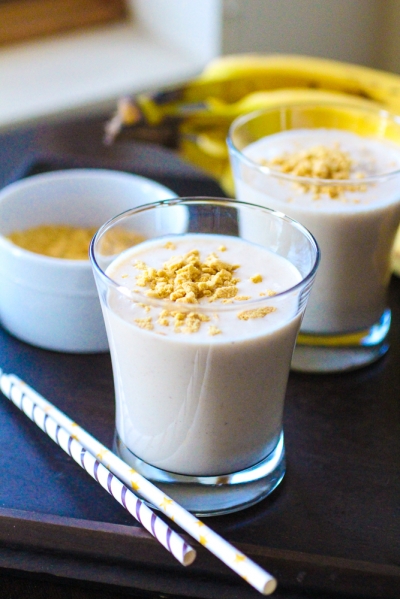 All right, everyone.  I'm trying to make a dedicated pledge to making some positive changes in my diet (that being said, I also have a few deep fried indulgent treats coming your way…so everything in moderation, right? Right.)
Beginning with breakfast-my often much-neglected meal of the day.  During the week, I run out the door with a big thermos of black coffee and usually a banana in my bag.  I usually don't get around to eating that banana until about 10 am, so it probably doesn't still count as a breakfast, but it works for me.
On the weekends, I can usually take some time to invest in making something a little bit more filling to keep my energy levels up throughout the day. (I'm also trying to increase my exercise time as well….that's a work in progress, though.)  There's this pretty awesome little cafe in my neighborhood that makes incredible juice concoctions…which I indulge in from time to time.  But if it's still cold out (yes it is) or I don't want to get out of my pajamas (my happy weekend place), a from-scratch smoothie fits the bill.  And this one sounded intriguing.
Here's the deal with this smoothie.  It's definitely not on the sweet side (depending on how ripe your bananas are), so if you are a fan of sweeter smoothies, add in some honey or agave nectar and adjust to taste.  To increase the protein content here, I added in some nonfat Greek yogurt instead of a sweetened, vanilla flavored yogurt (as originally recommended by Cooking Light).  It's a thicker smoothie as well, so I thinned out mine a bit by adding in some more almond milk (adjust to your own desired consistency here).  If you want, add in some ground flax seeds or maybe even a few chia seeds for a little bit more texture/flavor.
It's like a dessert for breakfast, and I am a fan.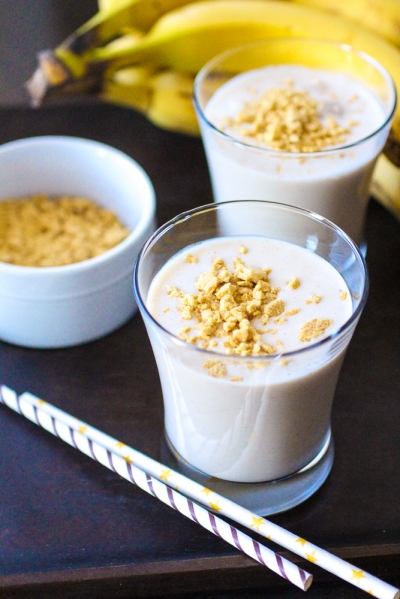 Banana Cream Pie Smoothies
Servings: 2
Ingredients
1 ripe banana, sliced and frozen (I sliced my banana and froze it for about 45 minutes prior to making the smoothies.)
1 cup nonfat Greek yogurt
1 cup vanilla almond milk (or soy milk or skim milk)
1 tablespoon vanilla protein powder (I used a whey protein powder)
1/2 teaspoon vanilla extract
1/4 teaspoon ground cinnamon
Ice cubes (about 4-5)
Whole wheat graham cracker crumbs, crushed (You'll want about 2 tablespoons total of crushed graham crackers.)
Instructions
1. In your blender, combine the frozen banana, yogurt, milk, protein powder, vanilla, and cinnamon.  Blend until smooth.
2. Add the ice cubes and blend until smooth.
3. Pour the smoothie into your cups and sprinkle the graham cracker crumbs over each smoothie.  Enjoy.
Source: Adapted from Cooking Light as part of my monthly contribution to the Cooking Light Bloggers' Connection.