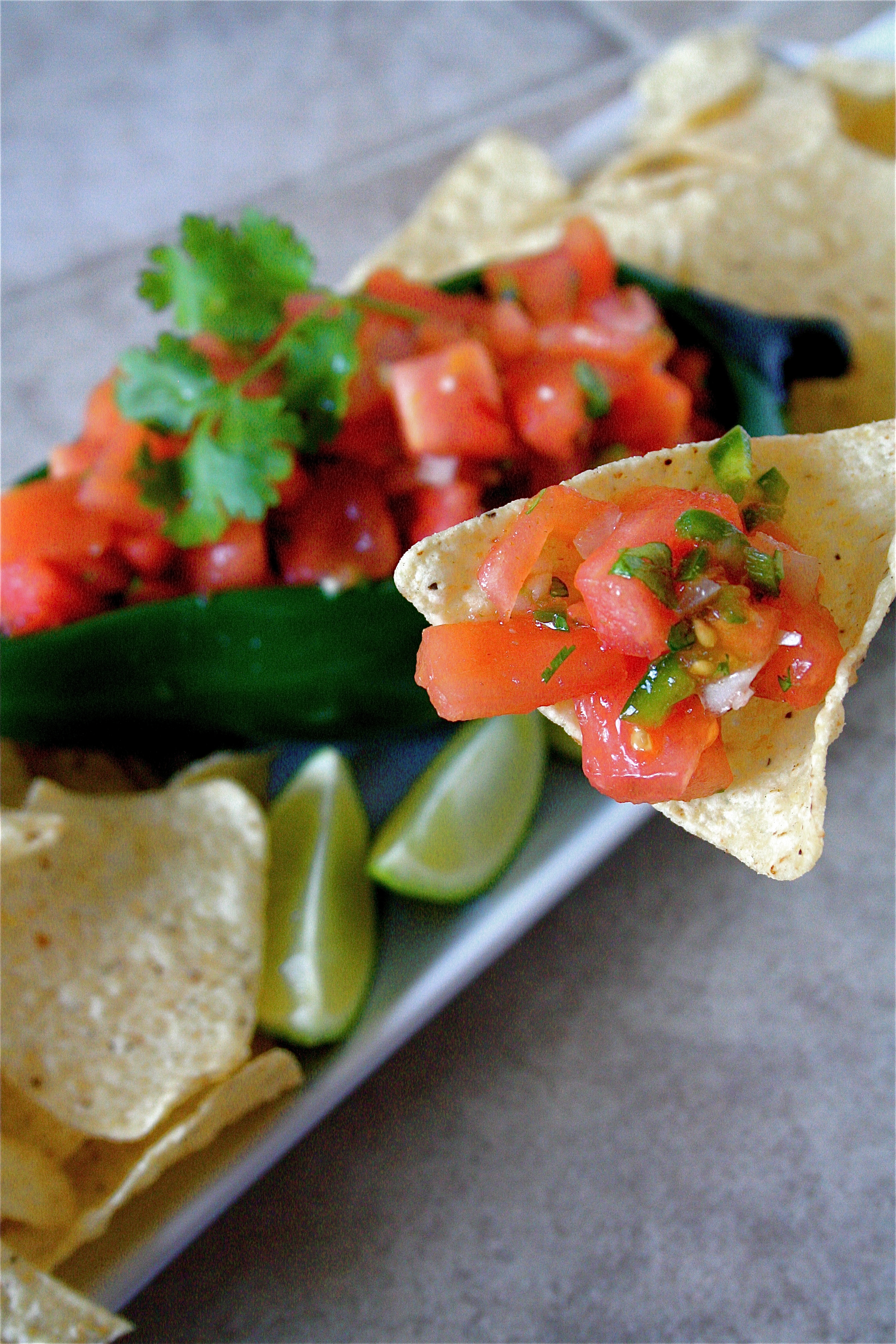 It's that time of the summer….tomato time!  Tomatoes are up there on my list of favorite summer things (right behind fireflies, aka "lightning bugs" as we Hoosiers call them..).  I am very lucky to have a mother with some thriving tomato plants in her backyard-I think it's going to be a record year from the looks of the plants so far.
My mother has been making this salsa recipe since we received the magazine it was featured in….. in 1995.  Every year we beg her to make it with her fresh tomatoes, and we celebrate the long, sunny days of the season with this healthy and fresh addition to our meals! (Granted, sometimes the things I eat it with are NOT that healthy…..).  The magazine is folded open to the page the recipe is on, the pages are stained with God knows what, and the corners are all torn. Now, THAT is a sign that this is a very tried and true recipe.  I hope you will feel the same way about it.
Fresh Salsa
Yields: 3 1/2 cups
4 cups chopped peeled fresh tomatoes, de-seeded (*see below on my tips for how to peel a tomato)
1/4 cup finely chopped onion
1 to 4 jalapeno peppers, seeded and finely chopped (I used just one jalapeno)
1 tablespoon olive OR vegetable oil (I used extra-virgin olive oil)
1 tablespoon vinegar (I used straight white vinegar)
1 teaspoon ground cumin
1 teaspoon salt, optional (Please add this, trust me….)
1 garlic clove, minced
a few fresh cilantro leaves, chopped, optional (but highly recommended)
In a bowl, combine all ingredients; mix well.  Let stand for about 1 hour. (Although, I must insert here that the salsa tastes way better the longer it sits…)  Serve at room temperature.  Store in a covered container in the refrigerator.
*How to Peel a Tomato:
Fill a large saucepan about halfway full of water.  Bring to a rapid boil, and, with tongs, add 4-5 tomatoes to the boiling water.  Let the tomatoes boil for approximately 1 minute (you will see the skins start to shrivel).  After 1 minute, remove the tomatoes from the boiling water with tongs and place them in a bowl filled with ice-water.  Let them stand for about 1-2 minutes.  The skin should easily slide away from the "tomato meat".
Recipe adapted from Taste of Home, August/September 1995, page 12.
P.S. Thanks to Samantha for holding the chip.  You are the best sister a girl could have.