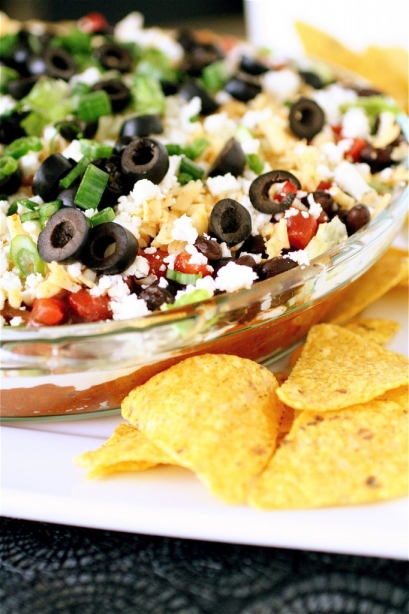 The Super Bowl is coming up, and we all need good football-watching food ideas.  Wait.  Who am I kidding?  I don't need football for this dip.
After a bad week of intense nacho craving, I decided to go ahead and make something similar to take over to a friend's house for a little get-together.  This spicy (you can totally control the spice factor here) dip is extremely versatile-you can add or omit what you like and don't like. Me?  I'm a fan of black beans and queso freco, so I had to have them.  I added in a habanero pepper cheddar from Cabot (so so spicy, but so so good…).  I could have added in some guacamole or some bell peppers, but I didn't have them on hand.  The best part about this dip?  Oh, just the sour cream/cream cheese layer.  It cuts the heat a little bit and makes this an official caloric splurge.
And, this dip isn't too incredibly hard to assemble.  You just need a little prep time and a sturdy can opener, and you are good to go.  I ended up doubling the recipe (with the doubling, this will fit into a 9 x 13-inch baking pan, so please feel free to halve it) so that I could try to feed a party of about 12 people, but I had leftovers.   For game day, this might be the perfect snacking food.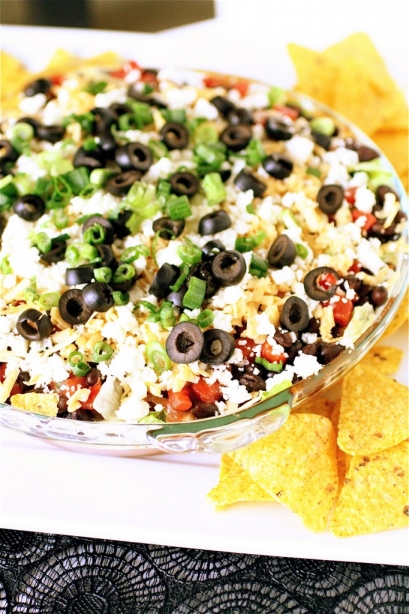 Layered Taco Dip
Servings: one 9 x 13-inch casserole dish
Ingredients
Two 1-ounce packages of taco seasoning.  Or make your own.  Check out this recipe.
Two 16-ounce cans refried beans
Two 16-ounce cans black beans, drained and rinsed
Two 8-ounce packages cream cheese, at room temperature
2 and 1/2 cups sour cream
2 cups fresh salsa
4 tablespoons green onions, chopped
4 cups iceberg lettuce, shredded
Two 6-ounce cans black olives, sliced and drained
2 cups habanero pepper cheese, shredded
1 cup queso fresco,crumbled
Instructions
1. In a large bowl, combine the taco seasoning packets with the refried beans.  Mix until well combined and spread evenly into your serving dish.
2. In another large bowl (or using your stand mixer) mix together the cream cheese and sour cream, mixing until smooth.  Evenly spread this layer over the refried beans.
3. Top the sour cream with the salsa, followed by the lettuce, black beans, green onions, black olives, and cheeses.
4. Cover and chill until ready to serve.
Source:  Adapted from All Recipes.