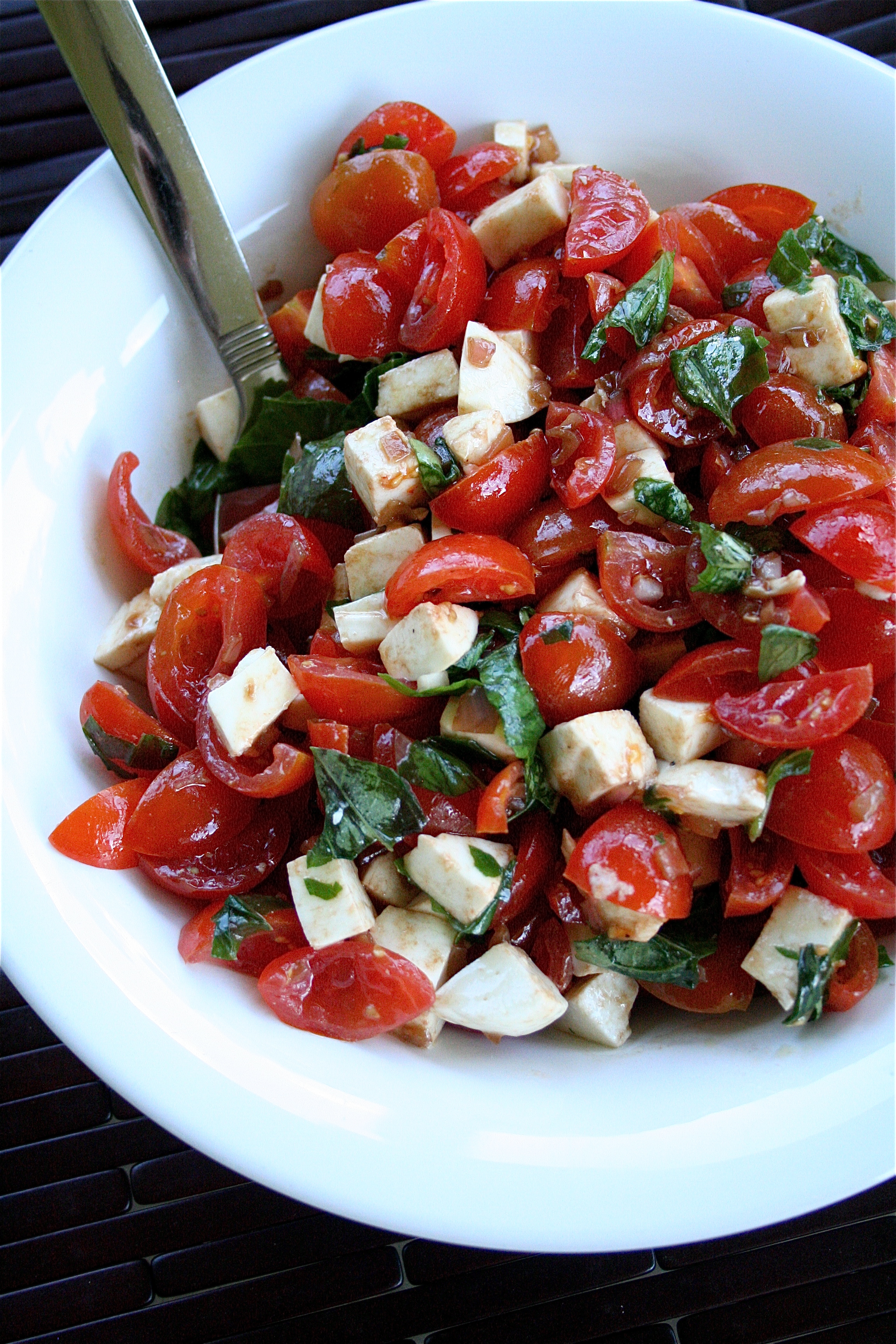 Another tomato recipe.  Score.
I love Caprese salads, especially with really good, high-quality, fresh mozzarella.  Sometimes for dinner I will slice a nice, juicy ripe tomato, lay some mozzarella pieces on top, sprinkle some fresh (or dried, if I'm in a pinch) basil on top….and then pop it under the broiler for a few minutes.  I love the balsamic/olive oil addition on the cold, fresh version of the salad, but sometimes I spice it up a bit and eat it warm without the oil.  Melted cheese….it's a beautiful thing.
But this is a recipe that I stumbled upon one Saturday morning as I was browsing through recipes online.  I knew that I had to try it, since it calls for some of my favorite things, of course.  Cherry tomatoes are in season right now (my mother's plant has at least 40 tomatoes on it as I type this…), and I was able to pick some fresh basil from the garden.  The salad itself was pretty easy to assemble, and it was delicious! (especially the next day….)
Cherry Tomato Salad with Basil and Mozzarella
Servings: 4 to 6
Ingredients
2 pints cherry tomatoes, quartered
1/2 teaspoon sugar
1 medium shallot (or onion), minced (about three tablespoons)
1 tablespoon balsamic vinegar
2 tablespoons extra-virgin olive oil
1 and 1/2 cups fresh basil leaves, torn (don't chop them-the leaves will oxidize and turn dark icky brown)
8 ounces of fresh mozzarella cheese, chopped into bite-size pieces
Sea salt and ground pepper, to taste
Instructions
1. Toss the tomatoes, 1/4 teaspoon of salt, and the sugar in a medium bowl.  Set it aside and let stand on its own for 30 minutes.
2. At this point, the recipe recommends transferring the tomatoes to a salad spinner and spinning them for a few seconds to remove the seeds and extra juice.  Make sure you conserve the juice.
3. Put the spun tomato juice/seeds through a fine strainer to reserve the juice and discard the seeds.
4.  At this point, heat a medium saucepan over medium-low heat on the stove.
5.  Add 1/2 cup of the tomato liquid, the shallot, and vinegar to a simmer.  Let simmer until the mixture is reduced to about 3 tablespoons.
6. Transfer the mixture to a small bowl and cool to room temperature.
7. Whisk in the oil and salt and pepper to taste.
8.  Add the basil and the mozzarella to the tomatoes. Toss gently to combine.
As a side note, I would like to introduce you to my girl, Scout.  Just look at those big brown eyes. She is by my side whenever I am home.  She is my photography assistant, but she won't look directly into the camera ever.  I think she's a little afraid of it.  I was taking the pictures of the salad, and she was making sure that I was performing adequately (although she's not a fan of tomatoes).  She's the best dog in the whole world, and so I thought I would share.  Doggie biscuit recipes are on my list of things-to-do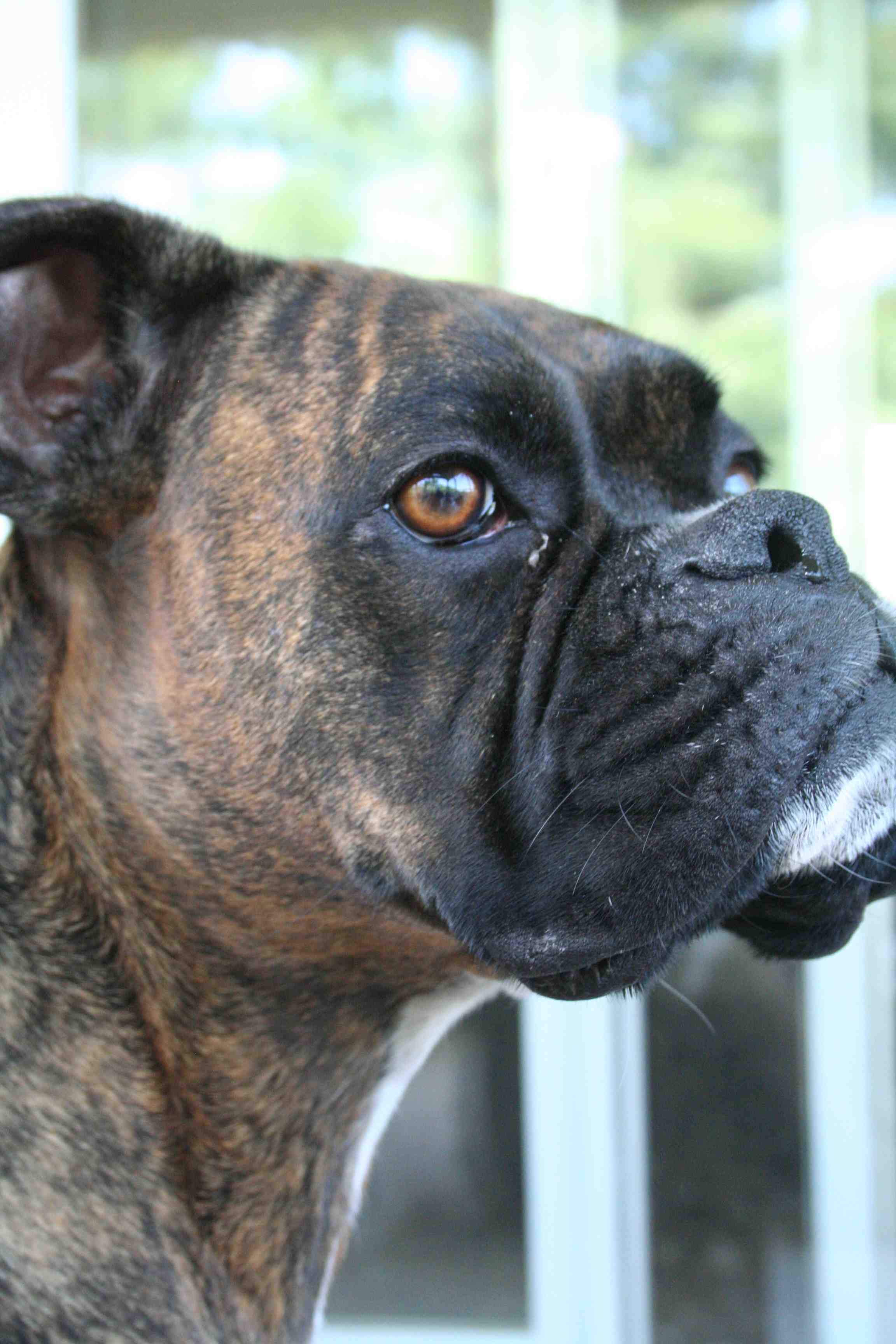 Source:  Cooks Illustrated.