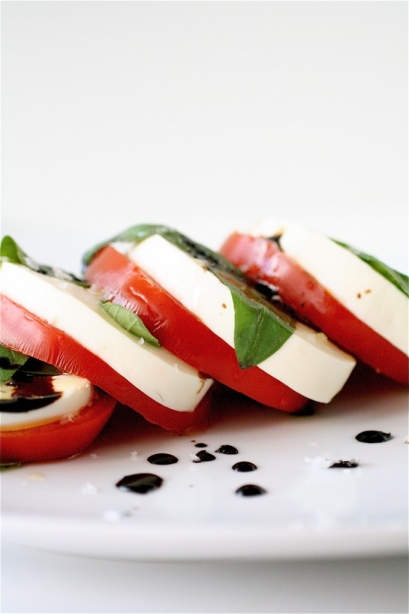 So..THIS…this dish in particular…is usually on my weeknight menu at least once during the week.  It's just so easy.  I'm fortunate enough to be able to get fresh mozzarella from this place (in my opinion, the best mozzarella I have tried in a very long time), so it's just too easy to throw together something as elegant and simple as a caprese.  I'm anxiously awaiting the quickly approaching summer so I can get some tomato plants and basil plants growing.
I usually do a few variations on the Caprese.  You've seen this salad.  You've also probably seen this eggs benedict version as well.  Or even this sandwich. Some nights I will slice the tomatoes, layer some mozz on top, and set it under the broiler for a few minutes (so the cheese gets all melty and heavenly) and then sprinkle it with some fresh basil and sea salt.
But, I wanted to add a balsamic reduction to the repertoire on this blog. (I know the recipe itself isn't rocket science.) It's something every girl (or guy) needs to have in their back pocket.  It's a snap to throw together, makes your kitchen smell incredible, and a little bit goes a very long way (I had just enough for two large salads here, so if you want leftovers, increase the amount of balsamic).  The reduced balsamic is thick and syrupy, with a sweet tang to it.  It's definitely worth the wait to use it as a dressing.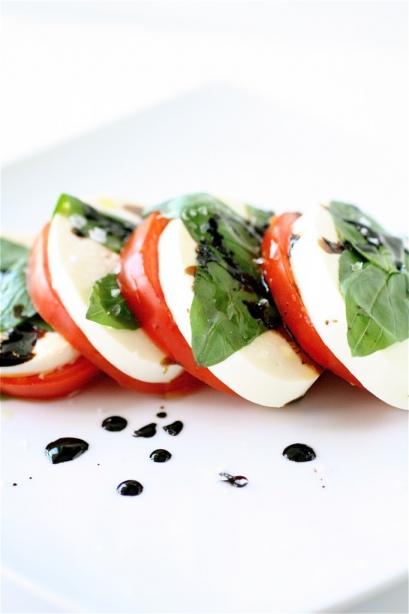 Classic Caprese with Balsamic Reduction
Servings: 2
Ingredients
2 large tomatoes, sliced
6-8 ounces fresh mozzarella cheese, sliced (depending on how much you like)
Handful fresh basil
Drizzle extra-virgin olive oil
Sea salt and pepper
1/3 cup balsamic vinegar
Instructions
1. For the balsamic reduction:  In a small saucepan over medium-low heat, bring the balsamic vinegar to a boil.
2. Reduce the heat to low and let simmer, swirling the pan occasionally, until reduced to about half of the original amount (it took mine about 15-20 minutes.) Watch it carefully.  Remove from the heat and set aside.
3. Meanwhile, assemble the salad by layering the tomato, mozzarella, and basil.
4. Lightly drizzle the olive oil and balsamic reduction over the salad and sprinkle with salt and pepper.  Enjoy.  It's almost summer.
Source: A Curvy Carrot original.