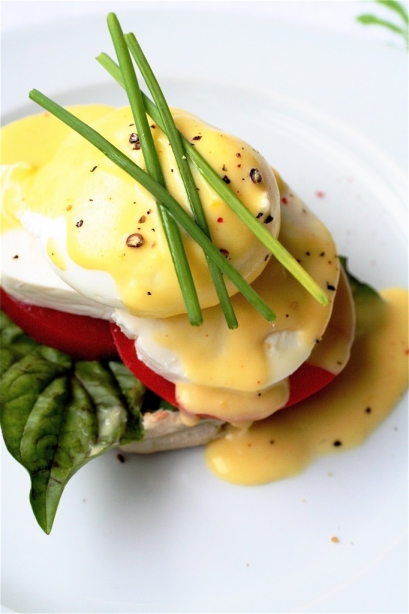 A few weekends ago I made a goal for myself.  I was going to make hollandaise sauce, from scratch.  No curdling, no scrambled eggs, no separation.  No sir, pure and creamy hollandaise sauce.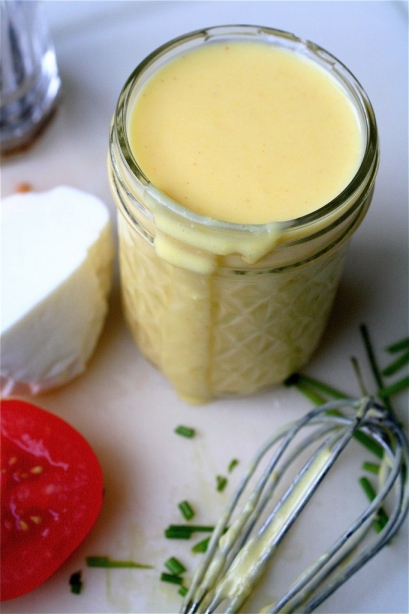 But, once I accomplished that, what was I going to make with it?  There was one answer for someone who has finally learned how to poach an egg.  The proper way.  Eggs Benedict, of course!
And since I don't eat Canadian bacon (or meat, for that matter-just seafood rarely), I wanted to improvise a little.  I usually, at least two or three times a week, eat a warm caprese salad.  This is where my wallet-sucking bad (or good) habit of spending time at Whole Foods comes in.  I buy some fresh tomatoes, a nice ball of mozzarella, and some fresh basil at least once a week.  I slice the tomatoes, put some mozzarella on them, and then I broil them until the cheese melts.  I top it off with fresh basil and a little sea salt, and I am happy.
So, back to the Eggs Benedict.  I figured mixing my favorite Italian salad with eggs (one of my other favorite things to cook with) might be interesting.  I know this has been done before, but it was a first for me.  It certainly will not be my last.
And, P.S.  The hollandaise sauce was extremely easy.  My arm got a little tired during the continuous whisking part, but, hey, that comes with the territory.  I will warn you, though, if you want to reheat the hollandaise, it's very tricky.  You need to put it in a heatproof bowl over simmering water and whisk continuously again or else it WILL separate out (eww…and that is really gross).
Enjoy this.  It's a keeper.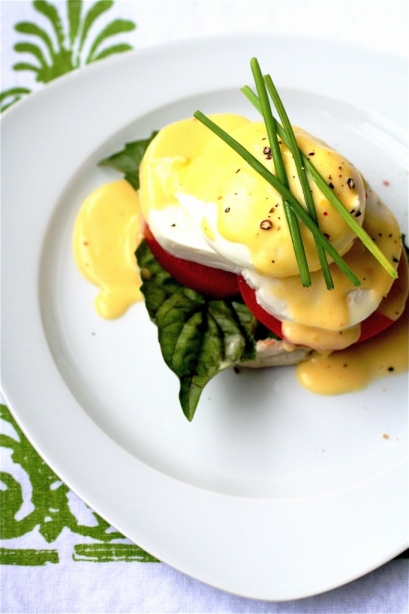 Caprese Eggs Benedict
Servings: 2
Ingredients
For the hollandaise sauce:
12 tablespoons unsalted butter, room temperature
6 large egg yolks
1/2 cup boiling water
2 teaspoons fresh lemon juice
Pinch cayenne pepper
Pinch white pepper
1/4 teaspoon garlic salt
1/4 teaspoon sea salt
For the Eggs Benedict:
2 English muffins, toasted***Someday I will get around to making my own, I promise
2 eggs, poached**For tips on how to poach an egg, see THIS post
1 large tomato (or two medium ones), slice to your desired thickness
4 ounces (about half one 8-ounce mozzarella ball), sliced to your desired thickness**I used 2 slices on each one.
1/2 cup fresh basil leaves, lightly packed
Salt and pepper, to taste
Chives, for garnish, optional
Special equipment: Instant-read thermometer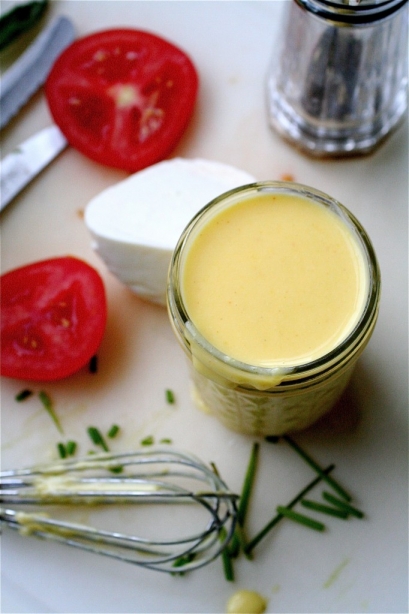 Instructions
1. For the hollandaise sauce: In a heatproof bowl over a saucepan of barely simmering water set on medium heat, whisk the butter and egg yolks together until smooth.
2. Very…very slowly, add the 1/2 cup boiling water to the mixture, whisking constantly.  (You do not want the eggs to cook).
3. Whisking constantly, heat the mixture until it is thickened and reads 160 degrees on your instant-read thermometer.  (It took mine about 10 minutes or so).
4. Remove the saucepan from the heat.
5. Gently whisk in the lemon juice, cayenne pepper, white pepper, garlic salt, and sea salt.  Serve warm.
6.  To assemble the Eggs Benedict: Place the fresh basil on top of the toasted English muffin.  Top with tomatoes, mozzarella, and poached egg.  Lightly drizzle the hollandaise sauce over top.  Garnish with fresh chives, if using.

Source:  Hollandaise sauce adapted from Cook's Illustrated.