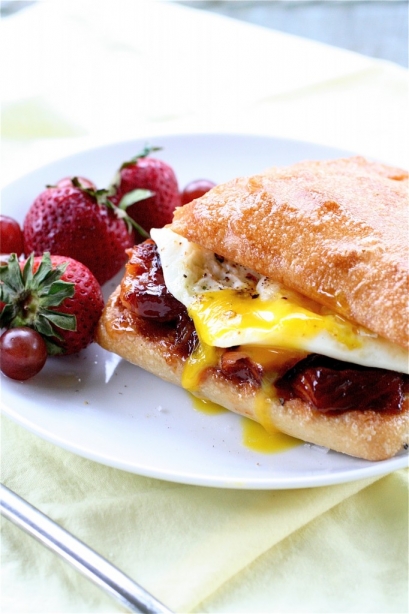 There's a local restaurant here in Indy named Café Patachou.  It's one of my favorites.  They pride themselves on fresh, local ingredients-with tons of vegetarian options.  In the past, I always tended to try something new every time I went (never finding anything that I didn't fall in love with).  I happened to get brunch there a few months ago with my girlfriends, and I tried their signature Broken Yolk Sandwich-on sourdough-with smoked salmon.  Basically, this is a sandwich consisting of two pieces of buttered sourdough bread with two over easy eggs (and they always ask, "These eggs are runny, are you ok with that?") on top of a healthy portion of smoked salmon.  Simple and absolutely tasty.
Annie and I met there for brunch the other day, and we both ordered the Broken Yolk.  And we both agreed that the sandwich is one of the best things on the menu.  The nice thing is that as part of the Tastemaker program through Foodbuzz,  I was able to receive a free sample of Eggland's Best Eggs recently.  And, while I had plenty of other recipe ideas that feature eggs (and we all know I am a huge proponent of fresh, protein-packed eggs), I thought that putting a spin on this local favorite breakfast sandwich would be a great way to use my eggs.  I promptly went to the store and picked up some of Eggland's Best Organic eggs (which I actually buy regularly..except for the summer when a local farm down the road sells eggs by the dozen), and set to work coming up with an original recipe.  Since I eat fish (mostly salmon) so rarely, eggs have become a staple in my fridge-I eat eggs at least 4 times a week.  They are great for getting my protein, vitamin B12, and tons of other healthy vitamins that I need.
I decided to put a little spin on the sandwich by creating a sweet brown sugar maple glaze for the salmon.  Simple and sweet.  I bought some fresh ciabatta rolls from the bakery, and I actually used a panini press to toast the rolls.  Holy schmoly, friends.  I don't know what it is about that smoky flavor mixed with a little bit of sweetness, but it was really good.  I will be making this again soon.
And if you are looking for some other egg recipes, try these:
Deconstructed Egg and Cheese Sandwiches
Primavera Risotto Nests with Fried Eggs
Baked Eggs with Brie and Herbs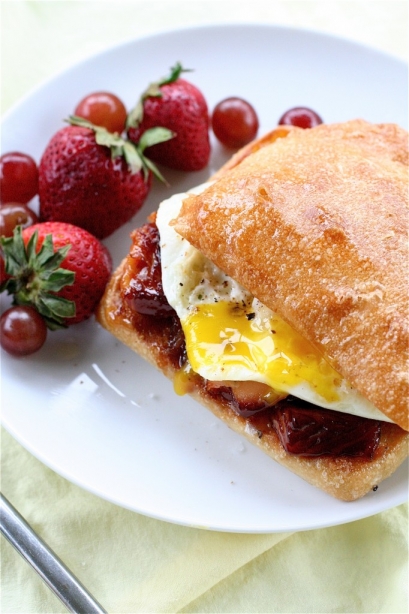 Broken Yolk Sandwiches
Servings: 2
Ingredients
2 ciabatta rolls, halved, buttered and toasted***If you don't have a panini press, try toasting them in a nonstick pan.
4 ounces smoked salmon, lightly flaked with a fork
2 tablespoons unsalted butter
2 tablespoons pure maple syrup
2 tablespoons light brown sugar
Butter, for frying the eggs (I use about 1 tablespoon.)
2 Eggland's Best Eggs
Salt and pepper, to taste
Instructions
1. In a frying pan over medium heat, melt 2 tablespoons of butter.
2.  Add the maple syrup and brown sugar, stirring to dissolve.
3. Add the smoked salmon to the pan, and lightly toss to coat with the glaze.
4.  Continue cooking until the glaze reduces and is thickened, about 5-6 minutes or so, stirring occasionally.
5. Meanwhile, in a separate frying pan, melt butter.
6. Gently crack the eggs into the pan and cook over medium heat until the whites are opaque, a minute or two.
7. Flip the eggs over to cook through (but the yolks should still be runny), about 30 seconds.
8.  Place the smoked salmon mixture on ciabatta roll, top with one egg, and top with the other half of the ciabatta roll.
Enjoy!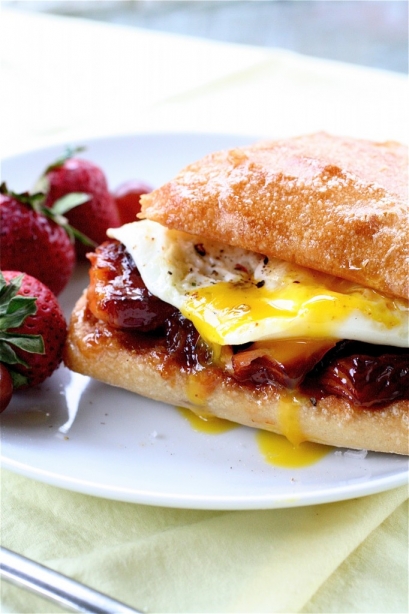 Source:  A Curvy Carrot original, inspired by Café Patachou.
Disclaimer:  As part of the Foodbuzz Tastemaker Program, I received Eggland's Best Eggs to create this post.