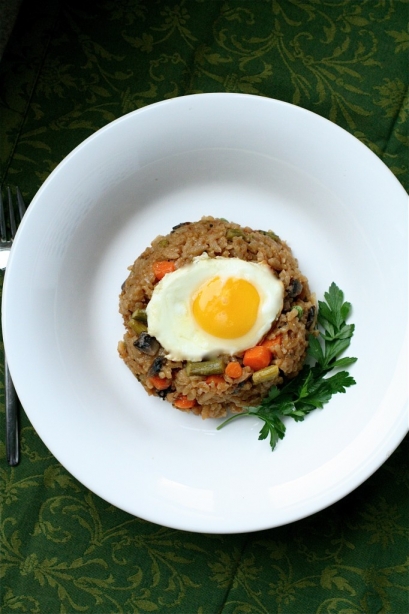 I remember the first time I had a fried egg on risotto.  It was in a restaurant in downtown Chicago a while back with some great company.  It also happened to be one of those life-changing moments where I suddenly realized that I had a lot of misconceptions about food.  For one, I had previously confined eggs for use only in meals for breakfast.  I had also previously defined risotto as something mostly consisting of mushrooms (don't ask me about that one…).
Anyways, once I took a bite of that risotto, I knew my old ways needed to change immediately.  (It also happened to be a mushroom risotto with an egg on top, go figure).  And, although I have posted a risotto before (hahaha…a mushroom risotto….seriously), I wanted to give another version a try.  Yes, I have been on a roll lately with a "nest" theme.  But how cute is this dish for a nice, Spring dinner with friends?
Now, risotto can be very high-maintenance.  It demands your attention every few minutes, and it requires a watchful eye to make sure it doesn't burn.  It's a finicky thing.  And, yes, it takes a little while to make.  This recipe took me a little over an hour to prepare from start to finish.  It may not be a super quick weeknight meal, but it's definitely worth the time.
So, as far as flavor goes, this has to be one of my favorite dishes ever.  The bits of vegetables add a lot of dimension to the meal, and the flavor is actually very savory.  And the egg?  Yes, let's talk about the egg.  It just made it so much better.  I reheated the risotto for two meals afterwards (a big deal for a leftover-hater), and I fried an egg each time. I don't know that I will ever go back to normal risotto now.
Dear risotto, thank you for changing the way I think about food.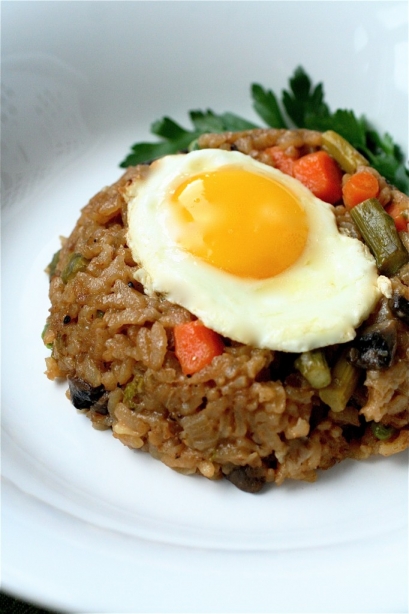 Primavera Risotto Nests with Fried Eggs
Servings: 4 large servings
Ingredients
4 tablespoons (1/2 stick) unsalted butter, divided, plus additional for frying your eggs
2 and 1/2 cups button mushrooms (or your favorite), chopped
1 cup yellow onion, chopped
3 garlic cloves, minced
2 cups arborio rice
1/2 cup dry white wine (I used a Chardonnay…so good!)
3 cups vegetable broth
1 cup carrots, cubed into 1/3-inch pieces (I used three medium carrots)
1 cup diced asparagus, chopped
3 cups water
1 and 1/2 cups Parmesan cheese (use the good stuff), grated, plus additional for garnish
1/2 green peas, thawed
4 large eggs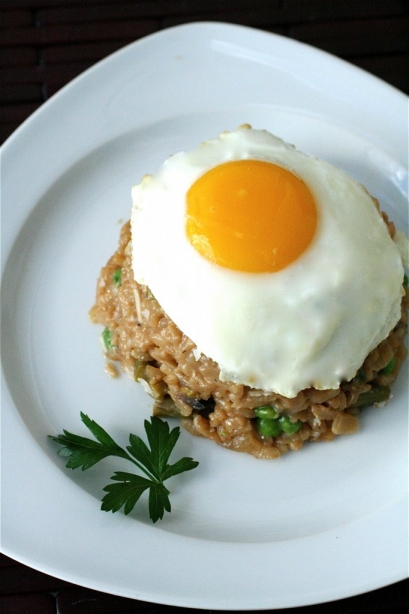 Instructions
1. In a medium skillet over medium heat, melt one tablespoon of the butter.
2.  Add the chopped mushrooms, and sauté until soft, about 5 minutes.  Remove from the heat, and set aside.
3.  In a large stockpot or Dutch oven, melt the remaining 3 tablespoons of butter over medium heat.
4.  Add the chopped onion, and cook until soft and translucent, about 5 minutes, stirring frequently.
5.  Add the minced garlic and cook for one minute, or until fragrant.
6.  Add the arborio rice and cook, stirring frequently, until softened and the edges are translucent at edges, about 5 minutes.
7. Add the wine, and stir until liquid is absorbed, about 1 minute.
8.  Add one cup of the vegetable broth, stirring until absorbed, 3 to 4 minutes.
9.  Add the carrots, asparagus, and another cup of vegetable broth, and stir often until liquid is absorbed, another 4 minutes or so.
10. Add the final cup of broth and simmer, stirring frequently, until the liquid is almost absorbed, another 4-5 minutes or so.
12.  Now, add the water (one cup at a time) and simmer the mixture after each addition for 4-5 minutes, stirring frequently.  Do this until the consistency of the risotto is creamy.  You may have to add additional water (I did not).  The total amount of simmering time will be around 25 minutes.
13.  Stir in the cheese, peas, and mushrooms.
14. Season with salt and pepper.
15. In a separate small frying pan, melt your desired amount of butter and fry the eggs (sunny-side up) until the whites are completely cooked through.
16.  To serve, mound each portion of risotto on your serving dishes and make a slight hollow on the tops of each. Gently place an egg in the center of each serving.  Enjoy!

Source:  Slightly adapted from Bon Appétit, March 2010, as seen on Epicurious.