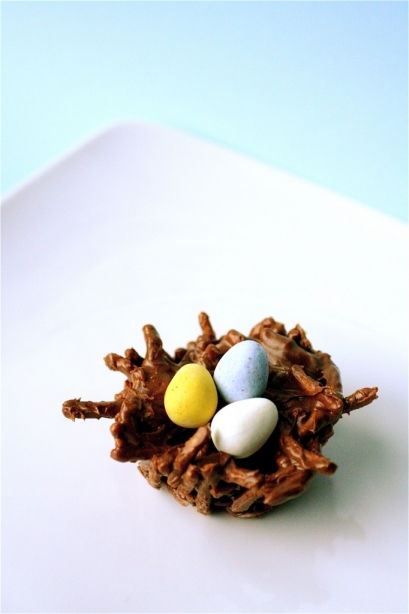 It's finally Spring!
Which, to me, means budding flowers, longer days with sunshine, birds singing, and the possibility of breaking out the flip-flops (which are my favorite kind of shoes).  Another sign of Spring is the endless aisles of pastel Easter candies lining the front of my grocery store.  Easter candy.  It's a wonderful thing.
I decided to immortalize these well-known Spring treats by putting them on my blog.  I made them with my nephews, who were amazed by the tiny eggs.  Elliott was happy because I had chocolate and peanut butter in the same "cookie": two of his favorite things in the whole world.  There is no baking involved here, friends.  Just a microwave and an excuse to get your hands covered in chocolate.  They took me less than 10 minutes to combine, and then I chilled them in the refrigerator before sharing them with the boys.  A simple and festive way to celebrate the days of Spring?  I think so!!!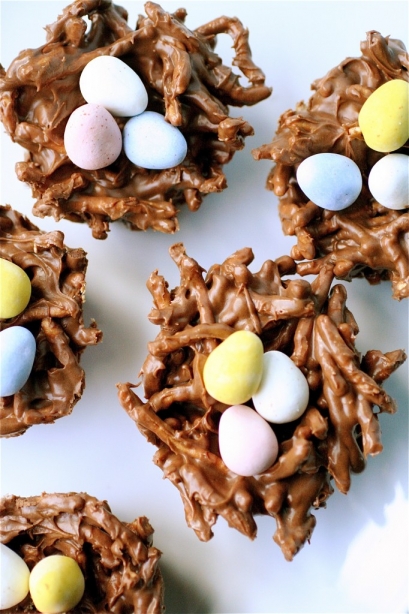 Birds' Nests
Servings: 12
Ingredients
1 tablespoon of unsalted butter, for greasing the muffin pan
6 ounces (1/2 bag) of semi-sweet chocolate chips
6 ounces (1/2 bag) of butterscotch chips
1 cup creamy peanut butter
6 ounces (1/2 of a large bag) of chow mein noodles
36 mini Cadbury eggs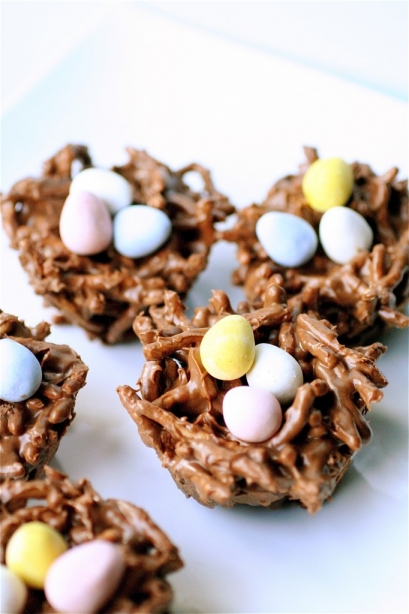 Instructions
1. Generously grease the wells of a muffin pan with the butter (this will help later when you are taking out the chilled nests).
2. In a large microwave-proof bowl, heat the chocolate and butterscotch chips in 30 second intervals until thoroughly melted, stirring after each increment.**It only took me two 30-second intervals.
3. Once melted, add the peanut butter to the chocolate/butterscotch mixture, mixing well until smooth and completely combined.
4. Carefully add the chow mein noodles, stirring with a wooden spoon or rubber spatula, until completely coated.
5. Using a large spoon, mold the mixture into the wells of your muffin tin, indenting the tops slightly with the back of the spoon.
6.  Chill the nests until hardened, about 1 hour or so.
7.  Once chilled, gently remove the nests from the muffin tin.***I used a butter knife as a lever to pop them out-this seemed to work.
8.  Place three eggs (or colored jelly beans!) on the tops of each nest.

Source: Adapted from gimmesomeoven