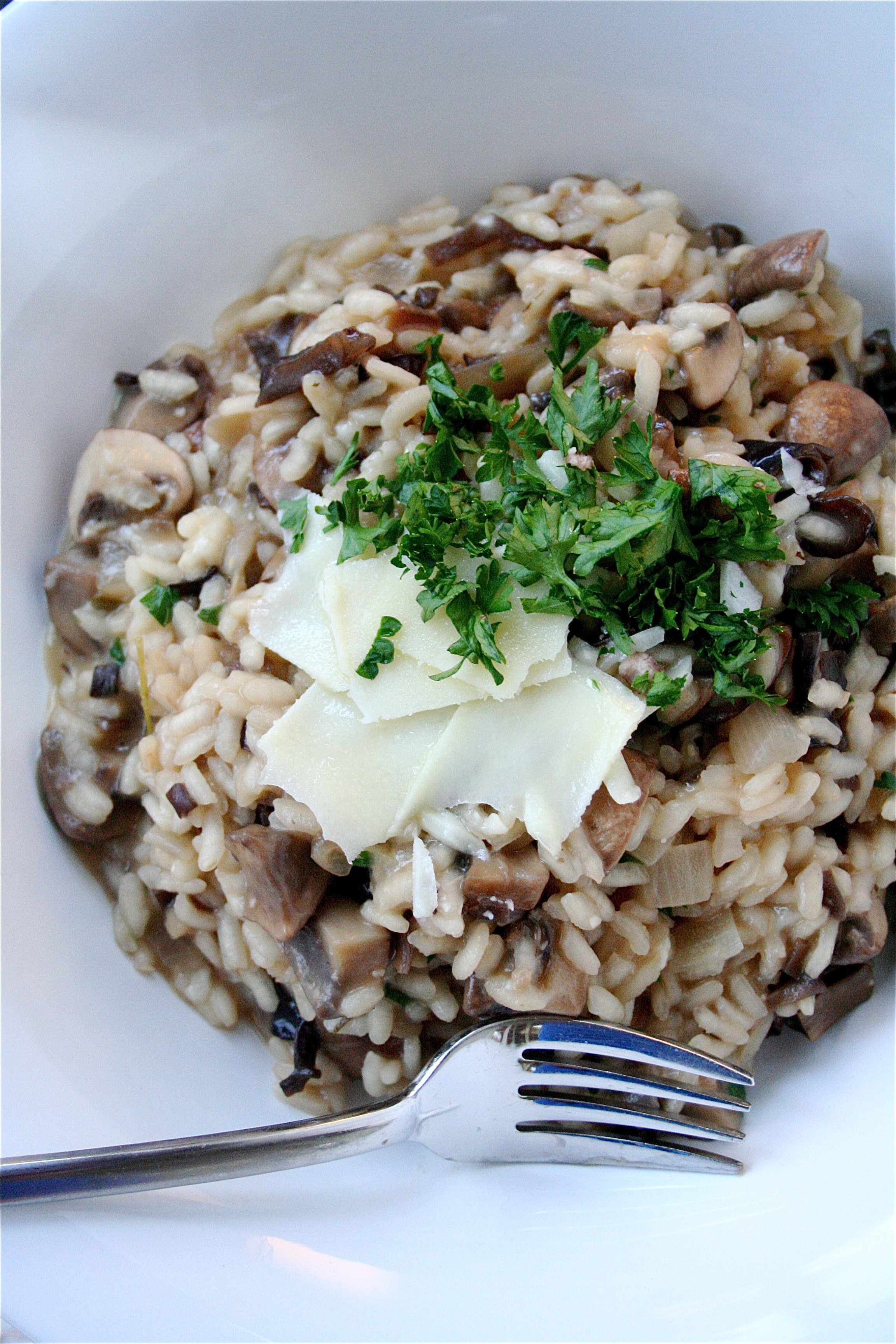 Beginning to feel a little like fall out there, huh?  It's dark now when I leave for work in the mornings, and I have to wear a sweatshirt over my scrubs.  The other night I let Scout out to run in the backyard, and I even noticed that I could see my breath.
Welcome, my most favorite time of year.  Glad to have you back.
To celebrate, I decided that I would try something that I had been meaning to since (gasp!) June when I sampled this in Colorado.  For some reason, the hearty mushroom flavor and creamy Arborio rice combo seemed extremely intimidating to me. I had bookmarked so many of other food blogger's recipes…hoping to one day try it for myself.
So, on a weekend evening when I knew that I would have no other distractions in the kitchen, I bravely pulled out this recipe and silently cheered a mantra:  "Mushroom Risotto.  You do not scare me."
Here's the good news:  it was an amazing success.  I think the thing that intimidated me the most was the amount of time to put into this recipe….and the amount of pots and pans.  Holy cow.  I ran a full dishwasher after this meal with just the prepping/cooking tools I used.  The end product?  Fabulously rich, creamy, full of earthy flavor, and great texture.
Happy Early Fall/Late Summer, everyone!
Mushroom Risotto
Servings: approximately 6
Ingredients
| | |
| --- | --- |
| | 2 bay leaves |
| | 6 sprigs fresh thyme |
| | 4 sprigs fresh parsley leaves |
| | 1 ounce dried porcini mushrooms , rinsed in mesh strainer under running water ***I ended up using a pre-packaged "Stir Fry" mix from my local grocery store (found it in the mushroom/vegetarian section. ) It was a mixture of unidentifiable dried mushrooms, but it was wonderful! |
| | 3 and 1/2 cups vegetable stock***The original recipe calls for chicken stock, but since I don't eat chicken, I substituted the vegetarian version.  It was still great! |
| | 2 teaspoons soy sauce |
| | 6 tablespoons unsalted butter |
| | 1 and a 1/4 pounds cremini mushrooms , wiped clean with a paper towel, stems discarded, and caps cut into fourths if small or sixths if medium or large***Cremini mushrooms are otherwise known as "baby portobellas".  I'm sure you could use button mushrooms in a pinch, but they probably do not hold as much flavor. |
| | 2 medium onions , chopped fine (2 cups) |
| | Salt, to taste |
| | 3 medium cloves garlic , pressed through garlic press or minced (about 1 tablespoon) |
| | 1 pound Arborio rice (2 1/8 cups) |
| | 1 cup dry white wine or dry vermouth |
| | 2 ounces Parmesan cheese , finely grated (about 1 cup)***I substituted Romano because that's all I had. |
| | 2 tablespoons chopped fresh parsley leaves |
| | Ground black pepper |
Instructions
Tie together bay leaves, thyme sprigs, and parsley sprigs with kitchen twine. (Optional, but highly recommended.  This just serves to make removing the herbs from the pot easier later.)
Bring bundled herbs, dried mushrooms, vegetable broth, soy sauce, and 3 1/2 cups water to boil in medium saucepan over medium-high heat; reduce to medium-low and simmer until dried mushrooms are softened and fully hydrated, about 15 minutes.
Remove and discard herb bundle and strain broth through fine-mesh strainer set over medium bowl (you should have about 6 1/2 cups strained liquid); return liquid to saucepan and keep warm over low heat.
Finely mince the (now) rehydrated mushrooms and set aside. (But be careful, because they will be really hot.)
Adjust oven rack to middle position and heat oven to 200 degrees.
Heat 2 tablespoons butter in 12-inch nonstick skillet over medium-high heat. When foaming subsides, add cremini mushrooms, 1 cup onions, and 1/2 teaspoon salt; cook, stirring occasionally, until moisture released by mushrooms evaporates and mushrooms are well browned, about 7 minutes.
Stir in garlic until fragrant, about 1 minute, then transfer mushrooms to oven-safe bowl and keep warm in oven.
Off heat, add 1/4 cup water to now-empty skillet and scrape with wooden spoon to loosen any browned bits; pour liquid from skillet into saucepan with broth.
Heat 3 tablespoons butter in large saucepan over medium heat. When foaming subsides, add remaining 1 cup onions and 1/4 teaspoon salt; cook, stirring occasionally, until onions are softened and translucent, about 9 minutes.
Add rice and cook, stirring frequently, until grains' edges are transparent, about 4 minutes (I actually cooked mine a little longer at this point).
Add wine and cook, stirring frequently, until rice absorbs wine. Add minced rehydrated mushrooms and 3 1/2 cups broth and cook, stirring every 2 to 3 minutes, until liquid is absorbed, 9 to 11 minutes.***Watch carefully because the rice will absorb the liquids very quickly.
Stir in additional 1/2 cup broth every 2 to 3 minutes until rice is cooked through but grains are still somewhat firm at center, 10 to 12 minutes.
Stir in remaining 1 tablespoon butter, then stir in mushrooms (and any accumulated juices), Parmesan, and chopped parsley. Adjust seasoning with salt and pepper; serve immediately.
And, welcome to Heaven.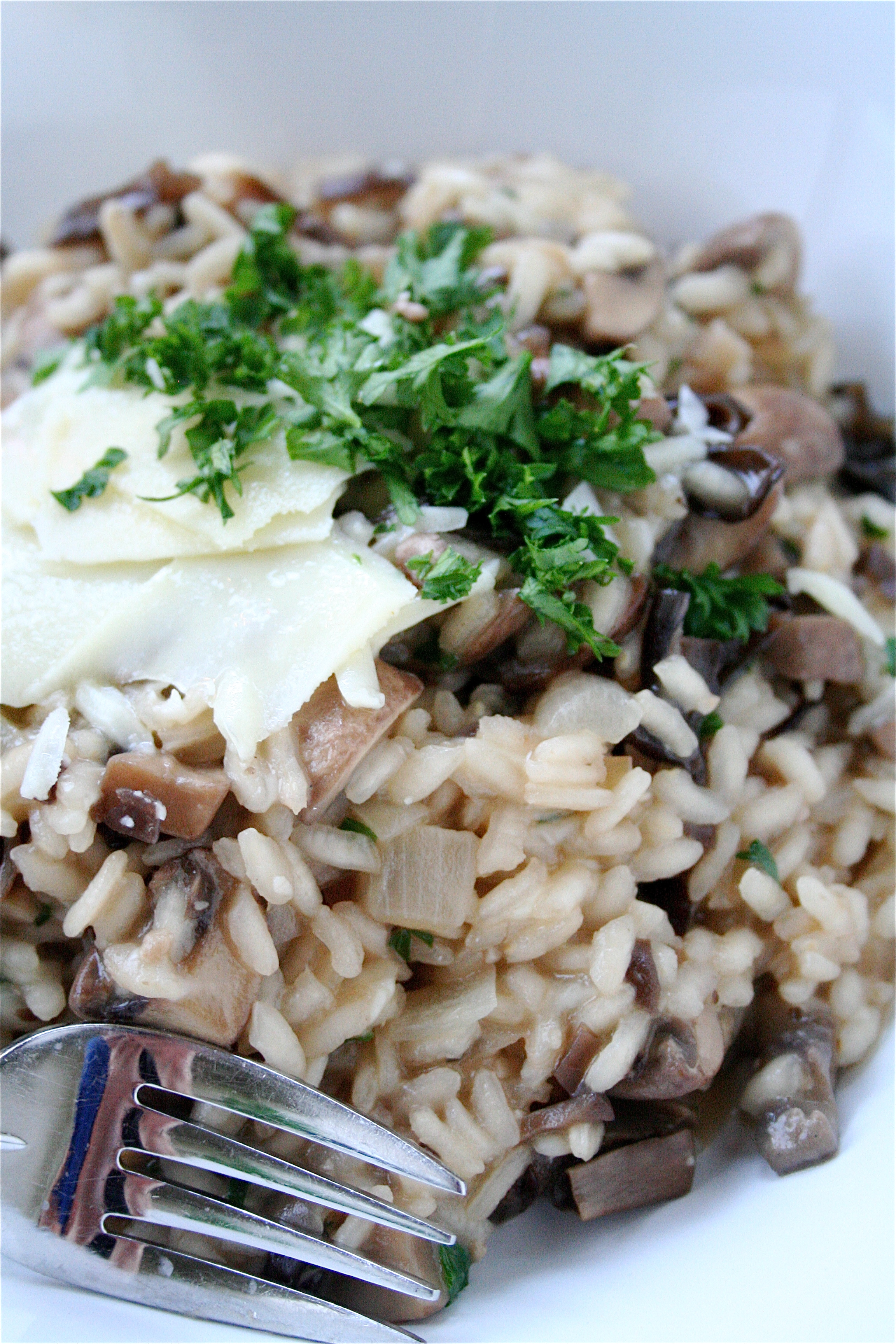 Barely adapted from Cook's Illustrated.