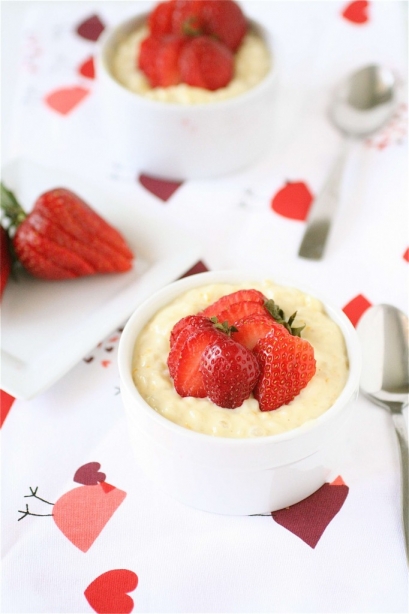 Risotto.  I love to eat it, but I dislike making it.  The last time I tried it (mushroom risotto or primavera risotto with fried egg on top), I went through about a billion pots and pans, spent a long time stirring in small amounts of potential absorbable liquids, and inevitably ended up drinking waaaaayyyyy more of the white wine that went in the recipe than I should have.  But, hey, the end product is always so fantastic.  Creamy, savory, and so satisfying.
But, here's a sweet and spring-y twist on risotto.  A lighter, rice pudding-ish, and citrusy dessert topped with fresh and ripe strawberries.  And the versatility of this recipe is pretty endless.  I assume a lemon and blueberry combination would be pretty awesome, too.  But, here, I loved the bright flavor of the orange juice and zest with the creamy and rich risotto.  I cut the original recipe in half, so if you are serving more than two people, feel free to double this version.  Pair this with some sparkling wine, and you've got yourself a romantic and impressive springtime dessert on your hands.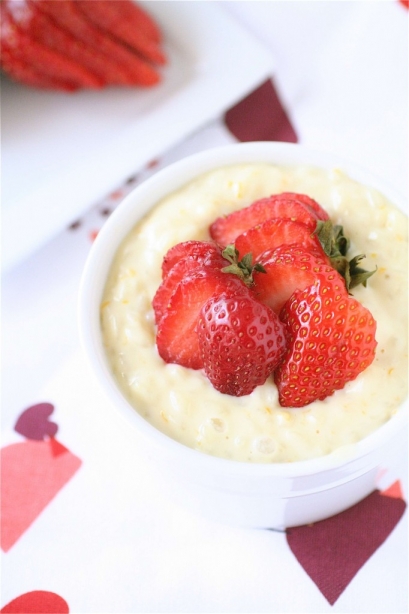 Sweet Orange Risotto with Strawberries
Servings:2
Ingredients
3 cups milk
1/4 cup granulated sugar
1 teaspoon vanilla
1 tablespoon unsalted butter
1/2 cup Arborio rice
Zest and juice from one orange
1/2 cup canned coconut milk (I used full-fat, but you can use light coconut milk if you are looking to cut back.)
2 cups fresh strawberries, sliced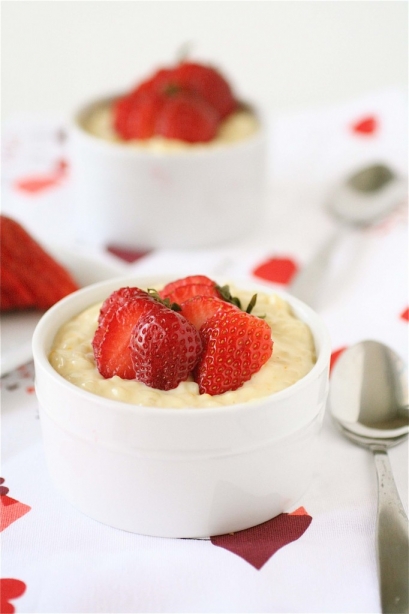 Instructions
1. In a large saucepan over medium heat, combine the milk, sugar, and vanilla until simmering, stirring frequently.
2. Decrease the heat to low, cover the pot, and keep warm.
3. Meanwhile, in a large sauté pan, melt the butter over medium heat.
4. Add the rice and cook, stirring constantly, for about two minutes.
5. Add the orange juice and zest, stirring constantly for another 1-2 minutes.
6. Add 1/2 cup of the warm milk mixture, stirring constantly, about 3-5 minutes.
7. Repeat the above step until all of the milk mixture is added and absorbed, about 15 more minutes or so.
8. Remove the risotto from the heat and add the coconut milk, mixing well.  Set aside for 5 minutes.
9. Spoon the risotto into individual serving bowls and top with fresh strawberries.  Serve immediately.
Source: Adapted from Whole Foods.