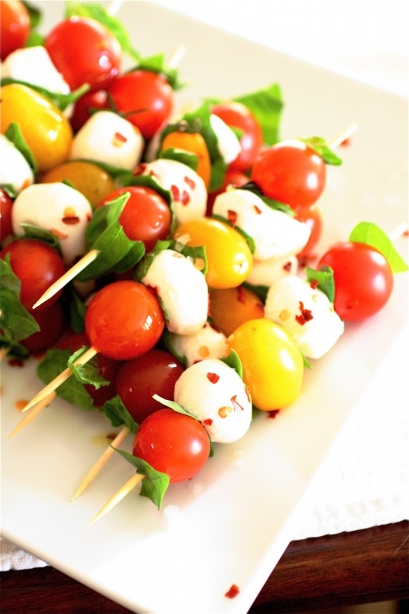 This might be the simplest recipe I have ever posted.  And probably one of my favorite recipes to post, too.  It's no secret I love anything caprese-nothing beats fresh mozzarella and good basil.  Recently the local farmer who I buy my basil from had a serious issue with his basil plants-all of them withered and browned, so he wasn't selling for a couple of weeks.  I was in serious withdrawal, folks.  So much so, that when I saw that he was once again producing the vibrant green and leafy herb (with that heavenly smell….), I bought three big plants.  So, then, of course, I bought some of the fresh yellow and cherry tomatoes to go with it….and then I headed to the local cheese stand where I knew I could find mozzarella from my favorite dairy farmer out here.  I ended up picking up a few containers of fresh ciliegine mozzarella (tiny balls of fresh mozzarella…smaller than bocconcini), but if you don't have access to this type of mozzarella, just use the regular stuff, chopped.
It's starting to get a little colder out here, and I am dreading the winter months…not so much for the impending snow but for the lack of fresh produce. I'm buying as many fruits and veggies as possible right now.  Because nothing beats a simple summer meal like this (or as an appetizer, which is what I did-I brought this dish over to a dinner party) with a nice glass of good wine and some deep breaths, taking in how great life can be.  Sometimes simpler is better, as I have found.  This little recipe proves it.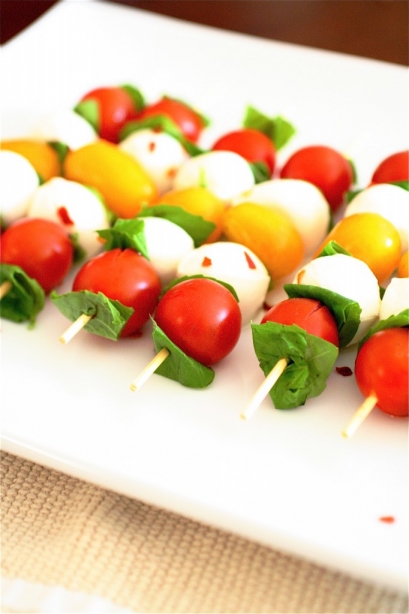 For other caprese-inspired recipes (and to prove how obsessive I am about the heavenly trio of basil, mozzarella, and tomato), check these links out:
Cherry Tomato Salad with Basil and Mozzarella
Grilled Smoked Mozzarella and Basil Pesto Sandwich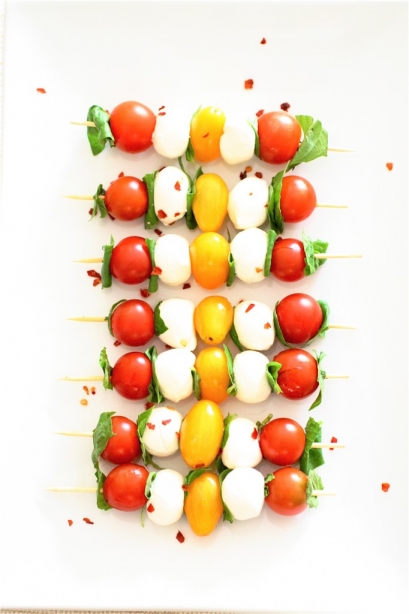 Caprese Skewers
Servings: Approximately 4-6
Ingredients
1 pint cherry tomatoes
1 pint yellow tomatoes
1 pound fresh ciliegine or other type of mozzarella cheese, fresh
1 cup fresh basil leaves, gently torn into 1/2-inch pieces
Pinch red pepper flakes, to taste
Sea salt, to taste
Extra-virgin olive oil, for drizzling
Wooden skewers, for serving

Instructions
1. Beginning with a fresh basil leaf, spear the basil, followed by a cherry tomato, mozzarella piece, and yellow tomato, as desired. Repeat with each additional skewer.
2. Lightly drizzle the assembled skewers with extra-virgin olive and sprinkle with red pepper flakes and sea salt, if using.
Source: Williams-Sonoma.