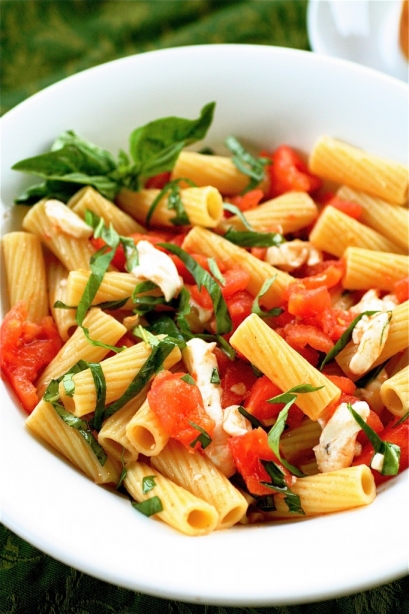 It's no secret that I love anything having to do with mozzarella, basil, and tomatoes (in combination).  In my opinion, they make up one of the best flavor combinations in the world.  Fresh flavors, bright colors, and basic simplicity.  So it was only a matter of time before I decided to post about a pasta with these flavors.
I made this recipe via the long way (which I am posting here) because I wanted to stay as true to it as possible.  Plus, I honestly wanted to see if the long way actually added more flavor to the end product.  My honest opinion is: yes.  But if you don't have time to peel and dice your own fresh tomatoes, feel free to use a large 28-ounce can of peeled tomatoes.  The long way seemed to give this dish a little added boost of freshness, which was my favorite part.  Letting the tomatoes sit in the olive oil mixture (although it added an extra 20 minutes to the recipe time) really did make a huge difference in taste.  I even heated up the leftovers for lunch the next day, and the little bit of olive oil kept the pasta from drying out.  I was surprised by how well the flavors still held together after two days in the refrigerator.  This is another keeper recipe for me.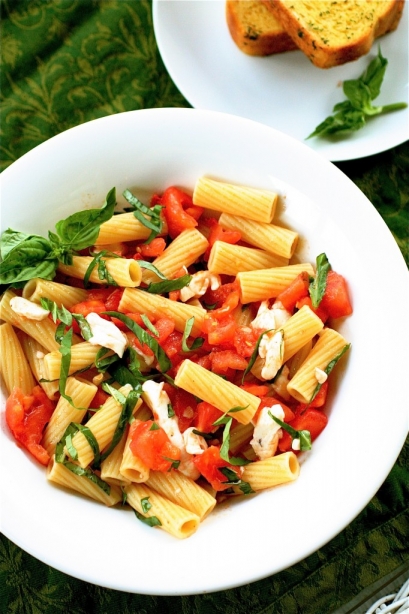 Pasta Caprese
Servings: 4
Ingredients
5 large tomatoes, peeled, seeded, and diced.***To do this, cut a shallow "X" on the bottom of each tomato.  Bring a large pot of water to a rolling boil, and place the tomatoes in the water for about 15 seconds or so.  Immediately remove the tomatoes with a slotted spoon and place into an ice water bath.  This will stop the tomatoes from cooking.  At this point, the skins should be easy to remove, and the tomatoes can be easily de-seeded and diced at this point.
1/2 cup extra-virgin olive oil
1 teaspoon balsamic vinegar
2 cloves garlic, minced
1 teaspoon salt
Fresh ground pepper, to taste
Pinch cayenne pepper
1 pound rigatoni
8 ounces mozzarella cheese, sliced or cubed as desired
Approximately 15-20 fresh basil leaves, finely shredded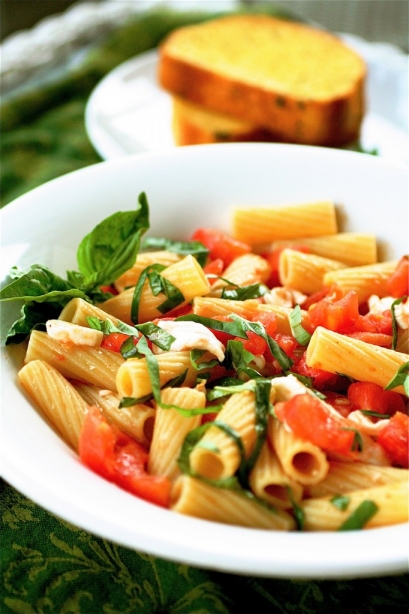 Instructions
1. Place the peeled and diced tomatoes in a colander for about 15 minutes to remove excess juices.
2. In a medium bowl, combine the drained tomatoes, olive oil, vinegar, garlic, cayenne pepper, and salt and pepper.  Mix the ingredients well and let sit for 20 minutes at room temperature.
3. Meanwhile, bring a pot of water to a boil over medium-high heat.
4.  Cook the pasta according to package directions until al dente.
5. Drain the pasta and return it to the pot.
6. Add the tomato mixture, mozzarella, and basil.  Toss gently, and serve immediately.

Source: Williams-Sonoma's Pasta.