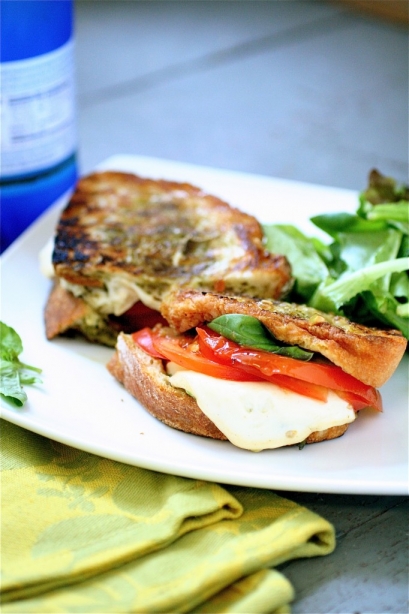 I apologize in advance for what may be a series of tomato recipes.  But, you see, I just can't help myself.  It's that time of year.  I went to one of the local farmer's markets the other day, and there they are, bright and red with perfect little green vines.  I can only imagine what they taste like when I walk by.  Will these be THOSE summer tomatoes?  Not those watery, half-tomatoes that are grown thousands of miles away either hydroponically (or as I learned the other day)…in sand.  Two thumbs down to THOSE tomatoes.
But, two thumbs up to the ones from the farmer's markets.  Grown within a 20 mile radius, picked the day before, and bigger than my fist.  Ah, yes.  Summer is here, and with her, she brings THOSE real tomatoes.  My favorite kind.
I contemplated, (and I still am contemplating) getting a mini tomato plant for my front stairs to my apartment.  There's not that much room, but plenty of warm afternoon sun.  I am buying tomatoes every single weekend, so it might be worth to get a little plant of my own.  But I digress.  Since the local cheese and fresh bread here is pretty phenomenal (and I happened to score a brand new grill pan the other day at a local kitchen supply store here), I simply decided to make myself a little grilled sandwich for dinner one night.  It was completely improvised, but it tasted pretty good to me, so I decided to snap a few pictures and tell you about it.  It's not too original in the sense that I just took the flavors of my favorite salad, the Caprese, and put them into sandwich form.  But, with fresh flavors, you can't get much better than that.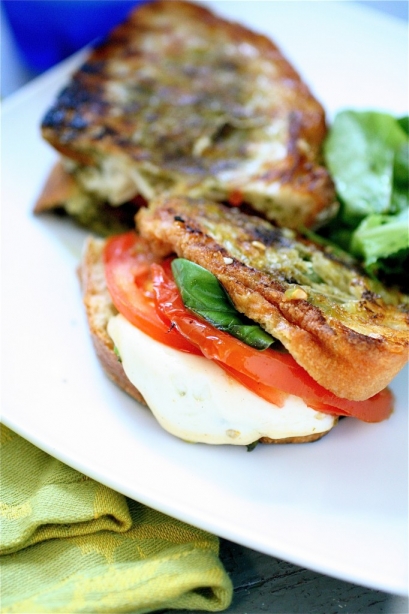 Grilled Smoked Mozzarella and Basil Pesto Sandwich
Servings: 2 large sandwiches
Ingredients
4 slices (about 1-inch thick) ciabatta bread
1 large tomato, thinly sliced
1/4-pound fresh smoked mozzarella, thinly sliced
1/2 cup fresh basil leaves, gently torn
1 and 1/2 tablespoons fresh basil pesto, divided, homemade or store-bought
Sea salt and pepper, to taste
Olive oil, just to heat your pan**or use cooking spray
Instructions
1. In a grill pan over medium heat, heat a small amount of olive oil until shimmering.
2. Meanwhile, assemble your sandwiches by placing about 3/4 tablespoon of basil pesto on one slice of the ciabatta.  Repeat with the remaining 3/4 tablespoon of basil pesto on another slice of ciabatta.
3. Place the fresh basil immediately over top the basil pesto.
4. Layer the tomatoes and mozzarella cheese directly on top of the basil.
5. Top each sandwich with the remaining slices of ciabatta.
6. Grill each sandwich, about 2-3 minutes on each side (or to your liking), until the cheese is melted and the bread is golden brown.  Serve immediately.
Source:  A Curvy Carrot original.