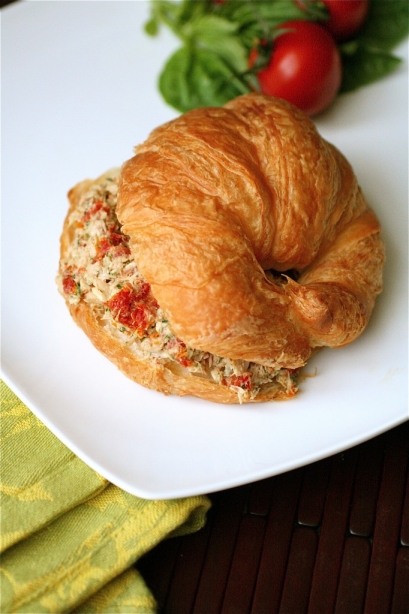 I have never been adventurous with tuna salad.  Nope.  I usually make it with a little mayo, a lot of mustard, and maybe (if I AM feeling adventurous) some chopped carrots and onions.  BORING.
My friend Kelli is going to have a baby in less than 10 days (well, if the mystery-gendered little one decides to come on time).  I posted the cupcakes from her shower last month, but now I thought I would share something that I fell in love with at one of her showers.  My friends, Jenny and Kellie, decided to throw Kelli a baby shower a couple of months ago, and it was at this baby shower that I was introduced to this recipe for tuna salad.  Oh my goodness.  I will never ever go back to the boring version again.  Jenny made this tuna salad and served it with croissants-it was heavenly.    I had to get the recipe from her immediately.  It was that good.
All in all, this is a snap to mix together.  If you have a food processor to make the pesto, it can be made in less than 15 minutes.  It was great to serve at a baby shower, but it also is very good for a light lunch on its own.  SO good, my friends.  And look at those pretty colors.  Nope.  Not boring.  Adventurous and absolutely delicious.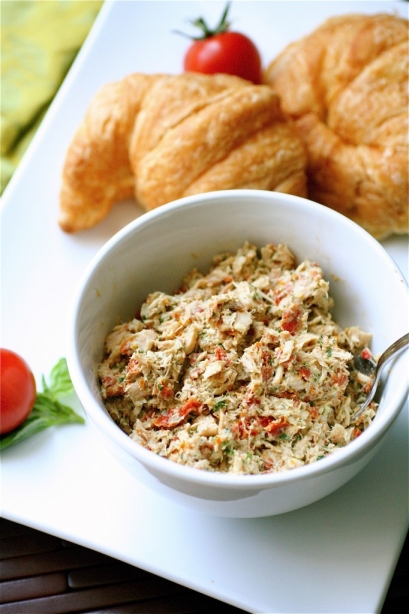 Pesto Tuna Salad with Sun-Dried Tomatoes
Servings: about 4 cups of tuna salad
Ingredients
For the basil pesto:
1 cup fresh basil leaves, packed
3 garlic cloves
2 tablespoons pine nuts
1/4 cup extra-virgin olive oil
1/4 cup Parmesan cheese, grated
Salt and pepper, to taste
For the tuna salad:
Two 5-ounce cans of Albacore tuna, drained
One 6.5-ounce jar of sun-dried tomatoes in oil, drained and chopped
1/4 cup Parmesan cheese, grated
1/4 cup Basil Pesto (see above)
2 tablespoons mayonnaise
Salt and pepper, to taste
Croissants, for serving (optional)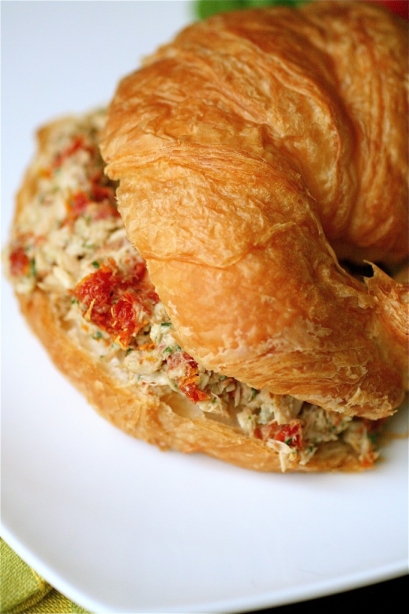 Instructions
1. For the basil pesto:  In your food processor, pulse the basil, garlic cloves, and pine nuts until finely chopped.
2. With the processor running, slowly add the olive oil in a steady stream, stopping to scrape down the sides of the bowl as necessary.
3.  Transfer the mixture to a separate bowl and gently stir in the Parmesan cheese and salt and pepper.  Set aside.
4. For the tuna salad:  In a medium bowl, combine the tuna, chopped sun-dried tomatoes, Parmesan cheese, and mayonnaise.
5.  Add the Basil Pesto until well-combined.
6.  Season with salt and pepper, to taste.
7.  Cover and refrigerate tuna salad until ready to serve.

Sources:  Basil Pesto from Annie's Eats, originally from The Comfort of Cooking; Tuna Salad via allrecipes.com (Thanks again Jenny!)