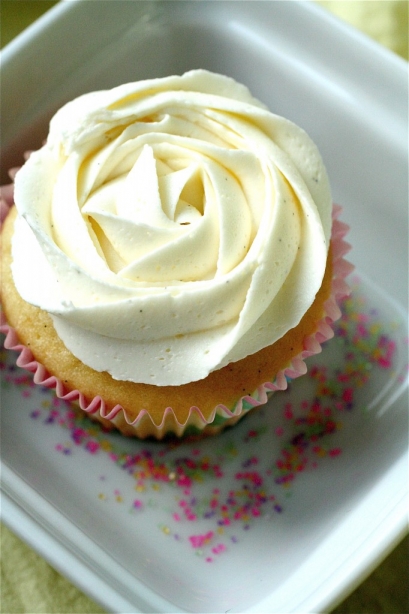 I am very blessed to have two of my best friends expecting babies next month. And I have also had the pleasure of attending multiple showers and "sprinkles" over the past few weeks.  It's such a fun experience to share the joy of a new baby with my friends.
My friend, Kelli, is due at the end of April, and this is her first baby.  She and Jason have decided not to know the gender of the little baby-to-be, so this new addition will be even more exciting for them.  She asked me to provide cupcakes for one of her showers, and I was delighted to make them.  I sent her a list of about 25 cupcake flavors about a month ago to choose from (I have to say I was also very excited about the opportunity to try out a new recipe for such a special occasion), and she chose Vanilla Almond cupcakes.
I knew I was going to go all out with these: real vanilla beans, European-style butter, pure almond extract, fresh organic eggs-I wanted to use the best ingredients I could find. I doubled the recipe for a yield of 48 cupcakes total-feel free to halve the recipe for your standard 24.
What can I say about these cupcakes?  Well, the fact that I am posting them as soon as I possibly can after making them is a sign.  They are dense, almost like a pound cake-with a distinct almond flavor.  The rose buttercream piping?  Simple.  Using a Wilton #2D flower piping tip, start your piping in the center of each cupcake, and then gradually pipe your way in concentric circles out to the periphery (clock-wise or counter-clock-wise, whatever you like).  The end result got a lot of compliments, and the cake part got just as many, too.
And, as a sidenote:  Today is my father's (and his identical twin brother, Rob) 59th birthday.  Happy Birthday, Dad!  I love you!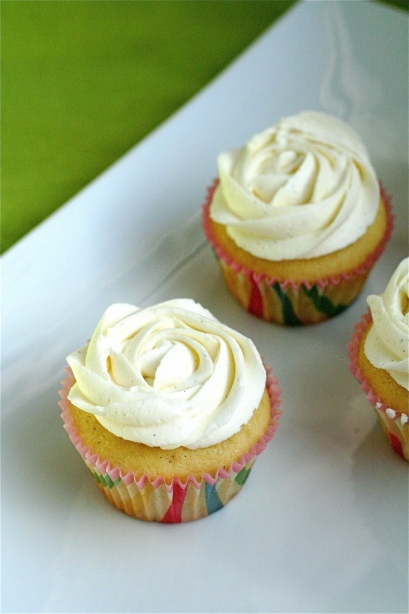 Vanilla Almond Cupcakes
Servings: 48 cupcakes
Ingredients
For the cupcakes:
5 and 1/2 cups all-purpose flour
5 teaspoons baking powder
1 and 1/2 teaspoons salt
3 and 1/2 cups granulated sugar
3 sticks unsalted butter, room temperature
2 teaspoons almond extract
2 whole vanilla beans, split length-wise and seeds reserved
8 large eggs
4 egg yolks
3 cups whole milk
For the Vanilla Almond Buttercream:
3 cups (6 sticks) unsalted butter, room temperature
8 cups confectioners' sugar, sifted
1 vanilla bean, split length-wise and seeds reserved
2 teaspoons almond extract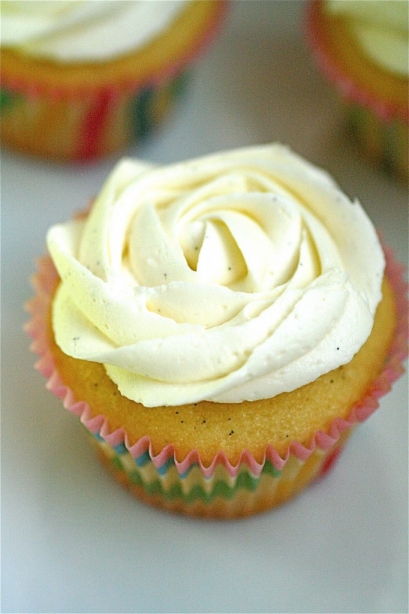 Instructions:
1. For the cupcakes: Pre-heat the oven to 350 degrees.
2. Line cupcake pans with liners; set aside.
3.  In a large bowl, combine the flour, baking powder, and salt, mixing well.
4. In the bowl of your standing mixer fitted with the paddle attachment, cream the butter until light and fluffy, about two minutes.
5. Slowly add in the granulated sugar, almond extract, and vanilla bean seeds and mix until well-combined, about 2 more minutes.
6. Add the egg yolks, and mix well.
7.  Add the eggs, one at a time, beating well after each addition.
8.  Add the flour and milk mixtures alternatively (start and end with the flour mixture) to the mixing bowl at low speed, mixing until the flour is just combined.
9. Evenly distribute the batter among the prepared baking pans.
10.  Bake for 20 minutes total, rotating the pans halfway during the baking time.
11.  When a cake tester inserted into the center of a cupcake comes out clean, remove the cupcakes from the oven and let cool for about 15 minutes.

12.  For the buttercream frosting: In the bowl of your standing mixer fitted with the paddle attachment, beat the butter at medium-high speed until light and fluffy.
13. Reduce your mixer speed to low, and gradually add the confectioners' sugar slowly, making sure to frequently increase the speed of the mixer for about 10 seconds increments to aerate the frosting.
14. Add the vanilla bean seeds and almond extract, mixing well, until frosting is smooth and creamy.

Sources: Vanilla Almond Cupcakes adapted from How to Eat a Cupcake (originally from Favorite Brand Recipes) and Frosting adapted from Martha Stewart's Cupcakes