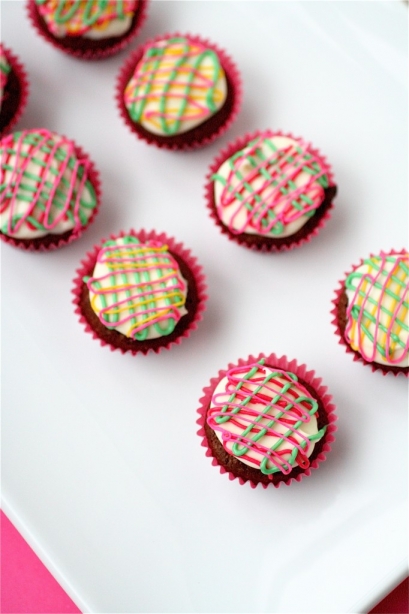 I find it very ironic that the day I posted the tuna salad from Kelli's shower, she has her baby.  Welcome to the world, Natalie Elizabeth!
It's amazing to see one of your best friends become a mother for the first time.  I have known Kelli for about 12 years now.  We laugh because we say we were both destined to become great friends. Growing up, we lived less than 10 miles apart, but it wasn't until we were freshmen in college that we met each other for the first time.  She says that she knew she would be great friends with me because I was "the long-haired hippie girl who blasted Tori Amos and the Beatles in her dorm room down the hallway", and I knew that she would be great friends with me when I found out what a huge animal lover she is (and that we also had silly voices for our pets….which is completely normal. 🙂 )
Anyways, Kelli and I have been through a lot together over the years.  Lately, she has been a rock for me, a voice of reason, and a huge source of support.  She tells me I am doing the right thing when I question myself, she tells me to stay away from the people who hurt me, and she is one of the first ones to pull me up when I fall down.  In the past two days, I have seen her go through the biggest change in her life: becoming a mom to a beautiful dark-haired baby girl.  To see the excitement in the eyes of both Jason and Kelli, to hear Jason describe how strong and amazing she was during the whole process, to hear Jason reading a text Kelli sent him in the middle of the night (thanking him for all he does for her and how much she loves him): that's pure love.  That's how marriage and life and all that comes with it should be.  It reminds me of how beautiful life can be, and I am so happy to be a peripheral part of their new little family.
I made these little treats for Jason and Kelli before I went to visit them in the hospital.  Kelli loves chocolate, and I figured she needed a little boost after such a big day.  I stuck with Dorie Greenspan's standard recipe for brownie buttons, and then I simply added my desired colors to the white chocolate with my food coloring gels.  I piped them in random and crazy (albeit messy) squiggles over each white chocolate top for some extra color.  They seemed to like them.  🙂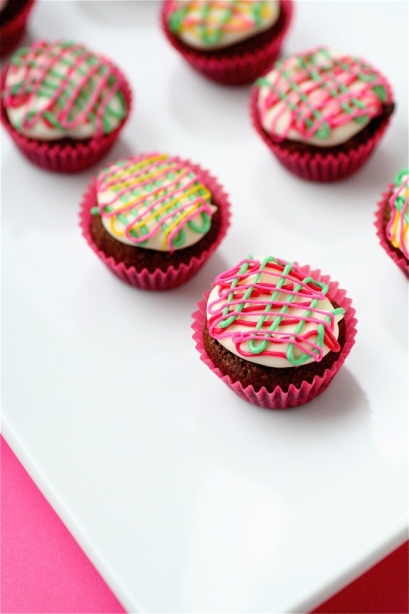 Brownie Buttons
Servings: 12 buttons
Ingredients
For the brownies:
1/4 cup plus 2 tablespoons all-purpose flour
Pinch of salt
1/2 stick (4 tablespoons) unsalted butter, cut into 4 pieces
1/3 cup (heaping) bittersweet chocolate chips
1/3 cup packed light brown sugar
1/2 teaspoon pure vanilla extract
1 large egg
For the white chocolate glaze:
2 and 1/2 cups white chocolate (chopped) or white candy melts
Food gel colorings of your choice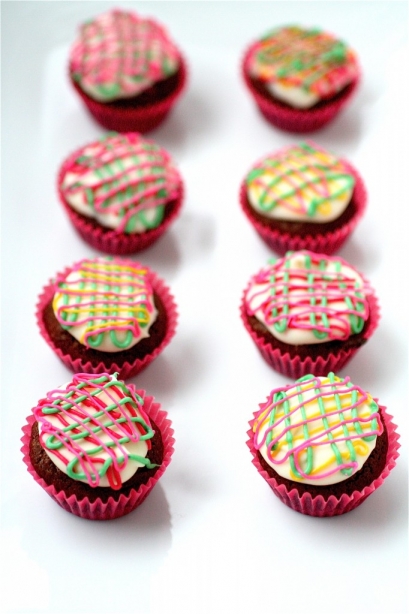 Instructions
1. For the brownies: Preheat the oven to 350 degrees.
2. Line a 12-cup mini muffin pan with mini paper liners.
3. In a small bowl, whisk together the flour and the salt; set aside.
4. In a medium saucepan over low heat, melt the butter, bittersweet chocolate, and brown sugar, stirring constantly with a rubber spatula, until melted and smooth.
5. Once the mixture is melted, remove from the heat and let cook for 1-2 minutes.
6. Add the vanilla and egg, mixing well.
7. Add the flour to the chocolate mixture, and stir until just incorporated.
8. Distribute the batter evenly among the lined muffin pan.  ***You may have leftover batter-if you want to make 1-2 more brownie bites, feel free.
9. Bake for 14-16 minutes, or until the tops of the brownies spring back when touched.
10. Let the brownies cool to room temperature.

11. For the white chocolate glaze: In a heatproof bowl over simmering water, slowly melt the white chocolate pieces, stirring frequently until smooth.
12.  Once melted, lightly spoon about 1/2 teaspoon of white chocolate over the tops of each cooled brownie.
13. Using your gel food colorings, divide and tint the remaining melted white chocolate (reheat in the microwave as needed to maintain a smooth consistency).
14. Lightly drizzle the colored chocolate over the top of each brownie with a small pastry bag fitted with a coupler and decorating tip (I used Wilton #1).  Alternatively, just drizzle the chocolate over the tops of the brownies by gently swinging a fork over each one.  Decorate as desired.
Source: Adapted from Baking: From My Home To Yours by Dorie Greenspan