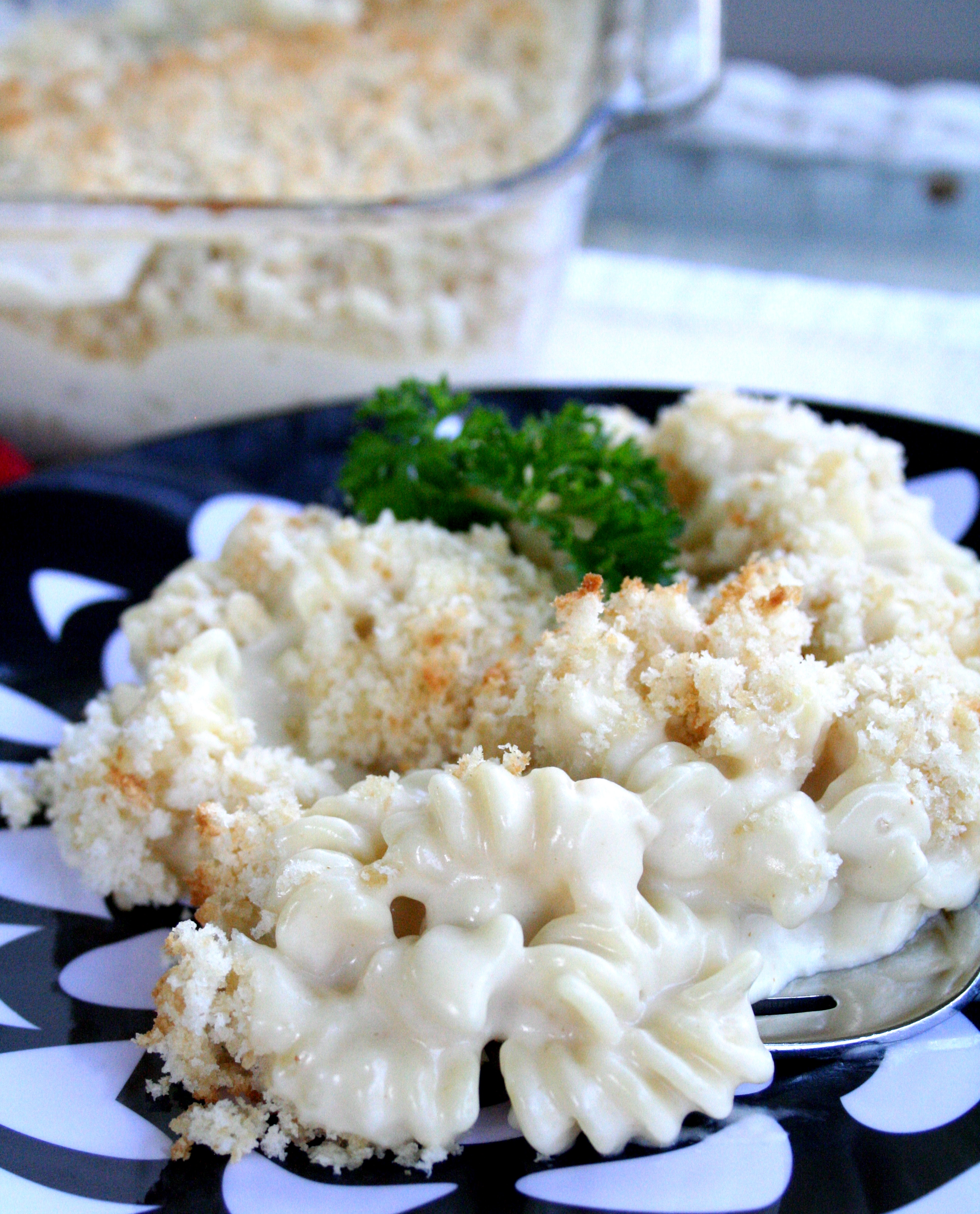 Ummmmm….yeah.
I've tried a few homemade mac and cheese recipes in the past.  I always get a little disappointed.  While I appreciated the baked varieties when they come out of the oven, reheating the leftovers always left me frustrated.  I love a creamy, steamy, hot, and thick sauce for the pasta, but usually the baked versions are just dry and greasy, especially as leftovers.  I was also looking for a recipe that would provide a buttery, crispy topping that would signify a "baked macaroni and cheese" but not completely soak up any liquid sauce beneath it.
I found this recipe, and Cooks Illustrated has NEVER failed me.  I shrugged my shoulders, said, "why not?" and forged on, straight ahead.
This recipe is awesome. AWESOME.
I'm looking forward to trying it again with some different cheeses, just to experiment.  I'm sure I will be making this again soon (and upping my work-outs, too).  You could probably also throw some veggies in there, too (just to make it somewhat justifiable)…..
Classic Macaroni and Cheese
Serves 6 to 8, or 10 to 12 as a side.
Bread Crumb Topping

6
slices white sandwich bread (good-quality, about 6 ounces), torn into rough pieces
3
tablespoons unsalted butter (cold), cut into 6 pieces

Pasta and Cheese
1
pound elbow macaroni (I had rotini on hand-it worked just as well!)
1
tablespoon table salt
5
tablespoons unsalted butter
6
tablespoons all-purpose flour
1 1/2
teaspoons powdered mustard
1/4
teaspoon cayenne pepper (optional)
5
cups milk (I used whole milk, just to add more calories 😉 )
8
ounces Monterey Jack cheese , shredded (2 cups)
8
ounces sharp cheddar cheese , shredded (2 cups)
1
teaspoon table salt
For the bread crumbs: Pulse bread and butter in food processor until crumbs are no larger than 1/8 inch, ten to fifteen 1-second pulses. Set aside.
For the pasta and cheese: Adjust oven rack to lower-middle position and heat broiler. Bring 4 quarts water to boil in Dutch oven over high heat. Add macaroni and 1 tablespoon salt; cook until pasta is tender. Drain pasta and set aside in colander.
In now-empty Dutch oven, heat butter over medium-high heat until foaming. Add flour, mustard, and cayenne (if using) and whisk well to combine. Continue whisking until mixture becomes fragrant and deepens in color, about 1 minute. Gradually whisk in milk; bring mixture to boil, whisking constantly (mixture must reach full boil to fully thicken). Reduce heat to medium and simmer, whisking occasionally, until thickened to consistency of heavy cream, about 5 minutes. Off heat, whisk in cheeses and 1 teaspoon salt until cheeses are fully melted. Add pasta and cook over medium-low heat, stirring constantly, until mixture is steaming and heated through, about 6 minutes.
Transfer mixture to broiler-safe 9-by 13-inch baking dish and sprinkle evenly with bread crumbs. Broil until crumbs are deep golden brown, 3 to 5 minutes, rotating pan if necessary for even browning. Cool about 5 minutes, then serve.
Did I mention that this recipe is awesome?
Adapted from Cooks Illustrated.