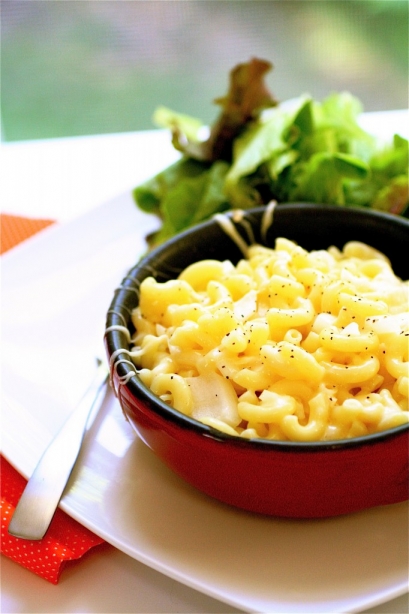 This is one from the archives.  Seriously.  How could I neglect a fantastic mac and cheese recipe that can easily be made on a weeknight AND adapted in just about a million different ways? I'm hanging my head in comfort-food shame.
I was in this amazing kitchen store in the downtown Hanover area, and I happened to stumble upon a great cookbook…all about macaroni and cheese.  Feeling a little indulgent, I went ahead and treated myself to a copy (since I was salivating over pretty much every recipe in the whole book)….and….went ahead and stopped on the way home from the store to buy the ingredients from one of the first recipes in the book.
As I said, this mac and cheese comes together in a snap (making the pasta itself is the longest part).  The crème fraîche adds a lot of creaminess to the dish (look for it in the specialty cheese section or in the dairy aisle of your specialty grocery store…if you can't find it, some people suggest using Greek yogurt as a substitute.  I never have used this myself.)  I ended up using Emmenthal cheese (think Swiss cheese-like), but you could use anything you want: Gruyère, Comté, or Appenzeller.  Add some spices or fresh herbs in there to make it your way.  I have already posted another mac and cheese version, but, really, can you have too many?
Ah, there's nothing like the ultimate in comfort food, is there?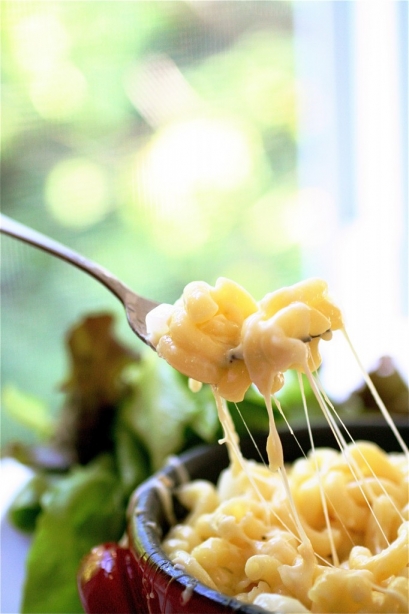 Creamy Stovetop Macaroni and Cheese
Servings: 4
Ingredients
12 ounces macaroni (whatever shape you like)
2 cloves garlic, minced
1/4 cup yellow onion, minced
12 ounces Emmenthal cheese, shredded
4 ounces crème fraîche
Pinch of nutmeg
Salt and pepper, to taste
3 tablespoons unsalted butter
Instructions
1. Cook the pasta as directed until it is al dente, reserving 1 cup of the cooking liquid.
2. Return the pasta to the saucepan immediately.
3. Add the garlic, onion, and cheese to the top and mix lightly to coat.
4. Add the crème fraîche, nutmeg, salt and pepper, and butter, stirring well.
5. Add 1/4 cup of the hot cooking liquid to the mixture and stir until the cheese is thoroughly melted, adding more hot water if needed.
6. Stir the mixture until smooth and creamy.  Serve immediately.
Source: Barely adapted from Macaroni and Cheese by Marlena Spieler.