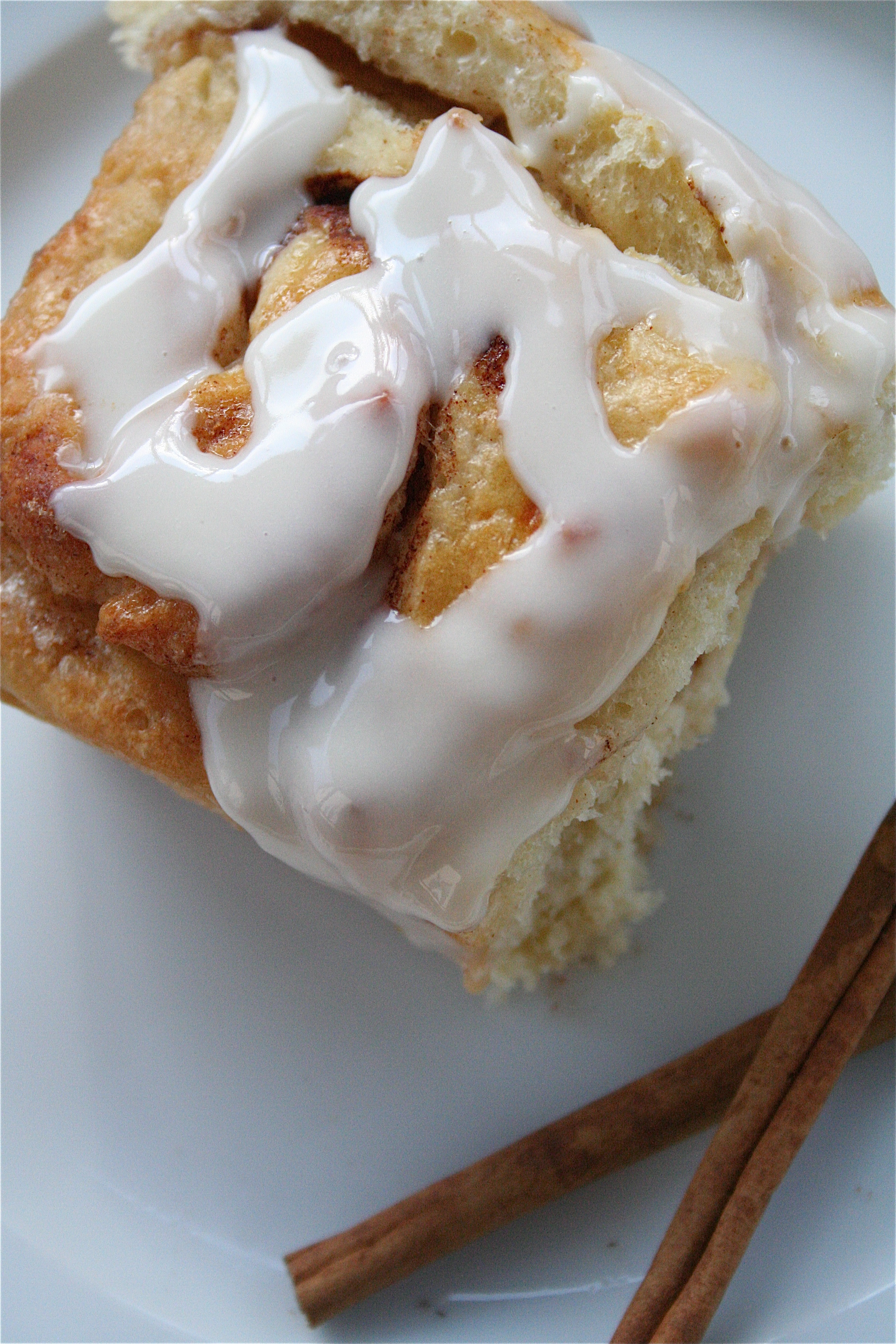 This recipe is in memory of one of my grandmothers….Rosebud Curbey.  She had an incredible talent for creating homemade, delicious comfort foods from scratch.  This recipe is one of them.  When these cinnamon rolls bake, your whole house smells a little like Heaven.  The dough is sweet, light, and almost fool-proof.  I have to admit, any recipe that calls for yeast and any sort of "rising time" makes me want to run away in fear.  But, the thought of these sweet rolls on a Sunday morning with a cup of coffee got the best of me, and I resolved to take this recipe head-on…..and I was very pleased.  I took these rolls to Panera with me one day (illegally) when I met my friend, Kelli, for a light lunch.  She promptly took one out, microwaved it, and ate it right there in the middle of the Panera bakery section.  I figured that meant the recipe was a hit.  However, when the manager came over and was complimenting them (because I think he wanted to try one), I knew I had to pass along the recipe.
Please make these cinnamon rolls….and then go hug your grandmother.
Rosebud's Cinnamon Rolls
Serves: 18-24, depending on how big you make your rolls
INGREDIENTS
Rolls:
2 packages rapid rise yeast
3/4 cup warm water, plus an additional 1 cup of room temperature water
1 2/3 cup milk
1/2 cup sugar
1 tablespoon salt
1 tablespoon butter
2 tablespoons shortening
1 egg
9-10 cups flour (I used white)
Filling:
1/2 cup butter, melted
1 cup sugar
2 teaspoons cinnamon
Glaze:
2 cups powdered sugar
1 teaspoon vanilla extract
2 tablespoons milk or cream
1 pinch of salt
1. Dissolve yeast in 3/4 cup warm water, set aside.
2. While yeast is dissolving, mix additional 1 cup of water, milk, sugar, salt, butter and shortening in a mixer fitted with the dough hook until smooth.
3. Add dissolved yeast solution to mixture.
4. Add 5 cups of flour, mix until smooth.
5. Mix in remaining flour (I used only 9 cups total) and knead (with mixer) using the dough hook on low speed for 10 minutes.
6. Remove from mixer bowl and place in greased bowl; cover with towel.
7. Let rise 1 1/2 hours in warm place.  (I sat mine next to the stove because I was cooking something already, but you could also place it in the oven on a very low temperature, as well).
8.  After dough has doubled in size, punch down to remove excess air and roll out in a long rectangle: approximately 12×36″.
9. Combine filling ingredients together and brush onto surface of rolled-out dough.
10.  Roll up dough tightly to form a cylinder-shape and cup in 1 1/2 inch slices.
11. Place the slices into a greased large pan and cover; let rise until double (about another hour).
12. Pre-heat oven to 375 degrees.
13.  In a small bowl, whisk egg and brush lightly over the surface of the rolls.
14.  Bake for approximately 25 minutes or until the tops of the rolls are golden.
15. Let cool. (This will be hard, I promise.  You will want to eat one immediately.)
16.  Once the rolls are cooled, combine glaze ingredients in a large bowl and drizzle over the tops of the cinnamon rolls.
Enjoy these.  They are very special.